---
Ithaca DeerSlayer III Twenty Gauge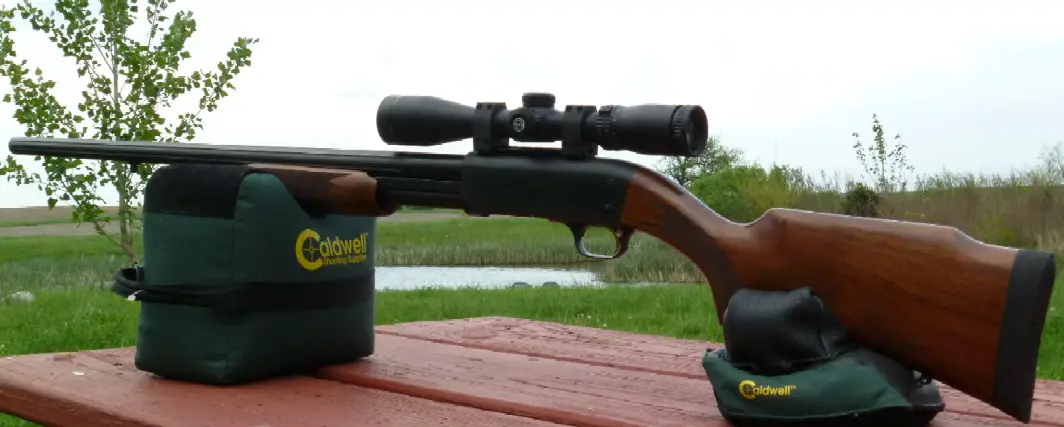 The advantages of the Ithaca DeerSlayer II (previously reviewed) and the DeerSlayer III are numerous in a slug gun platform. You have better magazine capacity and blazingly fast follow-up shot capability compared to bolt actions. As the M37 DeerSlayer features a solid steel receiver and bottom eject with a reversible safety, it is completely an ambidextrous design. The steel receiver comes already drilled, tapped, and with a Weaver-style one piece base already installed, so mounting any optic of your choice is an effortless task. The Deerslayer II and III models have excellent triggers, far more suitable for rifle-like use than typical shotgun triggers. Whenever you have a barrel extension with a slip-fit, you cannot achieve the rigidity that the threaded and permanently attached Ithaca DeerSlayer barrel provides. By design, the M37 is a more accurate platform to promote accuracy than slip-fit barrels or break actions can possibly be. Sooner or later, when a steel barrel extension pounds its way into a receiver, steel beats alloy. The unitized steel barrel and steel receiver of the M37 DeerSlayer eliminates that consideration. The basic specs?
Ithaca M37 DeerSlayer III Twenty-Gauge
Overall length: 46.625 inches
Drop At Raised Comb: 1.5 inches
Drop At Heel: 2.125 inches
Stock: Monte Carlo, American Black Walnut
Barrel / Action Finish: Blued 4140 Chrome-Moly Steel
Barrel Type: 26 inch fluted bull barrel
Recoil Pad: Pachmayr 752 Decelerator
MSRP: $1189
Weight, as tested with Scope and Rings: approximately 9 lbs.
As you might imagine, the DeerSlayer III is delightfully soft-shooting in 20 gauge, the softest shooting slug gun I've tested. The gun itself is around 7-3/4 lbs. with its 26 inch bull barrel, add a pound and a quarter for scope, base, and rings and it is right at 9 lbs. total weight. The trigger on this example, as supplied, breaks crisply at 4.5 lbs.
In this case, we topped of the DeerSlayer III with a Hawke Optics Panorama Extreme View 3-9 x 40mm illuminated reticle 1/2 Mil-Dot scope, a scope that did outstandingly well and is covered in its own review. We used EGW rings to mount the scope on the factory supplied Weaver style base.
The 26 inch barrel gives the ballistics a bit of a lift, as the typical 22 inch barreled 20 gauge slug guns cannot produce the ammo manufacturer's stated velocity as cited in other articles. Out at the range, the normal rendition of Federal, Winchester, a Hornady 20 gauge saboted slug rounds were tested. We had a clear winner, in this individual rifled slug gun: it was the Hornady 20 Gauge SST #86232 2-3/4 inch rounds with 250 grain FTX slugs. The published velocity id 1800 fps at the muzzle. This Hornady load in this gun was able to touch holes with regularity, so it really is all than can be expected or hoped for in a factory slug round.
To get right to it, is this Ithaca more accurate than the M37 DeerSlayer II, as tested here: http://randywakeman.com/Ithaca_Deerslayer_II_Twenty_Gauge_Review.htm ? It isn't an easy question to answer. We did get tighter groups with the Hornady rounds than we did get with the DeerSlayer II and the ammo it preferred (Winchester Dual Bonds) but the Hornady ammo was not tested in the DeerSlayer II. Yet, the DeerSlayer II was clearly the more accurate slug gun with Winchester Dual Bonds, which the DeerSlayer III didn't care for. There never will be any conclusive answer to something like this, as all rifles are ammunition-sensitive to a degree, and all are individuals to a degree as well. Suffice it to say we were able to get more than adequate accuracy for two hundred yard deer hunting under proper field conditions with both rifles. There is no tangible, real world difference in "minute of whitetail" performance that we are willing to attest to.
You can expect a small, but measurable velocity increase with the DeerSlayer III due to its longer barrel and, without question, the DeerSlayer III is softer-shooting due to its increased mass. You really can't go wrong with either model, as both a are great-looking, extremely well-made, and have crisp triggers and super-slick actions. It is a nice problem to have, but in the end it is going to be personal preference. It is easy to recommend both Ithaca DeerSlayer models without reservation.
Personally, I'm invariably a bit disappointed when an evaluation of any product fails to reach a conclusion. Though perhaps not always possible to reach a strong opinion when firearms are closely matched, it is the reviewers job to give it their best effort. Firearm coverage revolves around comparisons: most every purchase choice we make is a comparison against something else.
My preference is the DeerSlayer II. It retains all the advantages of the slick and smooth Ithaca M37 action, it gives you the versatility of iron sights, and it is built equally well in Upper Sandusky, Ohio, USA. It is lighter, more fun to carry, yet is still more than sufficiently soft shooting to please most any hunter. The DeerSlayer II, with a MSRP of $799, is a remarkably good value as well, now that blued steel and walnut slug gun repeaters have hit $1200 and more at retail. You can't go wrong with either DeerSlayer, but the DeerSlayer II twenty gauge is the industry-leading product in price, performance, and overall value. Ithaca should sell a ton of them: they handily qualify as lifetime guns.
Copyright 2011 by Randy Wakeman. All Rights Reserved.
---
Custom Search