---
Henry Ball, Muzzleloading Pioneer, Passes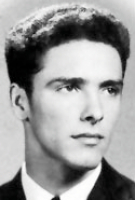 Henry Cooper Ball
October 11, 1937 - January 8, 2012
From Henry's son, William C. "Bill" Ball, comes the sad news of Henry's passing. My friend and muzzleloading's friend, master riflesmith and multiple patent holder Henry Ball lost his battle with cancer, passing peacefully and quietly at 6:20 pm on Sunday, January 8, 2012. Henry was quite a character, and a good character at that. He was the king of the campfire tales, a dreamer, an inventor, and a man who dearly loved his wife and son. This is a portion of what I wrote about Henry nine years ago. Henry liked the article, at least he like one of them, so here is a little taste of Henry Ball.
North Carolina has had its fair share of innovators and colorful characters over the years. Among them are such names in the funnel of firearms foundation as Richard Jordan Gatling, born in Money's Neck, North Carolina, and David Marshall "Carbine" Williams. Carbine Williams is the fellow who looks a lot like Jimmy Stewart! In auto racing, Lee, Maurice, Richard, and Kyle Petty should sound familiar. A "lead-footed chicken farmer from Ronda" happened to hunt coons and run moonshine. He was the subject of an elegant Esquire article: "The Last American Hero is Junior Johnson. Yes!" by author Tom Wolfe. Years ago, a North Carolina machinist and gunsmith by the name of Henry Ball used to race short track with one Ralph Earnhardt, father of the late, great seven-time Winston Cup champion Dale, Sr.-- Ralph himself an International Motor Sports Hall of Famer. It is out of this rich tapestry of fast and firearms that southern gentleman "Hurricane" Henry Ball strides forth.
September 20, 1990, may not be a memorable day for you, but it was a day that changed muzzleloading indelibly. On that day, North Carolina's Henry C. Ball was shooting his sidelock muzzleloader at the range, and its action failed. Henry, a southpaw, caught the metal screw from his sidelock's bolster drum in his right arm traveling through his forearm, finally coming to rest some two inches above his right elbow on the back side of his triceps. Mr. Ball underwent surgery later that day.
Henry Ball recalls vividly the injury that was near tragedy: for a fellow shooter was in perfect alignment to receive the piece of failed metal in his eye, causing certainly blindness if not death. Had Mr. Ball not been shooting lefty that would have sadly been the case. It was at this time that Henry decided that there had to be a better way, a more effective way, and a safer way to enjoy muzzleloading hunting and shooting. After recovery from his injury, Henry out to achieve his goal: a muzzleloader that was first of all safe, so that no one using his design could possibly face the type of injury he just had, due to a sub-standard materials and workmanship. While he was at it, he wanted a muzzleloader that outperformed any production muzzleloader made, and eliminated the type of hassles associated with the run of the mill smokepoles. The answer was clear from the beginning: smokeless powder used in concert with true rifle-grade actions and barrels.
Black powder is fundamentally dangerous to handle. As Major General Julian S. Hatcher, Retired, who succeeded Colonel Townsend Whelen as C. O. of the Frankford Small Arms Ammunition Plant in 1923, has recorded, "Black powder burns with an almost instantaneous flash even when burned in the open and unconfined. Moreover it is easily ignited by even a very slight spark, and hence it is much more dangerous to handle than smokeless is." Dangerous to manufacture, highly impact-sensitive, corrosive, and inefficient- the far safer smokeless powder propellant was the first successful blackpowder substitute, displacing black powder as a small arms propellant in the late 1800s. As a coincidental sidebar, the first cartridge for the Springfield .30 caliber service rifle, Model of 1903 was known as the "Ball Cartridge." Henry Ball claims his youthfulness as "proof" of it only being coincidence.
Using 209 shotshell primers from the inception, in a unique ignition module, Henry successfully adapted his smokeless muzzleloader ideas to the InterArms Mark X action for starters in 1990, following quickly with a Sako bolt action, an H &R action, a Ruger #1 action, and a rolling block. Someone told Henry it couldn't be done with the Winchester 1894 action, so he quickly did that too. If I gave Henry a ball of steel wool, he could probably knit me a Volkswagen! With a rich tradition of performance and safety as a black powder substitute dating back about one hundred years (Pyrodex was not developed until the 1970s. Its inventor, Dan Pawlak, died January 27, 1977 when his powder plant blew up), what could possibly be better than smokeless powder? How could a reasonable person not want a muzzleloader that clearly offered more safety, more efficiency, didn't try to destroy its own barrel and action with fouling residue and rust, and offered more humane game-getting effectiveness in the process? I can't answer that, but it is a matter of fact that those profiteering from the rejuvenated in-line muzzleloading market did the natural thing, covering their own behinds, and seeking to protect their own interests.
Many folks were discovering that Henry Ball's innovation didn't just harvest game, it slammed them down where they stood like no other muzzleloader. Hence, Henry's pet term for proper muzzleloading performance, "Slamification!" Knight Rifles passed on this giant leap of muzzleloading design, as did Weatherby (approached in the middle of a plant move), an assistant to Bill Ruger did likewise, and Remington-suffering from the "not invented here" syndrome, did likewise. What successful innovative jewels have sprung forth from Remington in the last twenty years escapes me at the moment, and Sturm Ruger, & Company's non-success in the muzzleloading market has made itself clear. Nevertheless, the opportunity was offered to these folks.
Henry's design was better than good, it was great-and captured the imagination many. Manufacture continued on a small, custom basis for years, until a discussion with President Ron Coburn of Savage Arms at the 1999 "SHOT SHOW." A short-action Savage was sent off to Henry Ball for his module magic, and the original Savage 10-ML was tested in June of the same year. In late July, Henry Ball took the trek to Savage Arms for demonstration and further testing. Apparently the twinkle in Ron Coburn's eye said it all, as the deal was done in February 2000, with some 1900 production Savage 10-ML's shipped late that year. It has been in production ever since.
There is no one who can enjoy smokeless muzzleloading today without a bow of gratitude to Henry Ball. He was an immensely colorful character who had an impact on everyone around him and on the sport of modern muzzleloading as a whole. Part master craftsman, part prophet, part hunter, part prognosticator, part instigator, Henry was a kind soul beneath his sometimes gruff exterior. Henry enjoyed life and walked to the beat of his own drummer, but made the world a richer place for his many efforts.
Your prayers for Henry's family and friends at this very difficult time are appreciated. Henry will be very deeply missed and always remembered. And, always treasured.
Published in News Record on January 11, 2012:

GREENSBORO — Henry Cooper Ball, 74, of Greensboro died Sunday, January 8, 2011 at Wesley Long Community Hospital.
A Celebration of Henry's Life will be Thursday, January 12, 2012 from 7 to 9 p.m. at George Brothers Funeral Service.
Henry served his country with the Army National Guard HHC Det 1 730th Ordinance BN NC ARNG. He went on to work with Newman Machine Co. here in Greensboro for twenty-five years followed by eight years with a machine tool manufacturer known as American GFM. In 1991, Henry opened and operated Bill's Custom Guns. He won 1st place in the State Industrial Arts Assocation Competition. Henry also won 1st place in the 1956 National Competition for a custom made mahogany secretary desk. He has six patents in current production with Savage Arms Inc, MA , for a smokeless black powder rifle.
Henry will be remembered for his generous nature, steadfast determination, love of animals, as well as his stubbornness. He loved telling stories with family and friends and capturing your attention with his witty and profound "Henryisms".
Henry is survived by his wife of fifty-four years, Barbara Burgess Ball of the home, children, Kelly Calhoun and husband Mark of Charlotte; Bill Ball and wife Michelle of Greensboro; Michelle Lyon and husband, Joe of Summerfield ; sister, Mary Wray of Greensboro; and seven grandchildren; Amanda Ball , Billy Ball, Shannon Sharpe and husband Michael, Julia Davis, Buck Davis, Barbara Anne Davis, Joseph Lyon; one great-grandson Christian Ball and one great grandchild on the way with two step grandchildren Ashley and Cassey Calhoun; and three step great grandchildren Katelyn Sturgill; Caleb and Haley Smith.
Memorial contributions may be made to the American Cancer Society , 4-A Oak Branch Drive, Greensboro, NC 27407 or to the Pinetown Hunting Club, c/o Bill Ball, 1419 Dorsey Street, Greensboro, NC 27407.
Please offer condolences at www.news-record.com/obituaries/
Copyright 2012 by Randy Wakeman. All Rights Reserved.
---
Custom Search