---

Hawke Optics new Best in Class Hunting Scope: Hawke Endurance 30 2.5-10x50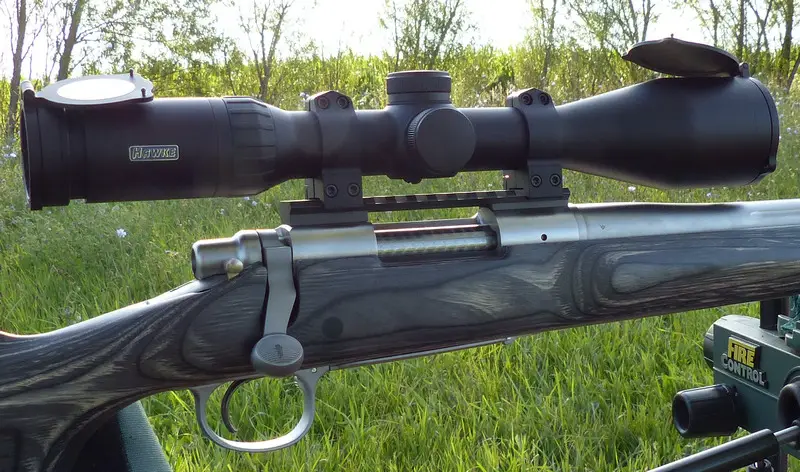 It has been a long time coming, but Hawke Optics has just released what I think is the best value in a fully loaded hunting riflescope available today: the Hawke Endurance 30 2.5-10x50 LR Dot #HK6410. Retailing for $349.99.
By "fully loaded," I mean just that. It has a 30mm tube, the 50mm objective nets you a generous 5mm exit pupil cranked up to ten power, the eye relief is at four inches or so, and the "LR Dot" illuminated reticle has a new, smooth, infinitely adjustable rheostat to give you dot brightness you prefer under all conditions. It is a beautifully etched reticle as well.
Right out of the box, you have excellent pre-installed flip-up scope covers, a sunshade extension, and the fast and easy to use LR Dot reticle give you three holdover points for longer range work. It also has quick focus that works smoothly and the power ring is well-machined and exceptionally smooth as well.
I've long felt that the 2.5 – 10 platform is one of the most practical "do everything" scope configurations. Up a tree for black bear, for example, set it to 2.5x and you're done. The red illuminated dot is a huge help, when placing the shot on a black blob against a dingy, gray background deep in the woods.
At the other end, high magnification in low light does nothing for you if the image is crippled by a tiny exit pupil. With the 5mm exit pupil at the high end of the Endurance 30, you have usable hunting magnification throughout the range of the scope. As second focal plane holdover reticles only work at the upper end, 10x is a good area where you can still keep the rifle steady off-hand or leaning against a tree. The 30mm tube is substantially stronger than 1 inch tubes, so you have a very tough scope working for you regardless.

There are several things that combine to make this a standout optic. The eye relief ranges from 4 inches at the low end to 3.8 inches at 10x, the field of view is 37.2 feet at low power to 9.4 feet at 10x, and the internal adjustment range is 135 MOA: able to accommodate even the very hardest to scope rifles with room to spare. The infinitely adjustable red dot reticle is a delight to use and the holdover points are always there if you need them, without the overly busy look of some other reticles. It is the best all-purpose riflescope released by Hawke Optics and is the most scope for the least dollars in its class today. Best in class products deserve both high accolades and strong recommendations and I have no problem giving that with the new Hawke Endurance 30 2.5-10x50 LR Dot. It is a winner.
 Copyright 2014 by Randy Wakeman. All Rights Reserved.
Custom Search