---
Hawke Optics 3-12 x 50 Endurance 30 Riflescope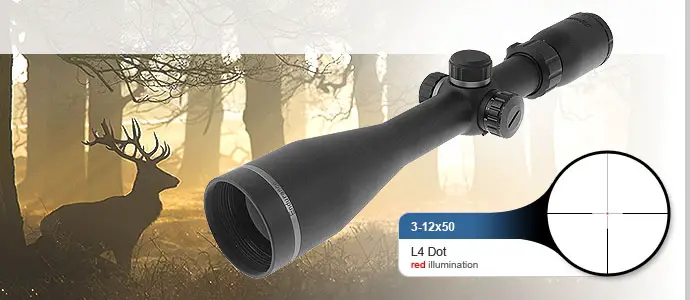 The upscale Hawke riflescope offerings often come with several accessories that would be extra-charge items in other riflescope brands. This big, beefy 30mm tubed 3-12 x 50 Endurance 30 is no exception. It comes in a hard case with latches and a carrying handle. This Hawke, Model HK3344, also comes with anodized, threaded objective and ocular covers as opposed to generic rubber scope covers, or no scope covers at all.
Among the stated features and benefits are:
30mm mono-tube design handles the heaviest recoiling rifles
Fully multi-coated optics for maximum clarity
L4 illuminated reticle for quick target acquisition
¼ MOA fingertip turrets for easy adjustments
Coil erector spring secures internals during recoil
Coarse knurled magnification ring
Screw-in lens covers
All firearm caliber rated
Waterproof, Shockproof, and Fog Proof
Hawke Worldwide Warranty
Of particular interest is the Hawke "L4" illuminated reticle, the Hawke version of the German #4. It is actually a 30-30 reticle with a twist. The top post of the Hawke L4 is extremely fine.
There are eleven positions of brightness for the small red dot in the center of the reticle. My understanding was that a few years back, the low setting wasn't quite low enough for deep woods or night time use. If that was the case, it certainly has been corrected in this scope, as the initial (low) setting gives off a very light, satisfying red glow that will not disturb your night vision. Hawke gets the most out of the 30mm platform by using a coil erector spring to handle the most punishing recoil. The eye relief is generous, throughout the Endurance 30 line, set at 3.9-4.3 inches. The scope itself is 14.4 inches long and 24 ounces in weight. Glass accounts for most of the mass in a riflescope and this Hawke has appropriately large lenses to get the most out of the 30mm platform.
I'm always a bit skeptical when it comes to scopes offering more than 10X magnification without an adjustable objective, as even some generic 9X scope lose significant sharpness at the high end, functioning only at 3-6 power without loss of sharpness. Not so with this Hawke model, as things are crisp and clear all the way at 12X. This scope is thoughtfully designed to be usable throughout its complete range. The 50mm objective assures exit pupil size exceeding 4.1mm cranked all the way up. A 50mm objective is a large objective in my view, often excessively so on a hunting scope with a 1 inch scope tube. Not excessive on a 30mm tube, as scope mounting height doesn't exceed what you often find with several 42-44mm objective 1 inch main tube scopes.
The appeal of the 12x hunting scope isn't for field use, but is easily appreciated at the bench for load development and longer-range target work. As a hunting only scope, 6X is more than sufficient for most big game hunting, so Hawke offers the Endurance 30 in a 1.5 – 6 x 42 model as well, that gives you a whopping 65 ft. @ 100 yards field of view.
The Endurance 30 has a fast-focus ocular, also referred to as quick-diopter focus. In the quick focus style, as opposed to the standard threaded ocular and locking nut style, there are some "quick-focus" rings that like to focus themselves inadvertently, with too little resistance to focus ring movement. A brush of the scope with your sleeve can sometimes send a focused reticle into Blursville unintentionally. Hawke has positive clicks (detents) on the quick-focus ring on the Endurance 30. While focusing is just as fast as ever, it tends to happens only when intentionally done, a very thoughtful touch. Right now, to get into a 30mm illuminated 3-12 x 50 from several makers, if even available, gets you close to the $700 mark, or more. At a street price of $340 or so, this Hawke is an impressive accomplishment. This scope was compared to a L.O.W. manufactured 2.5 x 16 scope (and other models) after ten o'clock in the evening at a variety of objects, a scope that has a 30mm tube, lacks the illuminated reticle, and sells for $750 or so. It was compared again and hour before sunrise the next morning. Surprisingly, the Hawke edged out the far pricier L.O.W. optics (or was a "push," in the opinion of others) even without the benefit of turning on its reticle.
The U.K. based Hawke Optics mention that the Endurance 30 has a "Japanese Engineered Optic System." I'm not clever enough to know what that means, exactly, but this scope is far better than you might expect for the price. The L4 reticle is superb, the detent-equipped fast focus is excellent, and the adjustments are crisp and audible.
The rheostat settings, unlike many way too bright IR scopes, begin at a very low, non-distracting level. For applications like bear hunting, coyotes or hogs at night, and just all-around big game hunting this is a very well thought-out scope. I don't do destructive testing, but the strong 30mm tube and the coil spring enhanced 4:1 ratio erector assembly is confidence-inspiring. Not only is the L4 reticle a standout, but the illumination adjustment on the side of the scope is easier to use and more cosmetically appealing compared to "top of ocular mounted" controls. This is a standout offering from Hawke Optics. The Endurance 30 gets the most from the 30mm platform while maintaining usable exit pupil size throughout the zoom range, augmented by generous eye relief and reasonably low scope mounting. With nothing else out there that compares to this optic, for the dollar. This offering is highly recommended. If the low price point for this platform doesn't win you over, the Hawke L4 reticle surely will.

Copyright 2011 by Randy Wakeman. All Rights Reserved.
---
Custom Search