---

Hawke Optics 200 Yard Rimfire Scope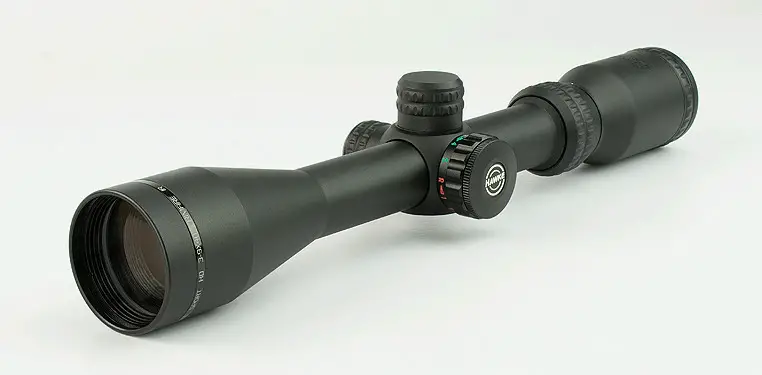 One of the best scopes for the dollar out there is the Hawke Optics "Sport HD" line. They are miles ahead of what you might expect in a value scope, featuring fully-multi-coated lenses, a quick eye focus eyepiece, positive click adjustments, and 3.5 inch eye relief. The new "Hawke Sport HD IR 3-9x40" with its etched, illuminated "Rimfire SR Reticle" has both red and blue illumination (5 settings each) and this scope has range marks from 50 to 200 yards.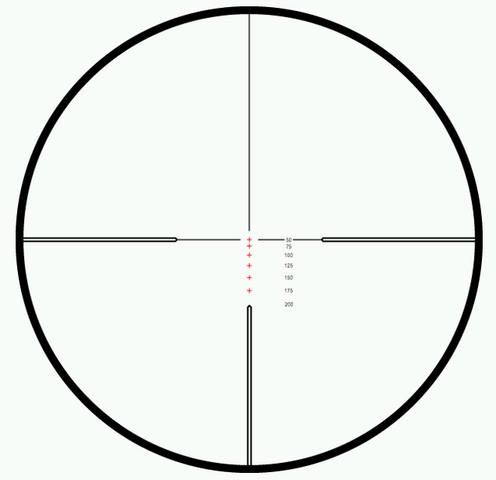 The field of view is from 38.5-12.5 feet at 100 yards, the scope weighs just under 15 ounces, and is just over a foot long at 12.5 inches. Calling it a "rimfire" scope isn't strictly true, for you can use it on most common rifles with no worries. Hawke calls it "all-caliber rated." The reticle is set for a common .22 Long Rifle round, 1260 fps, .1262 G1 BC, 1.75 inch scope height. Zero it in at 50 yards and you're ready to have some fun out to 200 yards with the scope set at 9 power.
By using Hawke's BRC2 Ballistic program (Ballistic Reticle Calculation), you can quickly get it close with any number of loads. For example, with a 20 gauge slug load of 1650 fps, .160 BC, the aiming points are 50 yards, 99 yards, 137 yards, 173 yards, 207, 242, and 274 yards. Wind drift plays a role with most low ballistic coefficient rounds, so you may want to restrict the hunting use to 207 yards, but that's all up to you.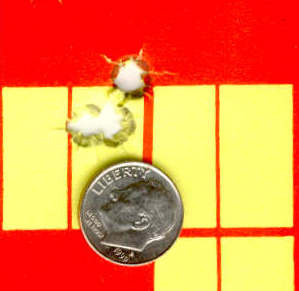 I've not spent much time shooting at super long ranges with rimfires, but there are several .22s that group well at 110 yards, like the above group from a Savage MKII BV, with Lapua ammo.
Hawke is going to sell a huge number of these scopes, I have no doubt of that. You might think a scope that looks this good is going to be on the pricey side, but that's the best news of all: Hawke sells them for $139.99 plus shipping: http://www.hawkeoptics.com/hawke-sport-hd-ir-riflescopes.html . It is part #HK3035 and as this is written, they are in stock.

 Copyright 2014 by Randy Wakeman. All Rights Reserved.
Custom Search