---
George Trulock Talks Turkey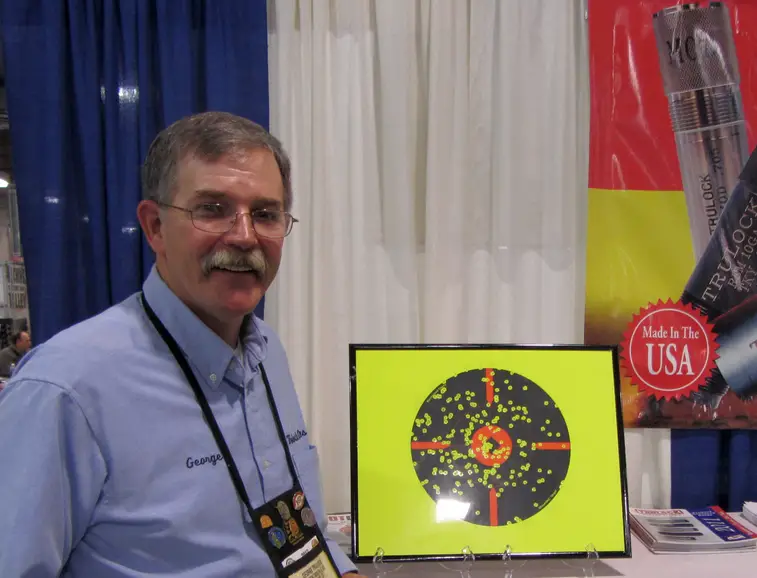 At the 2012 SHOT Show in Las Vegas, George Trulock poses with one of his Federal Heavyweight #7 40 yard turkey patterns.
Choke tubes, no matter how carefully machined, no matter how expertly crafted, are still only part of the system. There is still no such thing as a choke tube that can put more pellets into a pattern than the number that came out of the muzzle in the first place and no such thing as a choke tube that can take a poor quality shell and turn it into something that it wasn't when it was assembled.
So, a choke tube and a shotshell are a lot like Laurel & Hardy. For the most satisfying performance, you need both of them. Over the last few years, we've taken turkeys with Federal Heavyweight #7 shells and Trulock Precision Hunter chokes, both in 12 gauge and 20 gauge. George decided to work with the Federal Heavyweight #7 12 gauge shell to see what he could get out of it.
PHT193F is the Federal load number, a three inch shell with a 1-5/8 oz. payload at 1300 fps. It is a moderate recoil shell, particularly as turkey loads go. Yet, it has about a 353 pellet count and is ballistically superior to #5 lead, due to its industry-leading 15g / cc density. This is a representative 40 yard pattern out of my Browning B-80 20 gauge.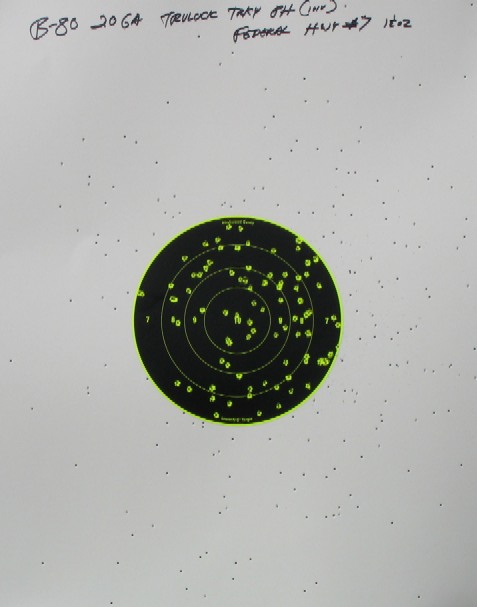 As you can see, by going up the line in constriction, George Trulock has been able to create substantially tighter 40 yard patterns even than that. As of this writing, I'm not sure what specific brands of shotguns and choke types are going to be covered, so your best bet is to call Trulock directly at 1-800-293-9402 for your specific needs. Here's a visit with George by Rocky Mountain TV from the 2012 SHOT Show.
Copyright 2012 by Randy Wakeman. All Rights Reserved.
Custom Search

---
Custom Search