---
Fujifilm FinePix F660EXR Digital Camera Review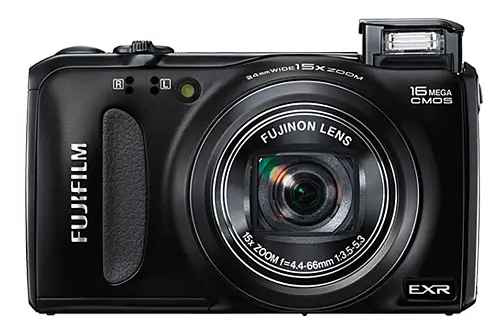 The travel zoom genre of cameras is of particular interest to me, personally. I've always found that the camera that you have with you takes far better pictures than the larger, bulkier unit you left at home, camp, or at the hotel. If it isn't convenient to carry around, I'm not interested, as I know that the wonderful images it might have taken won't exist.
Digital cameras have been capable of taking quite enjoyable, pleasing images for a good long while. My "ancient" Canon PowerShot A610 (from 2005) boasted a 5 megapixel sensor, a 4x zoom, and had an articulated, fold-out 2 inch LCD along with an optical viewfinder. Seven years ago, it was considered good for 11 x 17 prints and included the novelty of capturing 640 x 480 (VGA) video. Power on to first shot from the made in China A610 is 1.4 seconds, and battery life is 27 hours of still-image capture mode with the LCD turned off, 11 hours of image playback with the LCD on. Retail in 2007 was $299, considered a bargain compared to the Canon A95 of a year prior that it replaced, that listed for about $400. If you are wondering what the difference is between a great-looking 8 x 10 from 2007 and one from 2012 is, well, I'm wondering as well.
Despite the impressive battery life from quad AA's, the A610 isn't readily pocketable. Its bulk and weight prohibit that. Digital cameras have rapidly advance, not always in a universally agreed upon good direction, but they have improved. In a prior round-up of digital camera for hunting and the outdoors, http://randywakeman.com/DigitalHuntingandOutdoorsCameras.htm, the Canon SX230 came out on top. More recently, the Panasonic Lumix beat out the SX230 on the basis of fast shooting performance and a stunningly usable intelligent zoom of 37.9x. You can read the details at http://randywakeman.com/ReviewPanasonicLumixZS15vCanonSX230HS.htm .
I've always felt that a review that compares something to something is more valuable than a stand-alone article. So, in this case the FujiFilm F660EXR is going up against the current champion of sorts, the Lumix ZS-15, with a few references to the very competent SX230HS Canon. It is, in my view, appropriate as both cameras have very similar zoom ranges, both are at very similar $200 - $230 street prices, and both are cameras that forgo the things that mean little to me, like a GPS, although both Fuji and Panasonic offer GPS versions at about a hundred dollar higher price premium.
Zoom: The Fuji has a 15x optical zoom; the Lumix a 16x optical zoom. Both promise intelligent or smart digital zoom without severely impacting image quality.
Battery Life: 300 shots CIPA standard for the Fuji, 260 shots for the Lumix. Extra batteries for the Fuji are almost ridiculously cheap as well.
Battery Charging: Fuji supplies an external wall-charger, Panasonic is in-camera only as supplied. Advantage to Fuji out of the box, however wall-chargers are readily available for the ZS-15 albeit at extra cost.
Weight / Size: The Fuji is slightly heavier (217g vs. 208g) but slightly smaller in envelope dimensions: 60x104x33mm vs. 61x105x34mm for the Lumix. No significant real-world difference, although the Fuji feels more secure in the hands.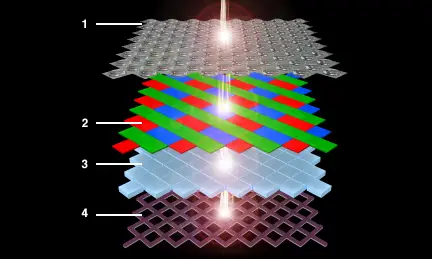 16 Megapixel BSI EXR CMOS Sensor: 1. Micro Lens, 2. Color Filter, 3. Photodiode, 4. High Speed Transfer Circuit.
Sensor: Perhaps the most interesting part of the Fuji F660 is this "stage two" version of its back-side illuminated EXR sensor, a 1/2 inch (6.4 x 4.8 mm) sensor sporting a higher resolution (16MP) than the 12MP Panasonic sensor, and a bit larger size than the 1/2.3 inch Panasonic sensor as well. It is a bigger sensor, but even at approximately 15% increased size to a 1/2.3 it still rates as dinky. The "EXR" technology is a bit clumsy to explain, FujiFilm hardly makes it transparently clear, but the basic notion is that rather than a "16M" sensor, you have the effect of pixel doubling in 8M mode that either reduces noise substantially or extends the dynamic range substantially. The Panasonic sensor is the same as used on its larger Lumix FZ-150 "bridge camera." The same is true for the F660EXR, as apparently it is the same sensor is used on the larger HS-30EXR.
LCD: Both the Fuji and the Panasonic have 460,000 dot three inch displays and both of them have brighter outdoor modes that can be engaged to combat direct sunlight. The Fuji rendition of this works better in the field.
Video: Both cameras tout full HD; the Fuji adds specialty high speed modes at lower resolution. The Fuji has stereo mics, the Lumix has a monaural mic. The Fuji is essentially video on or off, while the Panasonic adds a very large number of features ported over from its still image capture options.
Part of the confusion that runs rampant in digital cameras is the "MegaPixel Myth." Cameras are marketed and graded, by consumers anyway, in terms of megapixels alone. Often, it doesn't go much farther than that. Yet, megapixels don't tell the full tale. A small sensor camera might have 1.9 microns square photo sites, while a DSLR might offer 5.2 microns square photo sites. A full frame DSLR might have 8.24 microns square photo sites. This is why lower mega-pixel cameras with the same sensor size may well have better overall image quality. That is the case with the Panasonic Lumix ZS-15 (12.1 MP) vs. the allegedly a bit more upscale (in features) 14.1 MP Lumix ZS-20.
How many megapixels do we need? Good question, as more than 300 dpi in color can't be readily used for printing, an 8 x 10 (2400 x 3000 pixels) is 7.2 MP. That might make sense, if we viewed 8 x 10 prints in a book, held between our hands. Often not the case, as framed photos on the wall are often enjoyed from five feet away. That changes things, as now 200 dpi is all that humans can discern. The A3 (11.7 x 16.5) print at 200 dpi is about 7.8 MP. This is why many of the framed 8 x 10 images on the wall I have produced are from 5 or "6 Meg" images (2816 x 2112) or thereabouts.
So, that seems to be the theory behind the Fujifilm EXR pixel doubling sensor, or as they call it, "diagonally-aligned twin pixels of the same color." Like any marketing copy from any company, they can say most anything that sounds good, the actual results are what count. What the camera actually captures in 4:3 aspect ratio is size "L" (about 15.9 MP ) "M" (7.99 MP ) and "S" (3.98 MP). EXR sensors have three modes - high resolution, high signal to noise ratio, and high sensitivity. The "high resolution" is convention, whereas the half-resolution, 8 MP modes that are more interesting. I'll do my best to discuss how the Fuji F660EXR and the Panasonic ZS-15 compare, doing down the line for some of the most frequently discussed areas.
PRICE
Although the Fuji is listed with an abnormally high retail price (on Amazon at $379.99 list), that doesn't bear any scrutiny. You can buy it direct from the FujiFilm USA webstore for $279.99. You can buy the Panasonic direct from Panasonic for $249.99, so the "279.99 retail" makes little sense, either, but it is a lot closer to reality than the bombastic Fuji retail number. As I write this, the Fuji can be had for $209, the Panasonic for $205, so the street price is as close to the same as you're likely to find. In terms of value, the Fuji has an edge in two areas: a stand-alone wall charger is included (Lumix is USB in-camera only, taking the camera out of service) and extra batteries are surprisingly inexpensive. I paid $3.24 each, delivered, for "Kodak KLIC-7004 / Fuji Np-50 / Pentax DL-I68 Compatible Li-Ion Battery" presented as 3.7V, 1400 mAh, 5.18Wh, sold by eForCity.
Panasonic is particularly irritating about suggesting you need their $35 "secure" battery to keep from going back in time or something, and their charger sells for $16-- which should have been included in the box. You can do better, as in a Wasabi charger / two batteries Panasonic-compatible set from Blue Nook for $30, which is the path I took. Though we aren't talking much more than "Happy Meal" funding, the Fuji does rate as a better value... if it turns out to be the camera you want.
VIDEO
Both the F660EXR and the Panasonic ZS-15 are capable of HD video capture. However, both the monaural audio of the ZS-15 and the stereo mics of the Fuji pick up motor noise when zooming, as do most compacts inclusive of the Canon SX230. The difference between stereo and mono audio exists primarily on a specifications sheet. The mics are so very, very tiny no high quality is to be expected and no great stereo separation is possible, either.
For stationary video capture, either might be considered adequate, but rank clear notch below any number of inexpensive camcorders that cost no more than these compact still cameras. The Fuji has a couple of fun slow-motion modes, although at lower resolution, to experiment with in bright light. They are 640 x 480 at 80 fps, 320 x 240 at 120 fps, and a tiny 320 x 112 at 320 fps. The Fuji movie mode is essentially one way, the automatic way. One thing you can do is lose the "continuous focus" (the focus drifts during zoom and the camera transmits focusing noise) and go with "center focus" for more consistent but still unremarkable results. Aside from the high speed modes, the F660EXR has very little to offer for video. A hint of this is the video record page in the owner's manual that is just that, one skimpy page. The biggest issue with the Fuji is the sluggish focusing in movie mode. Combined with what seems to be no image stabilization at all, it is apparent that FujiFilm added video capability as an afterthought and with very little attention. Regardless of its "HD" capture, out of focus and jerky video isn't a pretty picture. It is tripod only and easy on the zoom for enjoyable results and is the biggest failing of the F660. The video it captures is very dark so as to be nearly worthless indoors. I consider it a last resort feature, at best.
On the other hand, the Lumix ZS-15 has a boatload of features that are ported over to its video function including all ten creative modes, many of the scene modes, etc. In the "Intelligent Auto" mode, you can even intelligent zoom your way to 32x in the 720p mode I generally shoot in, while the creative modes are 16x. While video and compact digital cameras don't always get along well, there is no question that if video is important to you, the Panasonic gives you more far options, more control, more features, and overall far better quality moving pictures.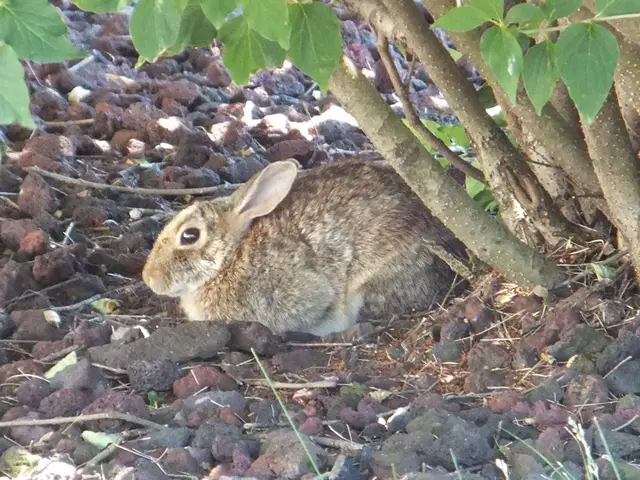 Fuji "Intelligent Zoomed" rabbit, at 32x magnification.
SMART ZOOM / INTELLIGENT ZOOM
Fuji calls their version "intelligent zoom" while Panasonic calls their version "intelligent zoom" as well. Sony used to call their rendition "smart zoom" but now apparently it is "clear zoom." The basic idea is this: when shooting at full resolution of a compact camera, digital zoom interpolates part of the image, manufacturing an image that generally turns people into nuclear holocaust victims or similar. However, when shooting at half resolution of the sensor, no digital pixelization type interpolation occurs. Instead, you frame your image as usual and you get a print-ready image with no fuss, at half the native resolution of the sensor. While I hesitate to call it as good as straight optical, it is very good and nets you a 30x image when 15x won't do, and the cropping of a bloated 16M image leaves you with the portion you really wanted a bit out of focus. Just as important, you have a good representation of the image on your 3 inch LCD when you actually take the shot. Grabbing a huge image and crop might sound good, but exactly what a small crop might turn out to be when you hit the button is not easy to discern. They both work well and equally well that I can discern.
LOW LIGHT
There is no universally accepted notion of low light. After all, most compact digital cameras have a built-in flash. The Panasonic flash unit is integral on the body, rated at 0.6 - 6.4m (Wide/ISO Auto), 1.0 - 3.5m (Tele/ISO Auto). The Fuji "Super Intelligent Flash," a pop-up unit, is rated at 15 cm – 3.2 meters for wide angle, 90 cm – 1.9 meters for telephoto. While you might think a pop-up flash to be more powerful, I'd normally assume that as well, the Fuji has similar specs to the Canon SX230 and it is actually the Panasonic with a flash that has about twice the effective range of either of them.
In the case of low-light, sans flash, which is my version of low-light anyway, neither of these cameras have fast lens arrays or large sensors, the normal prescription for excellent low light captures. The Canon SX230 has an often wondrous handheld night mode, which composites two pictures quickly. The Panasonic has the same mode, but the results aren't nearly as good.
The Fuji has the largest number of options to choose from without resorting to a tripod, though it has that night mode as well. You can go with the auto EXR mode, which often hits the "High ISO Low Noise" sensor function, but varies with the individual scene. Or, you can direct the camera to go straight there with the EXR Priority mode. Or, you can go to the "Pro Low-Light" mode that takes four images and combines them. Further, you can set the camera to save the original images, so you'll have your four originals that you can consider later in addition to the "Pro Low-Light" composite. The "save original" also applies to the auto panorama, red-eye removal, and "Pro Focus" modes as well. If that wasn't enough, there are more low-light options in the scene position arena to choose from: "Natural & Flash, Natural, Night, and Night Tripod." The Fujifilm F660EXR handily wins the low light award, though the exact mode that does it for you will take some personal experimentation contingent on the precise scene you are capturing. It is the best low-light compact long zoom I've tested, though it takes some effort to sort through its quirky behavior.
LCD DISPLAY
Both the Fuji and the Panasonic have upgraded (to these respective newer models) 460,000 dot 3 inch 4:3 aspect ratio displays. Both have "power" modes to mitigate the frustrating effect of direct sun washout, the Panasonic is dubbed "Power LCD." Fuji calls their feature the "Monitor Sunlight Mode." They are both effective but the Fuji F660 display is more usable in bright, direct sunlight.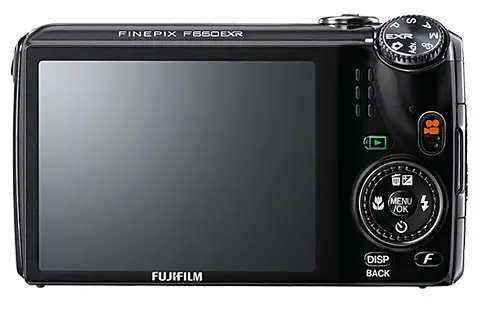 HANDLING
The Fuji has a better, more secure feel in the hands due to its textured grip on the right side and some effective little rubber nubs for your thumb on the back of the unit. The Fujifilm F660EXR also has a more readily accessible video button. However, the Panasonic mode dial isn't quite as easily inadvertently knocked into a different mode as the easier to spin Fuji dial can be, but the Fuji placement is more convenient. Overall, the Fuji is a bit better feeling and more stable when shooting.
SPEED
The Panasonic is generally peppier in operation with faster focusing, but the Fuji is in the same arena, feeling a bit faster switching from capture mode to review mode. It is very quick to go from image capture to image review with the push of a button or shutter on the Fuji, while Panasonic still has the slower mechanical slide to change over. In normal operation, 8M files are being saved in the Fuji, whereas 5M files are saved in the Panasonic. Both are quite sufficient for 8 x 10 prints. Your choice in the Panasonic, in 4:3 aspect ratio, is between 12M and 5M, though there are more aspect ratios to select from. With the Fuji, it is "L" (16M) or "M" (8M) in 4:3, the M mode is where you'll want it, as that is what allows the EXR sensor to change between the three possible modes. The Fuji "S" (4M) mode, 2304 x 1728, would be for snapshot or web use, primarily, or perhaps insertion into a video production.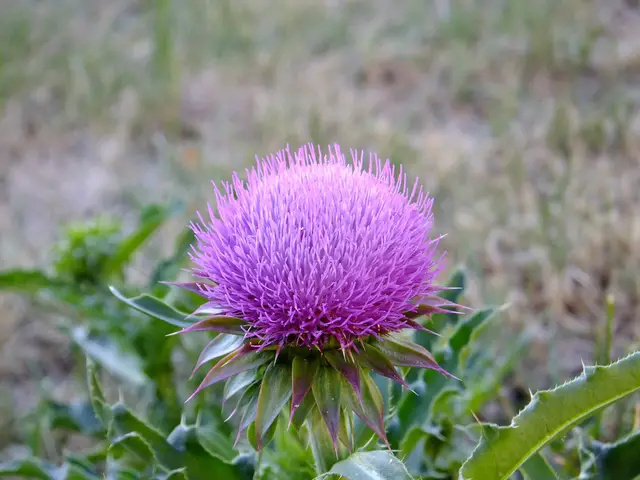 A Fuji close-up shot of a purple weed in Provia (standard) color mode, taken from about one foot away. Below, another Provia mode flower.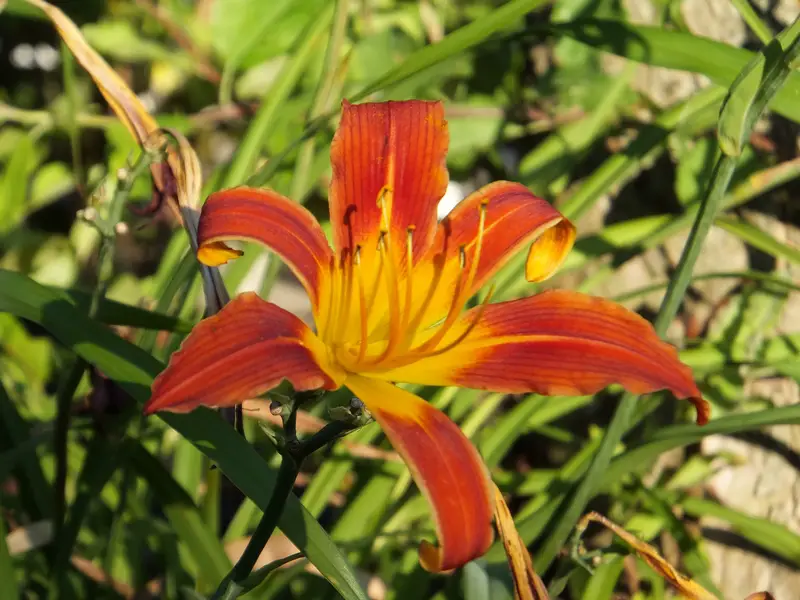 STILL PICTURE FEATURES
Both cameras have auto panorama modes, the Fuji adds double exposure capability so you can create superimposed images. Fuji has standard, soft, vivid, black & white, and sepia modes. Panasonic counters with similar modes, calling their vivid mode "Happy." Panasonic fills out the soft, black & white, and sepia options, adding "expressive," retro, high key, low key, toy, miniature, and high dynamic to experiment with. Both cameras have automatic face detection, Fuji adds face detection for dogs and cats as well. Both have 3D modes, though I find little value in them.
There is "exposure bracketing" with the Panasonic, where three pictures are taken and you adjust the exposure based on your selection of one of the three. Your selection then becomes the default exposure. Fuji goes quite a bit farther. In addition to the three shot exposure bracket burst which saves three images for you, one standard, one underexposed, and one overexposed according to the default, the F660 gives you the three image "bracketing option" on color and dynamic range as well. One push of the button, you have three images in "Provia (std.), Velvia (Vivid), and Astia (soft). Later, you can decide which of these three film simulation mode captures appeals to you the most. Fuji does the same for Dynamic Range as well: one push of the button, three images to choose from. It is the image superimposing ability, large number of low light modes, and the three-way exposure / film mode / dynamic range bracketing that combine to give the Fuji the solid edge in the still images features department.
Conclusion:
The Fuji has the worst video capability of any compact I've tested. It is really horrid and an embarrassment considering how good the rest of the camera works. If taking video with your digital still camera is important to you in any way, this glaring defect alone will be more than sufficient for you to go elsewhere. I'll leave it to you to grade the importance of the video in your own terms.
However, the Fuji F660EXR is sold as a digital still camera, not as a camcorder that can take stills. As a digital camera, it handles better than the Panasonic (and the Canon SX230 for that matter), puts them both to shame in terms of battery life, overall still camera features, and in particular low light thought it takes some experimenting. When viewed and used as an "8MP" camera, the captured images from the Fuji are 3264 x 2448. That's more than adequate for an outstanding 8 x 10 print even with a moderate amount of cropping. It is also better than needed for very good prints up to 20 x 30, according to most.
As tragic as the video attempt is on the F660EXR, it rates as a solid choice in a long zoom digital still camera, with exemplary low light capabilities for the platform. The included charger and inexpensive batteries, along with a $210 street price make it a very compelling compact travel zoom still camera. At the same time, the Panasonic yields more consistent results: a higher percentage of pictures are crisp and blur-free with the ZS-15, and the ZS-15 is easier to use with a more successful "IA" mode. Coupled with the just plain lousy video ability of the Fuji, overall the Panasonic is the more satisfying camera, despite the better handling of the Fuji.

Copyright June, 2012 by Randy Wakeman. All Rights Reserved.

---
Copyright 2012 by Randy Wakeman. All Rights Reserved.
Custom Search