---
Frankford Arsenal DS-750 Electronic Powder Scale 750 Grain Capacity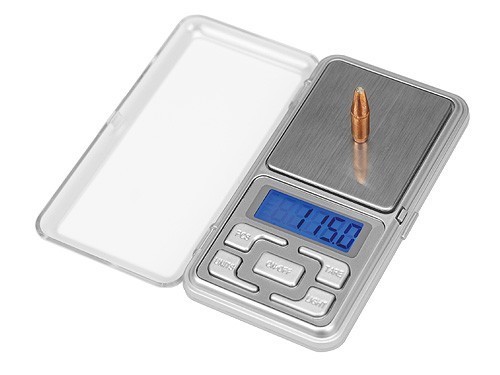 If you're looking for an extremely handy, portable, digital powder measure, the DS-750 is just what the doctor ordered. It runs on a pair of AAA batteries, comes complete with them, a 50 grain calibration weight, powder pan, and a velcro pouch. As you might guess from the designation, the DS-750 handles up to 750 grains. It is affordable as well, available at Midway USA for $36.99 and going on sale from time to time for ten dollars or so less than that. The published specs are as follows.
Capacity: 750 Grains
Units: Grains, Grams, Carats, Ounces
Accuracy: 1/10th grain
Accessories included: Two-AAA batteries, calibration weight, powder pan and a carry pouch
Features: LCD Display with Blue backlight, Auto calibration, tare function, counting function, automatic shutoff after 60 seconds, overload protection,
Warranty: 1-Year warranty against manufacturing defects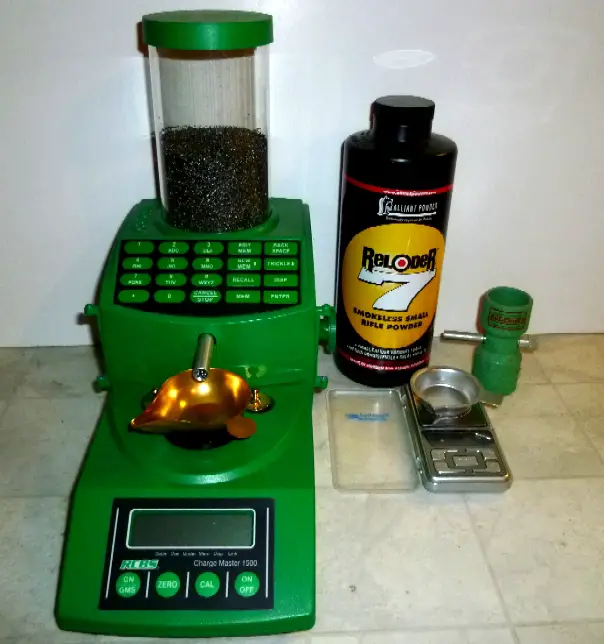 For higher volume use I use the integrated RCBS Charge Master 1500, as I have for some time. For on the road or at the range, you can see how the diminutive and economical DS-750 in conjunction with a Redding powder trickler fits well in the range bag, or next to your MEC 9000G. The question of accuracy comes up. ASTM Class 1 calibration weights go for about $60, you can just about double that if you order it with certificate. Consumer scales generally fall into the realm of within 0.2 grains resolution and this unit is no exception. To compare the relative accuracy of this unit, I dispensed ten charges of 35.0 grains of Reloder 7 with the RCBS Chargemaster 1500, weighing them on an older RCBS digital scale and then on this DS-750. All three digital scales read 35.0 grains every time.
At its low price, it is very easy to recommend this convenient little Frankford Arsenal unit. With this digital scale and a powder trickler, you're good to go for precise powder measuring most anytime, anywhere. It is ideal for measuring Blackhorn 209 muzzleloading charges, or smokeless charges for the Savage 10ML-II either at home or on the road and so forth. It is also handy for things like qualifying your bushing drops from a MEC progressive shotshell reloader.
Copyright 2011 by Randy Wakeman. All Rights Reserved.

---
Copyright 2011 by Randy Wakeman. All Rights Reserved.
Custom Search