---
Franchi Affinity 12 Gauge Autoloader Review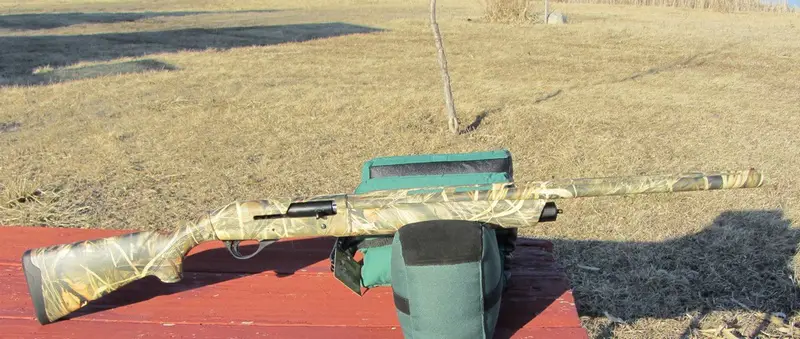 For 2012, Franchi has been hard at work reinventing or at least revitalizing the brand. The Affinity is the recoil actioned autoloading replacement for the I-12 of years past. The tested shotgun is the 26 inch barrel Max 4 Camo version that has a MSRP of $950, with a street price of about $850 or so. The matte version retails for a hundred dollars less.
According to my Timney trigger gauge, the example Affinity weighs right at 7 lbs. The trigger breaks at 4-1/2 pounds, better than average for an out of the box field gun and better than most autoloaders I've tested. The control layout is very familiar to Benelli M2 fans, it is identical. Along with adjustment shims, you receive the usual compliment of three Mobil-choke style flush tubes, a choke tube wrench, and a bottle of Franchi gun oil. The Affinity comes with what Franchi feels is an industry-leading seven year warranty. Assembly is easy. After that, I gave the action three drops of M-Pro 7 gun oil, and cycled it briskly a couple of dozen times.
Franchi lists the "common specifications" for the Affinity autos as follows.
COMMON SPECIFICATIONS
Magazine Capacity: 4+1 Chokes: IC,M,F and wrench
Length of Pull: 14.25" Drop at Heel: Adjustable 2-2.5" Drop at Comb: 1.5" Type of Sights: Fiber optic red-bar front sight
Minimum recommended load: 3-dram, 1-1/8 ounce; 20-Gauge 7/8 ounce, 1275 FPS.
The overall length for this 26 inch Affinity is 47-1/4 inches. While the catalog weight is 6.4 lbs., that isn't close. As mentioned, it is right at 7 lbs. unloaded. Measuring the bore of the shotgun with my handy Skeet's bore gauge, I found it came in at .725, exactly the European standard bore dimension.
For the supplied Mobil-chokes, the IC mics .716 inch, the Mod mics .704 inch, and the lead-only Full measures .690 inch. That yields nine thousandths, twenty-one thousandths, and thirty-five thousandths actual constrictions. This is right in line with what you might expect: no surprises here, and that's a good thing.
For those familiar with the Benelli M2, you'll find the handling and controls virtually identical. As a bonus, the Franchi has no center bead, so in my case anyway there is no need to break it off and throw it away. To get an idea of the feel, function, and handling of the Affinity 12 gauge, we compared it to a 26 inch barreled Vinci, and further to a 24 inch M2 20 gauge and the Franchi Affinity in 20 gauge with a 26 inch barrel. When you are going to spend the afternoon shooting (and shivering), you might as well make it count.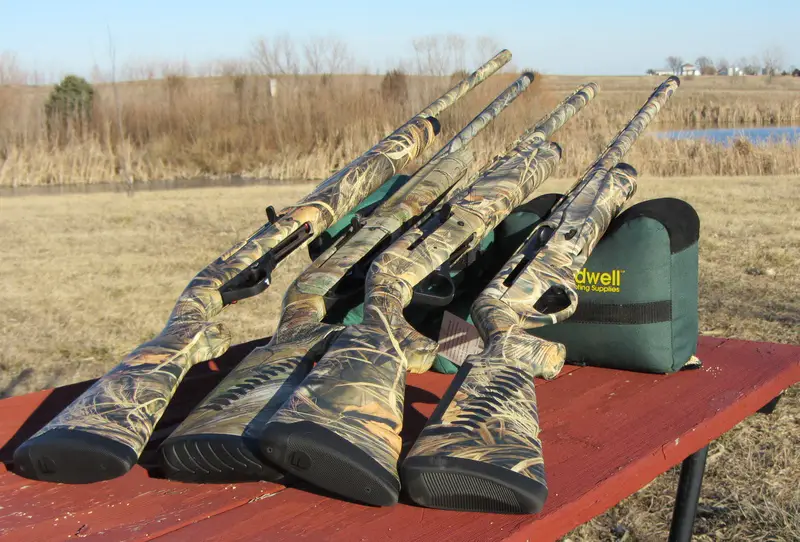 From the left: Franchi Affinity 20 gauge, Benelli M2 20 gauge, Franchi Affinity 12 gauge, and the Benelli Vinci.
The Franchi Affinity action differs from the traditional Benelli recoil (inertia) action in one basic aspect: the mainspring is located under the forearm, as opposed to inside the buttstock. We shot the Affinity 12 gauge with a variety of loads from B & P 1 oz. loads up to Federal 1-1/2 oz. buffered baby magnums. Function was flawless throughout. In the felt recoil department, we found the Affinity to be very comfortable to shoot with target loads. With a shell like the B&P F2 Mach (1 oz. @ 1300 fps) you could shoot the Affinity all day. Recoil was not noticeably any different to our shoulders compared to the Vinci with target loads, which we shot side by side. At the higher end, with 1-1/2 oz. loads, we could tell the difference: the Vinci was clearly softer shooting which we attribute to the ComforTech stock of the Vinci, though the Affinity was not at all abusive and for many hunting applications would present no issue.
This slow-motion (240 frames per second) video clip shows that recoil and resultant gun movement is mild. Ejection is quite positive with 1 oz. 1300 fps shells.
My understanding is that manufacture and assembly of the Franchi Affinity is all at the Benelli Urbino facility. I tend to believe it, as this 12 gauge had no flaws whatsoever as received, and a trigger noticeably better than most autoloaders tested in the last year, including the M2 20 gauge and three Vinci's out of the box. For many people, a three inch chambered 7 lb. autoloader is all the shotgun they will ever need (or want), and at the $850 or so street price for the Affinity 12 gauge (less for the matte black) there is nothing on the market that competes with this shotgun. Franchi is going to sell a boatload of these and, they deserve to. In 2012 dollars, it is a tremendous value in a low-maintenance, well-built, hassle-free autoloader.
Copyright February, 2012 by Randy Wakeman. All Rights Reserved.
Custom Search

---
Custom Search