---
Fausti Class Twenty Gauge O/U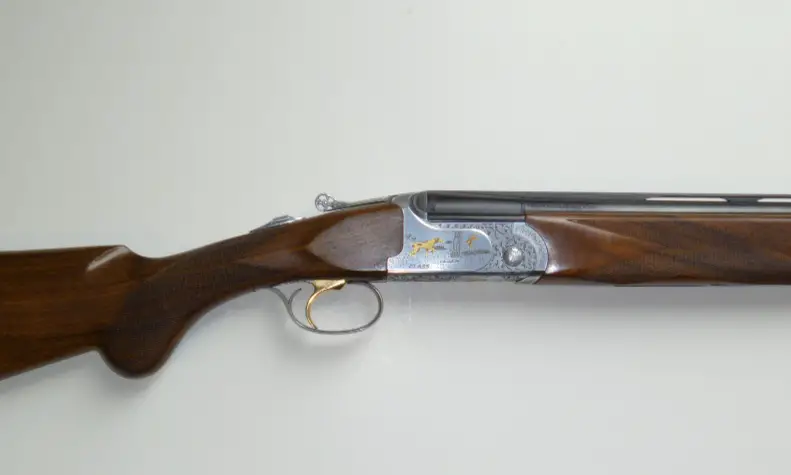 The Fausti Class twenty gauge 28 inch O/U weighs in at a responsive six pounds and six ounces on my Lyman digital scale, with choke tubes installed. The basic specifications are published as follows by Fausti USA:
Length of pull: 14 3/8 in.
Trigger: Single-Selectable
Chamber: 3 in.
Barrels: 28 in.
Stock: AA Walnut / Oil finish
Drop at heel: 2 in.
Drop at comb: 1 3/4 in.
Weight: 6.4 lbs.
Ejectors: Automatic
Sights: Single Front Metallic Bead
Item Number 14202, MSRP $2449
This is an example of the well-known "Brescia" Italian vertical double shotgun action, very similar in style to the Caesar Guerini / B. Rizzini genre of low-profile action. The Fausti Class has hard chrome-lined bores, lengthened forcing cones, a well-figured oil finish "Prince of Wales" pistol grip equipped stock, and twenty-eight inch barrels.
The receiver is extensively laser-engraved, with better coverage than many so-called "full coverage" models that are out there. The attention to detail is readily apparent, with excellent metal to wood fit and the forearm and buttstock perfectly matched in color, grain, and tone. The tang lever, for example, is very tastefully, engraved, skeletonized and profiled.
This individual Fausti comes with a "feature" that I have great disdain for: a self-resetting safety. It is particularly obnoxious when breaking clays or when on when on a busy dove field. I have to wonder what resets the safety for you on an autoloader or a pump? Encouraging neediness on a manual safety isn't a particularly grand idea. It is even more nonsensical on a break action, where the gun may be quickly and visibly rendered inert by just opening the action. Fortunately, it is a simple pusher-rod that can be easily removed. My understanding is that all future Fausti's will not have this unless the customer specifically requests it: a good thing, as far as I'm concerned.
My sole complaint about this gun is the overly stiff tang safety. Fausti will of course loosen it a bit, but in its supplied form it isn't what you'd want with cold or gloved hands. On the other hand, one issue I've had with many Beretta O/Us and similar is the very low profile, slippery thumb safety that tends to save pheasants lives more than anything else. I'm pleased to report that the Fausti safety is generously raised and gives far better purchase with your thumb than most Italian field doubles.
The Fausti triggers are quite good, breaking at a bit over four pounds right out of the box. Fighting sloppy, creepy, and overly heavy triggers has become commonplace in shotguns as a class. It is a real bummer when you get a new O/U and a double trigger job is needed immediately, one of the many reasons to avoid cheap doubles. I'm glad that Fausti does not fit into this increasingly unfortunate mold.
Many Italian vertical doubles aren't at all stocked properly for me. By that, I mean not enough drop and too much comb. Several are painful to shoot as a result. That isn't the case with the Class at all, it fits me and several other shooters superbly well. The only thing that gets pushed when you fire it is the shoulder pocket, just as it should be.
The Fausti Class 20 screams "upland field gun." It flies to the shoulder and is extremely easy to hit with. Most of the shooting and patterning was done with B & P F2 15/16 oz. shells. This is the type of gun idea for flushing game, quail, pheasants, and grouse. Fun to carry, quick to the shoulder, and quick to the target. It is hard not to characterize this Fausti as an excellent value for a hunting shotgun of this level. At a MSRP of $2449, it compares very favorably to several models like the Caesar Guerini Tempio that retails for $3325 and the comparatively plain-looking Beretta 687 Silver Pigeon III at $3175.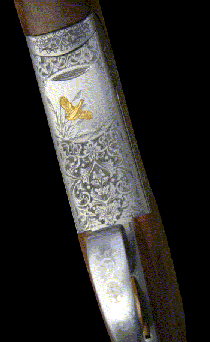 The Fausti Class line is available in .410 bore, 28gauge, 16, gauge, and 12 gauge along with this tested twenty gauge. Sixteen gauge fans will quickly appreciate that the Class 16 has the the same published weight as this twenty. "Class" is an appropriate name for this series of vertical doubles. The automatic ejectors functioned positively and strongly. The entire gun has fit, finish, and a level of polish that you won't find on lesser guns. If you view "matte" type finishes as essentially unfinished or unpolished, you'll know what I'm referring to. It is the little touches that combine to make a field gun an immensely satisfying one. Rather than just receiver engraving, the Fausti Class has tastefully applied engraving accents on the trigger guard, tang, tang lever, and forearm metal as well.
The wood to metal fit is noticeably better than many doubles, the grade of wood and the level of oil finish just a bit better than many as well. The bluing is darker, richer, and more highly polished than many O/U's, and the metalwork like the profiled tang lever and the raised safety is a step up as well.
We all appreciated the Fausti Class. It's one of those upland guns equally enjoyable to carry, to shoulder, to swing, to shoot, and to look at. Most every aspect of the build quality was a notch better than normally seen. It all combines to make the Fausti Class a thoroughly satisfying field gun with a value that is exceedingly good, for the closer you look the better this gun gets.

Copyright 2011 by Randy Wakeman. All Rights Reserved.
Custom Search

---
Custom Search