---

Endurance PC 8x 42 Binoculars from Hawke Optics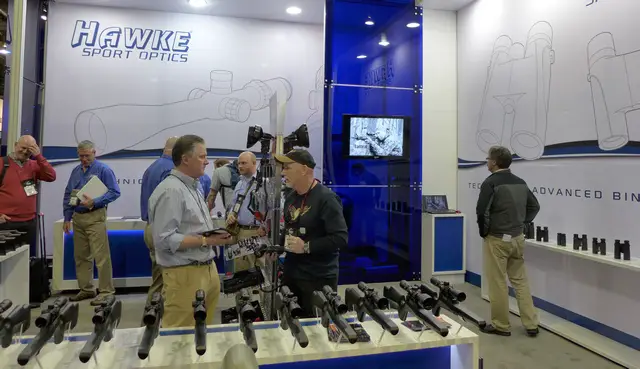 Hawke Optics at the 2013 SHOT Show
The Hawke Optics line-up grows more popular and broader with each passing year. The current Hawke #HA3944 Endurance 8 x 42 roof prism binocular set runs about $199 street price and at that price point, is as versatile set of hunting binoculars as can be had at this quite affordable price point. The "PC" as part of the name means phase-corrected; they are roof-prism binoculars that weigh about 25 ounces, have a 426 foot field of view at 1000 yards, and are waterproof, fogproof, and feel steady in the hands.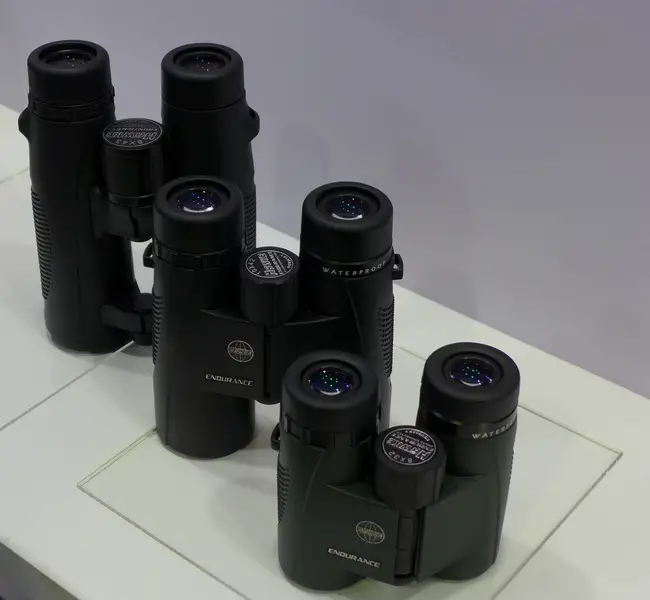 The tested unit is in the center, above, except in 8 x 42 configuration.
There are a lot of reasons that I like these particular binoculars and it isn't only the image quality. They are immensely stable in the hands, the three-position twist-out eyecups stay where you put them, they are smooth and easy to focus. They fold out and in with no grit or slop, the supplied case and even the supplied neckstrap are both excellent. I'll take the 5.25 inch exit pupil every time from an 8 x 42 set vs. an 8 x 32 set, for the difference in bulk and price isn't that great. These are still fairly compact binos that weigh a bit over three-quarters of a pound. One of the sets of binoculars I've used the most over the last seven years is no longer available, a set of $429 street price (in 2006) Burris Signature Select 8x42. There were excellent back then and still are today. These Hawke units, at a mere fraction of the price, are essentially identical in performance. They are also available in 8 x 32, 10 x 32, and 10 x 42 configurations.
If you want a tremendously satisfying set of hunting binoculars at the two hundred dollar price point, all I can say is just buy these Hawke Endurance 8 x 42s. They are all-around excellent in image sharpness, handling, feel, and build quality.

Copyright 2013 by Randy Wakeman. All Rights Reserved.
---
Custom Search