---
EGW Scope Mount Solutions: One Piece Rails for Savage Edge and 220F Rifles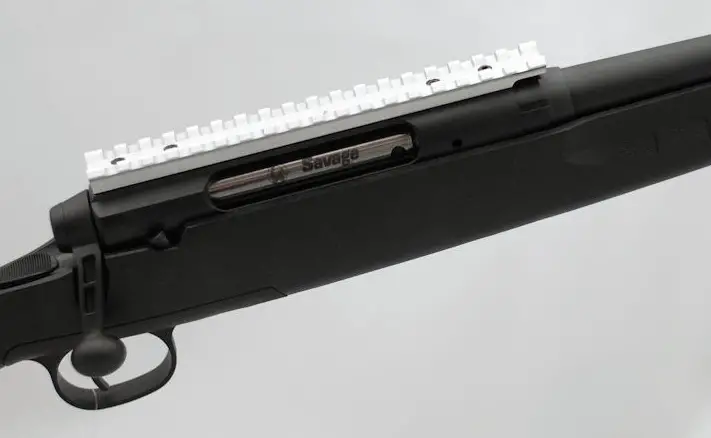 With the affordable yet extremely high quality alloy one piece Picatinny Rail mount from Evolution Gun Works, now you can mount virtually any scope wherever you prefer on Savage Edge (shown above) and Savage 220F rifles quickly and with no hassle.
Two extremely popular rifles reviewed of late are the Savage 220F 20 Gauge sub-MOA slug gun and the latest offering from Savage, the new Savage Edge centerfire rifle that looks to be the most rifle for the dollar ever at its bargain-level price point. Though both the 220F and the Edge come with Weaver-style bases pre-installed, both rifles have long actions. This is not at all a problem when mounting a full-length scope; I mounted Bushnell Elite 3200 3-9 x 40mm Ballistic reticle scopes on both without a hitch.
But, the vast majority of the scopes out there today are comparatively short and stubby. We seem to prefer light scopes and one way to get there is to use shorter and commensurately lighter tubes. If you want to mount that Sightron Big Sky, several Leupold models, several Burris models, or a Red Dot genre scope-- you might be out of luck. It might require extended bases, extended rings, or both. If you are buying a new scope, you'll want a full-size scope with somehere around a six inch mounting spread with factory bases. That naturally limits your selection a bit and doesn't help you one bit if you'd like to use a scope you already own. Problem solved. EGW really snapped to it and the Savage Edge one-piece bases are already available.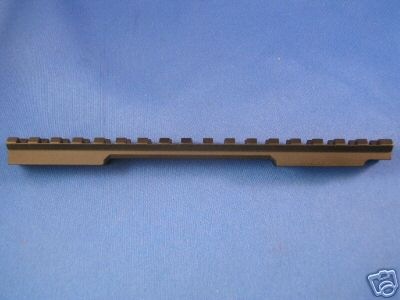 The EGW one piece base for the Savage 220F, shown above, has been out there for some time. In addition to offering scope-mounting versatility, it is generously sculpted in the center to allow for trouble-free ejection with bulky three inch 20 gauge slug loads. EGW has an ever-expanding product line. I can tell you that their scope rings are both light and exceedingly well-made as well. Whether Savage Edge or Savage 220F, the one-piece bases are $39.95 and your scope positioning concerns are gone for good. For more info, see http://egw-guns.com/.
Copyright 2010 by Randy Wakeman. All Rights Reserved.

Want to get the most out of your new Savage? Visit with the gang at Savage Shooters-- they are happy to help!
---
Custom Search