---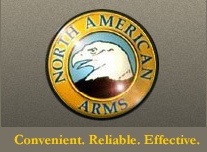 Custom NAA .380 ACP Guardian Pistol, Part One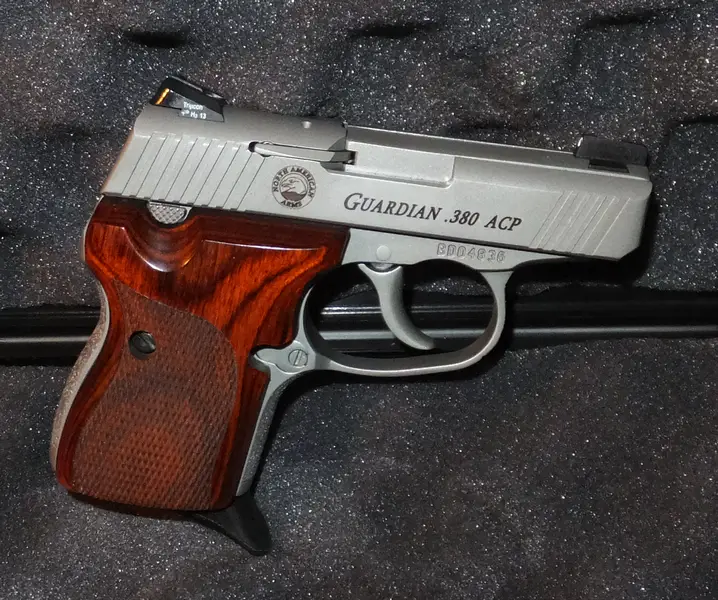 Sandy Chisolm is the President of North American Arms. A brief interview with Sandy, from eight years ago, appears here: http://randywakeman.com/sandychisolminterview.htm . In that interview, Sandy discussed the Guardian line.
"Our Guardian pistols are built on two different-sized frames. The smaller one is chambered in 32 ACP (or .25 NAA), and the slightly larger one is chambered in 380 ACP (or .32 NAA). The inspiration for these pistols was, indeed, the venerable Seecamp pistol, which seemed to enjoy its own size niche, a rabid following, and a lengthy backlog. When we designed the better mousetrap, we made several modifications, which included:
1) a 1911-style magazine release (in comparison to the more snag-worthy and clumsy heel clip)
2) the absence of a magazine-disconnect safety (I strongly disagree with the incorporation of one)
3) an external button to allow super-simple takedown of the weapon for cleaning (as opposed to the use of pins or nails to trip an internal release)
4) an admittedly modest set of integral sights (which can be enhanced by a wide selection from our Custom Shop)
5) the ability to reliably feed and digest ANY commercial ammunition labeled 32 ACP (as compared to one style from one brand), and, most importantly
availability; our pistols are infinitely easier to come by."
The basic Guardian .380 is described here: http://northamericanarms.com/firearms/380guard/380guardian.html . This slightly larger framed model was introduced in 2001, while the .32 Guardian goes back to 1997.
The Guardian line has grown from there, now offering more options and accessories than ever before. A concealed carry handgun is always a personal, stylized choice. The tested Guardian .380 here, is what I think is the idea configuration, for me. You can get yours anyway you'd like it as detailed here: http://northamericanarms.com/accessories/g-accessories/guardian-cc.html . North American Arms has a healthy backlog, so availability of custom work is subject to change. It is best to e-mail or call North American Arms to check on the best way to proceed with your personal needs. This is what I decided to go with.
NAA .380 ACP Guardian
 
S380-FM Full Matte Bead-Blasted Stainless Finish
S380-NKT (Novak 3 dot Tritium)
CS-380-SFS Forward Slide Serrations
CS380-FSP Stipping Package
G380CBW-C Coco Bolo grips, checkered
For the Guardian, as you can tell from the image at the top, the Coco Bolo grips are extremely well done with checkering that gives a very reassuring, positive grip. Control is very important in this type of gun, and the stippling isn't just ornamental, it gives better purchase on the pistol. The Novak Tritium sights, like the rest of the gun, is snag-free and easy to use under all light conditions. North American Arms really knows how to finish a pistol, as you can see. The basic specifications of the NAA Guardian .380 follow.
Caliber 380
Capacity 6 + 1
Barrel Length 2.49"
Overall Length 4.75"
Overall Height 3.53"
Width 0.930"
Weight Unloaded 18.72 oz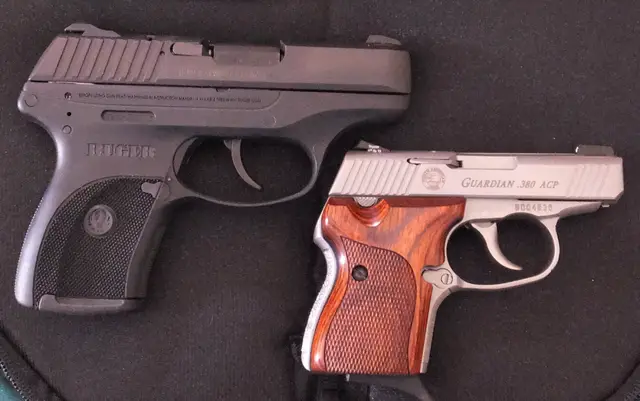 Above, you can see the NAA Guardian alongside a Ruger LC380. The overwhelming appeal of the Guardian is its easy concealability and portability in a .380 platform. It is maximum capability with small envelope dimensions. The NAA Guardian fits easily where other self-defense .380s cannot fit at all.
The .380 (or 9 x 17mm) was invented by John Browning, it was the round that started World War I, and has been in continuous production since 1908. Self-defense bullets have improved: for example, the Speer Gold Dot, Hornady Critical Defense, Winchester PDX1, and the Barnes TAC-XP rounds. The Barnes 80 grain round, despite its comparatively low-recoil, has produced devastating wound channels in ballistic gelatin, with over 10 inches of penetration and full expansion . . . from a 2.5 inch test barrel. The NAA Guardian nets you 7 shots as fast as you can pull the trigger. It isn't a long range target pistol, by any means, but as a intimate self-defense round the .380, with the right ammunition, is both substantial and formidable. Much more to follow in part two of the NAA Guardian coverage.
Copyright 2014 by Randy Wakeman. All Rights Reserved.
---
Custom Search