---
ContourHD 1080p Wearable Camcorder Review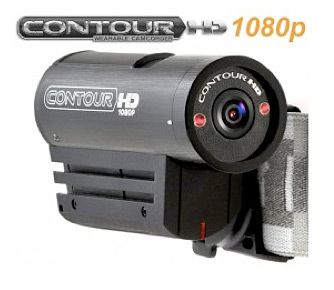 The quest for a wearable action camcorder is invariably one of compromise, a compromise of capabilities against envelope dimensions and weight. The pinhole CMOS genre of camcorders (I-Kam) have been more frustrating conversation pieces in my experience, and the recently tested Tachyon OPS had poor battery life and an invisible warranty. Though the Tachyon was diminutive in size and price, it failed to yield high quality video, had an internal battery, and a proprietary USB connection that added to its impracticality.
The Twenty20 "ContourHD" is a huge step up in video quality and features. It is also substantially larger, but still more compact than many units. The ContourHD is still lightweight at about four ounces plus. The specifications are as follows.
ContourHD 1080P
Full HD – 1080p (1920×1080), 30 fps
Tall HD – 960p (1280×960), 30 fps
Action HD – 720p (1280×720), 60 fps
Contour HD – 720p (1280×720), 30fps
Fast SD – WVGA (848×480), 60fps
135-degree wide angle lens (111 degrees at Full HD)
5 Megapixel Sensor
Internal microphone (Software Adjustable)
Quicktime H.264 MOV videos with AAC Audio
MicroSD/SDHC up to 16GB (2GB included) – Up to 8 Hours of HD video
Rechargable Lithium Ion Battery
iPod(USB) Charge Compatible
Adjustable Resolution, Bit Rate, Sharpness, Contrast, Light Metering, Exposure and Mic Sensitivity
Easy Edit and Share software (now called Storyteller)
Powered by a 3.7 volt, 1050mAp battery, the battery is quickly replaceable in the field. It is charged, when in the camera, by a standard USB connector. A 2GB MicroSD memory card is included; I ordered a 16GB card along with the camera. I also ordered the Contour headband mount, which worked like a charm. Finally, I ordered a spare battery so out in the field, you're good to go for acquiring 4 - 5 hours of 720p 30 fps video with no hassle and very little downtime.

At either the full HD 30 fps mode, or the 60 fps "Action HD" mode, memory is gobbled up at a fairly brisk pace of four GB per hour. With the 16 gigabyte card installed, the 720p mode gives you twice the recording time, or eight hours per chip. Full HD, four hours per 16GB chip is all she wrote. Both the manual and the current "Storyteller" software are minimalistic, lacking in basic information such as "video quality setting" which apparently is bitrate. Battery life is 2 - 2.5 hours as stated by Contour. I had no problem actually recording two hours of video, with the unit on standby several minutes in addition to that. The rotating lens (180 degree) and integral dual laser alignment makes the Contour easy to position when it is on your head, where an LCD wouldn't be visible to you anyway. By moving a small switch inside the camera, you can instantly switch from what you have selected as your own two resolution settings, in my case 720p 30fps for "Low" and 1080P 30fps for "High."
The Contour does a very good job in ambient, indoor lighting and also outdoors. A small gripe is the skimpy amount of accessories included. A tripod mount (the extra-cost universal mount adapter) and the extra-cost headband mount I'd like to see included as standard equipment. Rightfully, waterproof housings should remain as extra-cost items. The 2GB MicroSD card should likely be at least an 8GB card, or not included at all.
When it comes to point of view, wearable camcorders, the specific applications you intend to use them for have a lot to do with your most appropriate choice. Helmet cams, as a class, are naturally used when biking, cycling, skiing, skydiving, and so forth. Recreational hunting and shooting is often sans helmet, so the application is more headband or brim of hat type mounting. The form factor of the ContourHD is appealing, as is its use without being inserted into a housing. The 135 degree wide angle in 720p mode is plenty wide enough, still likely to catch the brim of a cap in the corner of the image so a stocking cap along with the headband is what you might want for a completely unobstructed image. At four and a quarter pounds, it is a good combination of lightweight and high resolution video. The gi-normous slide "ON" switch on top of the unit is hard to miss, even with gloved and cold hands.
I'm happy to recommend this unit. Compared to the pinhole or standard resolution product out there, the Contour HD is a huge step up in video quality, with a standard USB connection and replaceable lithium-ion batteries that keep you running all day with minimal hassle. For more info on the entire Contour line, see: http://contour.com .
Copyright 2011 by Randy Wakeman. All Rights Reserved.

Copyright 2011 by Randy Wakeman. All Rights Reserved.
Custom Search