---
Caesar Guerini Magnus O/U Shotgun


Very few firearms produced today are truly memorable; fewer still have qualities that approach perfection in form and function. The twenty gauge Caesar Guerini Magnus Over/Under illustrates what a truly high quality O/U shotgun should do and should look like.
Over and over again, those that took a close look at this 28 inch barreled shotgun gushed, "That's perfect." A description like that is not far off the mark. Flawless bluing, flawless wood, flawless wood to metal mating surfaces, outstanding triggers, and great handling characteristics all combine to make this shotgun a standout. The stock design incorporates cast off and twist to accommodate a right hand shooter.
The action itself is Guerini's variation of the Italian "Brescia" style action, with the monoblock barrels set lower in the action than the by now technically obsolete Browning Superposed and Citori designs. These are boxlock guns (many Guerini models, including the Magnus, come with false sideplates) with replaceable trunnions substituting for a Browning style hinge pin and tandem Superposed type lumps on the bottom of the lower barrel are engaged by a locking bolt that keeps the gun closed. Because of its under-bolt design the breech face is "clean" to ease loading and unloading.
Like the Superposed, Guerini guns have selective ejectors and a selective single trigger. The action incorporates dual internal safeties: an interceptor notch on the sear and an independent inertia block. And there is, of course, a conventional manual top-tang safety slider that also serves as the barrel selector switch. The 20 gauge Magnus weighs in at six pounds, nine ounces with two factory choke tubes installed (five are supplied) in its 28" barrels.
Here are some specifications for the Guerini Magnum test gun:
Type - Field gun
Action - Boxlock with sideplates
Gauge - 20 (.626" diameter), 3" chamber
Barrel length - 28"
Barrel finish - High polish luster blue outside, chrome lined inside
Barrel weight - 2.77 pounds
Chokes - 5 interchangeable (CYL, IC, M, IM, F), flush fitting, nickel plated
Sights - 6mm wide ventilated rib with brass front bead
Receiver finish - Color case hardened, linear urethane coated
Trigger - Single selective
Ejectors - Selective
Safety - Manual (automatic safety available as an option)
Stock - "Deluxe grade" Turkish walnut with Prince of Wales grip and 26 lpi cut checkering
Forend - Schnable type with Anson push button release
Wood finish - Hand rubbed oil
Drop at comb - 1.45"
Drop at heel - 2.25"
Length of pull - 14.75"
Case at heel - 0.12"
Cast at toe - 0.18"
Pitch - 4 degrees
Accessories - Choke wrench and case; plastic hand case with fitted interior and combination locks
2007 MSRP - $3495

The trigger is as good as I've ever seen on a factory upland gun, breaking at four pounds, nine ounces with no grit, creep, or take-up. The variance between the triggers is no more than an ounce or so. They just plain go when you want them to. Ejection of the spent hulls is reassuringly positive and forceful.
As a friend of mine puts it, tolerances are for folks that just can't put things where they want to. You've no doubt been regaled with the old story that a new O/U should be "tight" and the worn-out models are loose when you close them. All too often, tight means poor machining. You should not need a vise to break open a shotgun or to close it. Guerini got it just right, this is a shotgun that practically puts itself together for you, and takes down the same way.
There is no proud wood, uneven finishes, or other inconsistencies that you might expect as a matter of course. The receiver is decorated with fine scroll engraving and the sideplates are blind (or pin-less) to provide an uninterrupted engraving surface. The well-figured fiddle-back walnut is evenly balanced in color and tone; the case coloring is deep and rich. The gold grouse and pheasant designs are tasteful and well-done. Even the safety operated with what I feel is just the right amount of pressure.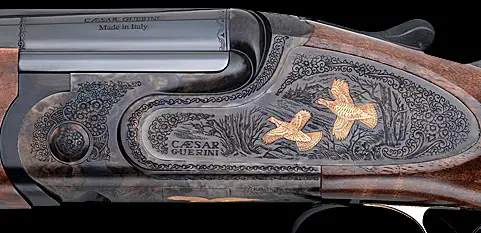 Interestingly, this gun comes with a very classy wood buttplate. As you might guess by now, it is supremely well finished, "perfectly" in a world. Despite the aesthetic appeal and the self-evident craftsmanship, I didn't like the wooden buttplate. I'd happily forego this part of the elegance for a Kick-eez or Limbsaver recoil pad.
This gun is a joy to carry and swing; it embodies what I think over and under shotguns should aspire to be. This model had a tad more comb height than suits me for enthusiastic shooting, so while it likely fits a majority of shooters, it needs a bit of stock work to fit me as well as it should. Despite a stinging cheek, I found it difficult to miss with this piece.
It is a clear, obvious, tangible upgrade from most of the production Beretta and Browning offerings. Whatever Guerini has done with tuning the balance points on this gun, they have solidly hit the mark. The thin wall chrome-moly steel barrels are noticeably livelier than many of the pipes on other over/unders.
One thing that Guerini offers is their "Pitstop" program that gives their customers free cleanings and tune-ups. Clearly, they have a special commitment to their customers that is more of a lasting relationship than just service. If you believe that life is too short to tolerate merely adequate shotguns, you'll want to check out the Caesar Guerini line in a big hurry.

Copyright 2007 by Randy Wakeman. All Rights Reserved.
---
Custom Search