---
Bushnell HD Torch Light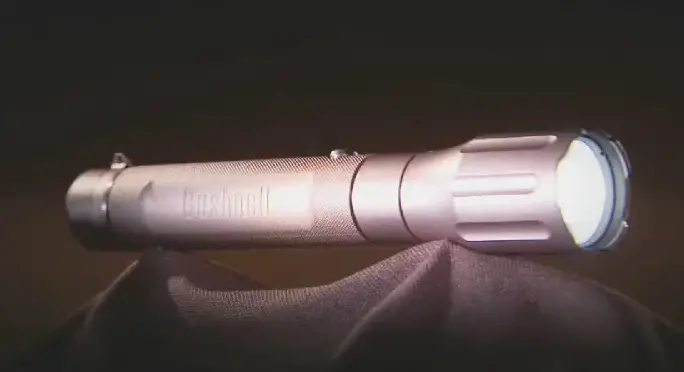 The evaluated flashlight is Bushnell Model 100400, an incredibly bright square beam LED flashlight. The current designation is likely the 100400C, renamed the "HD Torch" from the tested example that is called the "Bushnell HD." It is billed as a 165 lumens light, claimed to be up to forty times brighter than standard LED lights. Though I have no way of easily testing that, I'm inclined to agree. This is one clear, super-bright light. There is also a "Bone Collector" version stated as even higher output at 200 lumens of maximum output.
The specs are listed as:
Color: Anthracite
Length: 9.2 inches

Run Time on High: 90 minutes

Batteries: 2 each, CR123

Weight: 9.8 oz.

Model: 100400C

Max Output: 165 Lumens

This is an impressive light. Perhaps not quite as impressive as the Bushnell video shows, as you won't find a lost wallet and three diamond rings (or the same diamond ring three times?) every time you use it, but the square beam light quality that it produces is spectacularly good. It is claimed as waterproof to IPX-7 standards. Not remotely a dive light, my understanding is the IPX-7 means immersion at a depth of one meter for thirty minutes.
There are several lights out there that can be be bumped on accidentally. If you have a flashlight in your backpack or perhaps in your luggage that is prone to this, it can be frustrating when you discover that the flashlight in the backpack beneath the lucky Snickers bars has been draining itself all afternoon. The button on the shank of this roughly nine inch long light thankfully doesn't turn it on to start with. A large "B" button in the end of this unit does that, and stays on glowing in green as the Bushnell "Find-Me" feature.
The "Find-Me" B is an excellent addition, serving dual duty as a battery-life indicator. When it changes to red, you have about ten minutes of light left. This is the sole consideration of the Bushnell HD light: you get superlative, clear light quality, but you are constrained a bit by the skimpy 90 minute burn time.
However, CR123 batteries have about a ten year shelf life and you can buy them in bulk for about a dollar each, so as long as you have an extra pair of these lightweight batteries in your range bag or backpack, you should have no troubles.
One you turn the unit on with the "B" base button, the standard button on the side of the unit cycles from "On to Strobe to Off." Though I've not conducted any widespread comparisons, I did compare this Bushnell 165 lumens HD Torch to the 130 lumen Energizer Night Strike. With pun intended, the Night Strike couldn't hold a candle to the Bushnell HD light. The Bushnell HD delivers on its promise of superior, even, clear light from edge to edge of its square beam. It is very easy to recommend the Bushnell HD Torch: as it quickly makes conventional flashlights look weakly, fuzzily pathetic by comparison.
Copyright 2011 by Randy Wakeman. All Rights Reserved.

---
Custom Search