---

Bushnell G-Force 1300 ARC Laser Rangefinder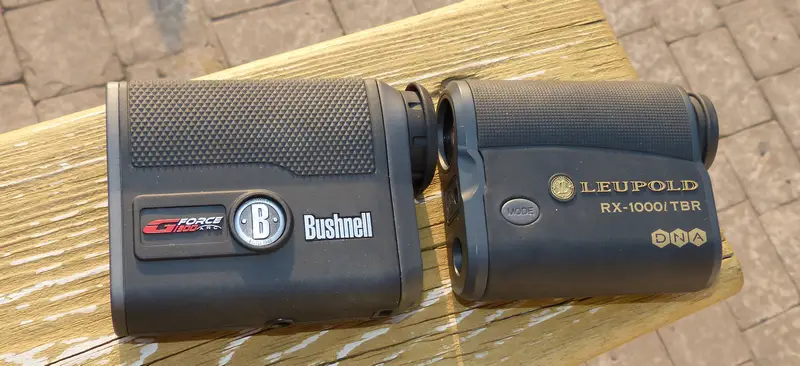 The Bushnell G-Force 1300 is a well-specified rangefinder, with good build quality of the rubber-armored metal housing; it is also waterproof with a built in tripod mount. Retailing at $399.99 its street price is often $340 or so. Originally, my hope was to do a small "rangefinder roundup" comparison, similar to an article I wrote several years ago. The form factor of this Bushnell is similar to my Leupold RX-1000i, with a similar street price as well. The published specifications are as follows.
Magnification X Obj Lens: 6 x 21
Focus System: Center
Prism System: Roof
Prism Glass: BaK-4
Lens Coating: Fully Multi-Coated
Rain-Guard HD: Yes
Field of View ft@1000yds / m@1000m: 393 / 120
Exit Pupil (mm): 3.5
Eye Relief (mm): 16
Eyecups: Twist-Up
Water/Fog Proof: Yes
Adapt to Tripod: Yes
Rangefinder Range: 5-1300
Magnification: 6x
Weight (oz/g): 8 / 227
BatteryType: 3-volt CR2 (incl.)
Rangefinder Targeting Modes: Scan, Bullseye, Brush
Rangefinder ARC Modes: Bow, Rifle
Tree Ranging Performance (yds.): 900 yds.
Deer Ranging Performance (yds.): 600 yds.
Rangefinder Accuracy: Up to ½ yard accuracy from 5-125 Yards, +/- 1 yards accuracy from 125- 1300 yards.
Both this Bushnell unit and the Leupold have similar specs and are 6x units, the Leupold having a slightly larger (22mm) objective. The Leupold is more accurate, at 1/10th of a yard, but as a practical matter both have more accuracy than needed.
A head to head comparison isn't needed here, though, as the tested Bushnell unit has a huge problem: the display. The red "Vivid Display Technology" is quite poor, offering a very weak, ghosty overlay image of the reticle and read-out even on a cloudy, overcast day. The Leupold's OLED display is a far brighter, crisper, easier to see display, and the RX1000i is an immensely more useful tool as a result.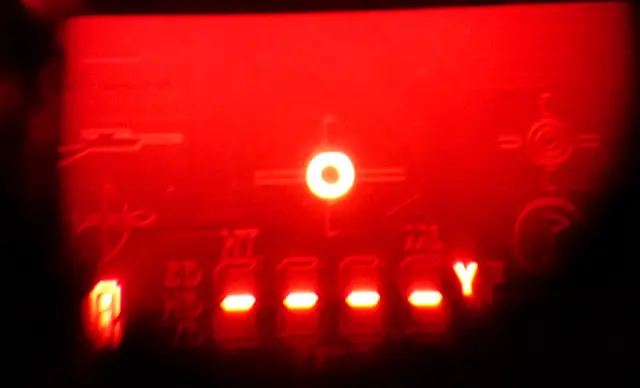 Above, the smeary G-Force display shows off just about everything you don't want to see in low light, in a hunting situation.
To be specific, the Bushnell has four brightness settings: Brt1, Brt2, Brt3, and Brt4. The Leupold has three: Low, Medium, and High intensity. Even on the low setting, the Leupold has a far more distinct, more usable display than the Bushnell at its high setting. In low light, the situation gets no better, for the display of the Bushnell also tends to show all the potential display circuitry, resulting in a cluttered maze of an undesirable "washout" LED fireworks and artifacts as you can see above.
The Leupold, however, has no such problems and has a dramatically superior and less distracting display, regardless of setting, regardless of bright daylight or after sunset conditions. As a practical matter, you can just set the Leupold at "medium" display intensity and you are good to go during all legal hunting hours, with no further fiddling or fussing. The Leupold offers three different reticle choices as well. Although at a higher price point, the Leica Rangemaster CRF 1000-R also has a markedly better display than the Bushnell, one that is self-adjusting.
There is little point in attempting further comparison, so I won't. The Bushnell G-Force 1300 ARC certainly has the potential to be a fine unit; its tragic display, at least directly compared to the similarly priced Leupold, sends it into the "cannot recommend" category with no hesitation.

 Copyright 2013 by Randy Wakeman. All Rights Reserved.
Custom Search