---
Bushnell Trophy Cam Model 11956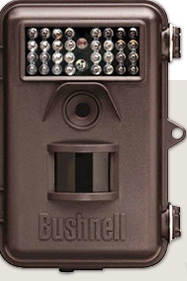 Bushnell trail cameras are getting more powerful, practical, and feature-laden year after year. With increased memory capacity, longer battery life, video capability, audio capability and time-lapse capabilities, they are a very long ways from what was considered standard just a few short years ago.
For starters, I'll list the basic features of the tested unit.
Color Image LCD display
Widescreen, VGA, QVGA video resolution
8 MP high-quality full color resolution
32 LEDs with 45' range, invisible to game and other hunters
Temperature and moon phase stamp
Uses 4 to 8 AA batteries (not included)
Runs up to one year on one set of batteries
Day/night autosensor External power compatible
Adjustable PIR (Lo/Med/High) 1-second trigger speed
Programmable trigger interval: 1 sec. to 60 min.
Multi-image mode: 1-3 images per trigger
Video length: 1 second to 60 seconds, programmable
Audio record
Field Scan with Simultaneous Live Trigger
Time-lapse mode takes images at pre-set intervals:
1 minute to 60 minutes
Temperature range -5° F to 140° F
PIR sensor is motion activated out to 45 ft.
Adjustable web belt and 1/4-20 socket
SD card slot (up to 32GB)
The integral color viewfinder is a big step up from the text type LCD screen versions. With a text type menu screen, you cannot easily check to see if you have any images worth saving and set-up is far more cumbersome than with a color LCD screen. The color viewfinder is such a big jump up that as far as I'm concerned the text units are essentially obsolete. Now that memory prices have dropped dramatically, and units like this Bushnell can use SD cards up to a massive 32 gigabytes, there is more image capturing ability than most will ever use in a trail cam application.
We left our Trophy Cam out in gale-force winds, rain, and so forth 24 / 7 for over a month. The inside of the unit was clean and bone-dry. There was no discernible battery drain yet, despite the capture of over 420 twenty-second video clips with audio.
Directly put, there is nothing lacking in this current Trophy Cam offering so it is easy for me to recommend it without reservation. It is excellent product, and for those who want HD versions, those are available as well. Hat's off to Bushnell.
Copyright 2011 by Randy Wakeman. All Rights Reserved.

---
Copyright 2011 by Randy Wakeman. All Rights Reserved.
Custom Search