---

Burris 1.5-6x40 MTAC Rifle Scope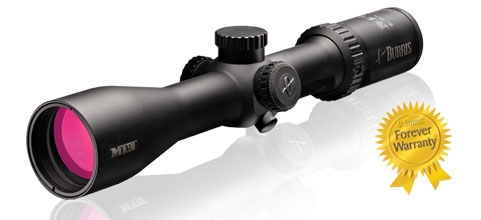 The Burris 1.5-6 MTAC is a beefy 30mm, well-finished scope featuring the better grade of Burris glass and its highlight is a blazingly fast to use, innovative illuminated reticle. It is a very easy to acquire reticle when not illuminated as well, appearing in dark black. With common velocity .223 and .308 loads and a 100 yard zero, it offers very fast and accurate shot placement up to 600 yards, perhaps a bit more with higher intensity cartridges.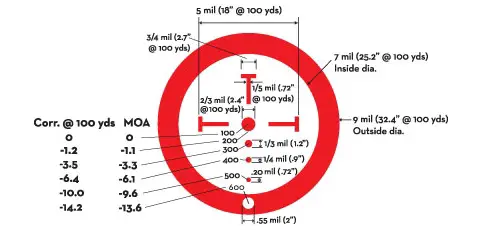 Unlike many of the amusing, confusing, cluttered looking hold-over reticles, the Burris "Ballistic CQ 5.56/7.62" reticle just makes good sense. The center dot is 2.4 inches in diameter (at 100 yards) and as you go down the tier, the dots are 1.2, .9, and .72 inches in diameter. There isn't much opportunity for hesitation; after a small amount of use it becomes second nature.
Specifications
Reticle: Ballistic Plex CQ
Finish: Matte
Field of View @ 100 yds (in): 33 - 13
Exit Pupil (mm): 13 - 5
Click Value (in): .25
Max Adjustment (in): 80
Eye Relief (in): 3.1 - 3.8
Length (in): 12.2
Weight (oz): 14.1
Burris notes this reticle was "developed for competitive shooters, law enforcement, and military applications." It also is extremely useful as a hunting scope, particularly if .308 is your cartridge of choice, or you are using a chambering with similar exterior ballistics. As you might imagine, this scope has the usual popular features inclusive of metal on metal click adjustments, quick diopter focus, and a power ring as on the more recent Burris product, rather than turning the eyebox itself. Its primary distinguishing feature remains the reticle which really is fast to use. An extremely clear scope as well, it is a natural for the Ruger Mini-14, the FN SCAR, and a wide variety of AR-15 and AR-10 rifles. The reticle is so very easy to pick up that this scope is a natural for hog hunting or bear hunting. The 1.5x end is ideal for moving targets while at 6x the dot array will quickly get you out to 300 yards or so.

Copyright 2013 by Randy Wakeman. All Rights Reserved.
---
Custom Search