---
Burris Reinvents the Quality $200 Riflescope: Burris Fullfield E1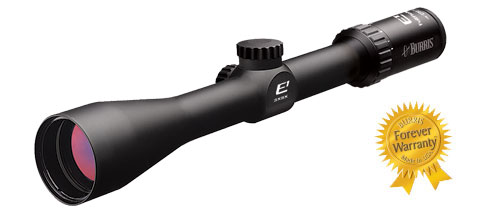 The reliable two hundred dollar hunting riflescope has just been reinvented by Burris, with more desirable features than ever before-- and with nothing that competes with it.

For more years than I care to remember, one of the most commonly asked questions I've received is "What Is a Good Hunting Riflescope?" There are several brands of scopes out there that I've been pleased with and several that I would never consider hunting with. Sooner or later, price enters into the equation. The scopes that come in the hanging hard-bubble packaging at your local chain store often aren't worth the effort to mount them. I should know, as I've wasted more time fighting junk-class tubes than I care to admit. You can also spend enough money on a scope where the dollars you spend exceed any potential benefits the adult human eye can get from a riflescope. Nothing wrong with it, we all buy want we want, but dollars spent for status symbols and brag-rights are generally not satisfying purchases as far as I'm concerned. There is nothing wrong with wearing a Rolex, I could hardly be bothered to worry what jewelry people choose to buy, but the wristwatch I wear serves the purpose of telling me the time.
So, for a decent hunting riflescope, there has largely been two categories of scopes that interest me and that I personally use. There is the roughly two hundred dollar class of riflescope, a class of scopes that has been one of the greatest values in shooting enhancement products for a long, long while by now. The two hundred dollar scope has been a product, over the last several years, that is just plain better than anything that was available when I was a kid. To get noticeable improvement over the best two hundred dollar scopes today, it seems you need to be thinking four hundred dollars or so. Just spending four hundred dollars or so on a scope guarantees you only one thing: your checking account just shrunk by four hundred dollars. Little else is a certainty. There are scopes that more than justify their cost, though, such as the Burris Euro Diamond 1.5 – 6 x 40 that was reviewed last year and did a fine job taking a black bear against a dark background deep in dark hunting woods at the end of the day.
Riflescopes have long been marketed and sold with a few code words. "Fully multi-coated glass" is one of them. If you want excellent light transmission, you generally want all glass surfaces coated several times, a definite notch up from the "coated" and "fully coated" categories. You likely want metal on metal click adjustments, not imprecise friction adjustments. You want a one piece main tube for strength and you also want a scope that doesn't leak, so you want good seals. You also need a scope that holds its zero, the most important thing a scope can do. If your scope has reticle float, your sighting system wandering from shot to shot, you're better off with iron sights rather than a scope that has a mind of its own from shot to shot. The Burris Fullfield line has all of these features, including quad-ring seals and double-spring internal adjustments that many others do not.
The quality $200 used to be a pleasantly crowded field to choose from, but suddenly that is no longer the case. The Light Optical Works fully multi-coated scopes, such as the Weaver Grand Slam and the Bushnell Elite series have now left the $200 price point, now well into the three hundred dollar plus range. There are other similar scopes that have either been downgraded or have just left the category. The opposite is true with the Burris Fullfield series. Not only have they not left the couple of hundred dollar quality hunting scope price point, they have been given upgrades.
What was wrong with the standard Fullfield II scopes, anyway? Actually, not a thing. In particular, the Burris FFII 2-7 x 35 has been a terrific little scope in an overlooked configuration and the FFII 3-9 x 40 has been a standard of sorts in the industry. They have been improved in the new "E1" offerings, though.
Typically, you turn the entire eyepiece in a Burris Fullfield to change power, not just a ring. Burris likely feels this is a technically superior design; it may well be. If you use flip-up caps on the eyepiece, though, you may not have appreciated it as your flipped up cap rotates in concert with the eyepiece. This is not the case with the E1 scopes, that have a power ring that operates independently of the ocular end of the scope. Many will quickly notice and appreciate this.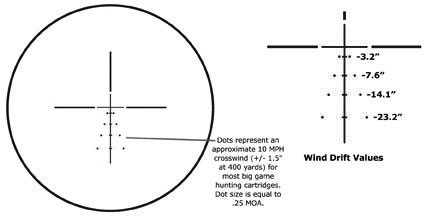 The Burris E1 reticle: It is etched, it is a range-compensating reticle, and it helps you compensate for the wind as well.
When it comes to range-compensating or hold-over reticles, Burris has always been a leader by offering the Burris Ballistic Plex reticle at little (or no) extra cost over a standard plex reticle. They have taken this reticle a big jump forward in two ways. Unlike most scopes in this price range that have a busy, flattened wire type reticle, the reticle in the E1 series is etched glass. An etched glass reticle is more costly, but is more stable, generally more reliable, and offers a less busy, cleaner image. These Burris Fullfield E1 scopes have them and very, very few scopes remotely in the same price range as the Burris FF E1 scopes can make this claim.
Not only do the Fullfield E1 scopes have etched reticles, they are Burris Ballistic Plex reticles, but beyond that they are Burris E1 Ballistic reticles, meaning they are wind-compensating reticles as well, as introduced on the Burris SixX scopes. The two scopes I've spent time with are the 2-7 and the 3-9. Let's list the basic specifications.
Burris Fullfield E1 2-7 x 35
Part No. : 200317
Reticle: Ballistic Plex E1
Finish: Matte
FOV @ 100 yards: 45 inches Low – 13 inches High
Exit Pupil: 17mm Low - 5mm High
Click Value @ 100 yards: .5 inch
Adjustment @ 100 yards: 60 inches
Eye Relief: 3.1-4.1 inches
Length: 11.4 inches
Weight: 12 oz.
Burris Fullfield E1 3-9 x 40
Part No. : 200320
Reticle: Ballistic Plex E1
Finish: Matte
FOV @ 100 yards: 33 Low - 13 High
Exit Pupil: 13 Low-5.0 High
Click Value @ 100 yards: .25 inch
Adjustment @ 100 yards: 50 inches
Eye Relief: 3.1-3.8 inches
Length: 12.2 inches
Weight: 13 oz.
Both scopes come with the Burris Forever Warranty, "Protects Burris products from any defects in materials or workmanship — even if you are not the original owner. Burris will, at our option, repair or replace the item at no charge." The adjustment caps on the Fullfield scopes have been redesigned, they are now oversized and easy to get on and off quickly even with gloved or cold hands. Burris calls them "Hunter Knobs." As with all Burris scopes, each scope is filled and purged at least 24 times with high quality, laboratory grade dry nitrogen. Each Burris scope is also proven waterproof by submersion in 122 degree F. water prior to final packaging and shipment. The Fullfield E1 2-7 x 35 has a street price of $180 or so, with the 3-9 x 40 E1 right at $200.
I don't get the chance to say this very often, but this really is an impressive achievement from Burris and gets my vote as the riflescopes of the year. For two hundred "2011 dollars," there is just nothing out there that compares to what you get in these new Fullfield E1 scopes. Burris will sell a ton of these scopes and they deserve to. The new E1 edition of the Fullfield hunting scope is all the scope most hunters could ever need or want. These are the best for the dollar scopes I've seen in many years and most importantly, they are just really good scopes.
Copyright 2011 by Randy Wakeman. All Rights Reserved.
---
Custom Search