---
Browning's BL-22: The Last Truly Great .22 Lever Action?

Browning's all steel and walnut BL-22 has been with us for some forty years, distinguishing itself as one of the first rimfires originally introduced by Miroku for Browning. The BL-22 has always had a forged steel receiver, walnut furniture, and polished blue metalwork. It has always been a lighting-fast handling rifle, weighing between five and five and a quarter pounds. Likely the fastest lever action ever made, it essentially as fast an autoloader. The action cycles with a lever throw of only 33 degrees, so it is remarkably easy to keep up the rate of fire with no movement from the gun on your shoulder. If you've never tried one, you'll be amazed how blazingly fast it is to shoot accurately.
The tested rifle is perhaps the most visually appealing of the entire BL-22 series, the BL-22 FLD Grade II Octagon with upgraded, well-figured walnut and a 24 inch octagonal barrel. The forged steel receiver is tastefully engraved and silver nitrided. The adjustable sights are of the buckhorn variety, with a gold bead front sight and a matching gold trigger. As is the case with all BL-22s, it has a 15 round tubular magazine and its receiver is grooved for scope mounting.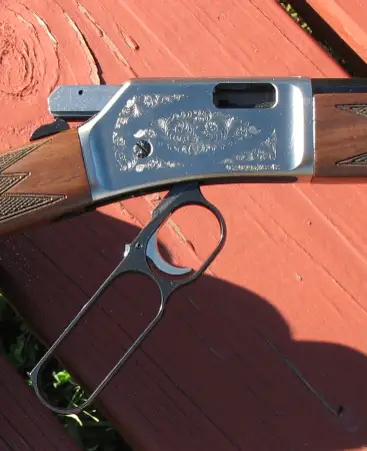 Above, you can get an idea of the super-fast, 33 degree short throw action that makes the BL-22 essentially as fast as an autoloader.
The BL-22 looks and feels like a "real gun," for that's the way it is made. The trigger is heavy, but breaks crisply, right at five pounds. There is some initial take-up. In this case it is expected, as the trigger leaves the receiver along with the lever as you cycle the action, meaning no chance of pinched fingers. Shooting rapidly off-hand at 40 yards with 38 grain bulk Federal American Eagle rounds, the BL-22 had no problem putting its shots into a group you can cover with a quarter. This is more than adequate for headshots on squirrels and similar, though buckhorn sights are not at all my favorite. This little rifle is accurate enough to beg to be scoped for longer range work.

The tested rifle, uppermost, has a 3/4 length tubular magazine against its 24 inch barrel. The regular BL-22 Grade II has the same magazine, but a 20 inch round barrel. Grade I BL-22s have the same all steel construction, but lack checkering, the upgraded walnut, and the receiver engraving.
The tubular magazine works out to be about a three-quarter length magazine against this longer, 24 inch barrel, though standard BL-22 models have 20 inch barrels with the magazine tube ending about half of an inch short of the muzzle. Feeding cartridges is silky-smooth and this BL-22 can shoot short, long, and long rifle cartridges interchangeably. Ejection is both positive and strong. This rimfire lever gun is just hassle-free, there is no other way to put it. The safety is a basic hammer block, no ugly button type secondary safeties to ugly up the receiver. You can chamber a round and cock the rifle so very quickly and effortlessly that for walk-around type hunting, carrying the gun chamber-empty is the way to go, as far as I'm concerned. As you might expect with a lever action, the BL-22 handles short, long, and long rifle .22 ammunition with the 15+1 capacity meaning with .22 LR. The overall length of this model is 40-3/4 inches (four inches longer than the standard versions) with a 13-1/2 LOP, 7/8 DAC, 1-1/2 DAH.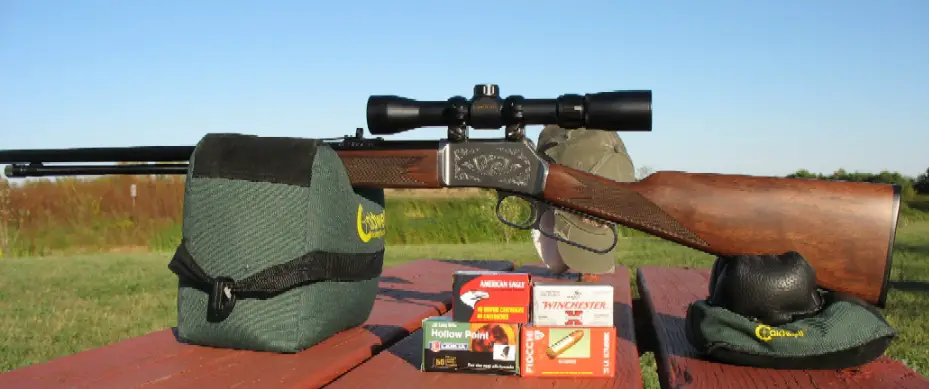 For the next trip out to the range, we mounted a Sightron SII 2.5 x 10 x 32mm scope and decided to try four different types of ammunition at 40 yards under 10-15 mph breezy conditions. Our BL-22 didn't care for the Fiocchi or Winchester Power-Point ammo, but grouped both Federal American Eagle and Lapua Hollow Point Long Rifle rounds within one half inch C-T-C consistently. We couldn't shake the feeling that the overly heavy trigger was holding us back a bit, our sole gripe with this rifle. Still, for general small game hunting, plinking, and just having fun we felt the BL-22 was plenty accurate enough.
Truly tasteful, extremely high quality lever action rimfires are hard to find. The BL-22 easily qualifies as a lifetime type of rimfire, the one you'll be proud to own and shoot, the one you'd be proud to give to your son or grandson. I can think of no one that wouldn't be thrilled to find this rifle under the Christmas tree, to make an understatement. The Browning BL-22 is a superb little rifle, likely the very best lever action rimfire made today. It's a beautifully made, slick operating, easy shooting lever gun with no question. In fact, we liked it so much, we bought it. That should tell you a little something right there.
Copyright 2010 by Randy Wakeman. All Rights Reserved.
---
Custom Search