---
Browning Maxus Hunter: Polished Blue and Walnut at Last

Billed as a "SHOT Show Special" but available a bit ahead of schedule (June-July, 2010) comes the Hunter version of the Browning Maxus, an easier on the eyes treatment of Browning's top-of-the-line gas auto loader that has a MSRP of $1399 as tested. This is the three inch chambered, 28 inch barrel model that weighs in as advertised at just under seven pounds. The stock dimensions are essentially the same as all other previous Maxus models with a 14-1/4 inch length of pull, 1-3/4 in. DAC, 2 in. DAH.
This is the third Maxus I've covered by now. What is refreshing about this edition is that it has a far more traditional treatment, as far as a gas-operated autoloaders go. Rather than plastic or artificially skinned, enhanced, or dipped wood, it has the familiar Browning Grade I / Grade II walnut, the forearm and buttstock well-balanced in color and tone. Rather than a matte (rough, semi-finished) barrel, it is polished blue. The checkering on the forearm is wondrous, as close to wrap-around checkering as you'll find on an autoloader.

This highlights the immensely functional, wrap-round checkering of the Maxus Hunter's forearm. No autoloading shotgun has a forearm that feels better in the hands.
The Maxus Hunter retains the familiar features of the Maxus series including speed loading, speed unloading, Vector Pro lengthened forcing cone, magazine cut-off, and the Browning "Speed Lock" forearm. Also included are stock shims to adjust cast and drop. This example fit me quite well right out of the box so no shim changes were needed. The Maxus trigger broke right at 6 lbs., consistent with previous Maxus triggers and within the 5 – 6 pound Browning spec. As mentioned before, Browning will indeed touch up a Maxus, Silver, or Gold trigger for you if it exceeds that break weight. Those looking for 3-1/2 to 4 pound triggers will need to see a gunsmith (as always) with the universally heavy Browning shotgun triggers as supplied.
Working through a scale of loads, B & P F2 Mach 1 oz. loads, Federal Top Gun 1-1/8 oz, B & P MB Long Range 1-1/4 oz., and finally Fiocchi GPX 1-3/8 oz. Golden Pheasant 1485 fps loads were used. In a previous comparison, a Maxus was pitted against a Beretta A400 (sans KO) and a Benelli Vinci. While none of these seven pound class autoloaders could be considered harsh kickers, the Maxus was the softest shooting of the three with 1 oz. to 1-1/8 oz. loads. On the higher load intensity range, the Vinci's ComforTech stock took over-- shooting with the Maxus in the comfort zone, driving the A400 to last place.
I'm of the opinion that you have to directly compare something to something, a far more useful approach than just shooting a shotgun and trying to guess how it rates based on the "recollection" of another shotgun's shooting characteristics. That means shooting the same loads through different guns, quickly switching from gun to gun, on the same day with the same clothing and so forth. Recoil always has a qualitative component, but side by side shooting gives impressions validity where a remembrance of recoil does not.
In conjunction with this Maxus review, I used a vintage steel receiver Browning B-80 with a 28 inch, 2-3/4 inch barrel as a comparison barometer. The results were surprising. Though the B-80 has no recoil pad, just a hard solid rubber buttplate, the older B-80 was unquestionably softer shooting than the Maxus with 1 oz. and 1-1/8 oz. loads. Surprised? Well, the B-80 is of course a gas-operated gun as well, though lacking the ability to compensate for gas flow like the Maxus, the target payload arena was in its zone, with essentially no gun movement and nothing to feel-- you can barely feel the action working. The explanation is not at all an esoteric one. This B-80 weighs in at 8 pounds, a clean one pound and change heavier than the Maxus. As the load intensity increased to 1-1/4 – 1-3/8 oz. loads, the Maxus equaled and then substantially overtook the B-80 in the shooting comfort department, though 1485 fps of 1-3/8 oz. #5 shot isn't a comfy target load for any seven pound gun while wearing a thin shirt.
On the basis of running a very wide spectrum of loads through three representative yet different Maxus configurations and having no issues with any of them, including this Hunter model, it isn't possible for me to refer to the Maxus as anything but reliable. With this gun, I took extra time trying to outrun the trigger shooting as fast as I could, but there were no trigger issues present at all. The "fast-locktime" of the new Maxus trigger is something not perceived. It isn't doubted, either, but it is of not particular value. Nor is the notion of fast cycle-time in any autoloader of great value, regardless of who seeks to brag it. From A-5 to B-80 to any of the current upscale autoloaders, they all are capable of cycling far faster than needed (or wanted) for any type of aimed scattergunning.

After a half-case of assorted shells, you can see how gas fouling is confined to the front of the magazine tube in the Maxus. The receiver and action are effectively isolated from carbon mung, with its migration reduced to a bare minimum. Over half of the magazine tube appears as if the gun was never fired.
For some reason, fascination persists with ease of cleaning though most shotguns can be cleaned faster than it takes to debate it. For typical usage, restricted to gas gun actions, the Maxus rates as faster and easier to clean than any. The camshaft style tubular magazine and the updated gas piston keep gas residue largely confined to the forward area of the tube. After firing a half-case of shells, the part of the tubular magazine near the receiver looks squeaky clean, as if the gun wasn't fired at all. Gas fouling migration is essentially eliminated past the half-way point of the magazine tube upon which the gas piston moves. A typical cleaning after a casual clays outing is wipe down the forward part of the magazine tube, the gas cylinder, and the piston itself with a soft Breakfree CLP dampened cloth and you're done as far as the gas array is concerned.
For those that want big trigger guards for use with heavily gloved hands, the Maxus delivers a positively huge aluminum trigger guard that is the longest I've seen in recent memory. It is Bigfoot sized, so if your trigger finger is as large as your big toe, the Maxus may well be able to accommodate you. In the 28 inch barrel version, as before the Maxus exhibits a nose-forward balance. For flushing game, the 26 inch barreled version holds more appeal for me as I expect it will for others. On the dove field or for general clay use, many will find it good as is.
On to ergonomics and controls. While I don't have a quibble with the Maxus Inflex pad in general, as it is as good as any number of Micro Core, Super, Gel, or even "Micro Super Gel" pads out there, it is dished a bit in its center. Not quite as much as dedicated trap pads, but it is dished nevertheless. You'll either like this or not, depending on your preferences. A dished, or concave center pad compels you to place the pad to your shoulder the same way every time. Ideal for premounted clays games, it doesn't shoulder as fuildly or smoothly as a generality as flat face style pads, so would not be ideal for wearing heavier clothing or any clothing that has a propensity to snag. I prefer a flat face on any shotgun pad excepting a dedicated trap gun, but either way the fix of replacing the factory pad with your personal favorite is not a big hairy deal.
The pronounced round button Maxus safety is too close to my forefinger. It can easily be knocked off with side pressure of the forefinger. For clays games, this is meaningless. For stationary hunting or hunting from a blind, it may actually prove beneficial. For pheasants and the like, a rearward safety farther away from the finger while carrying is better for me (as in Ithaca M37, A-5, Benelli M2) and is a generally better treatment. A safety at the front of the trigger guard is also more to my liking, as long as it is easily reached. The front of the trigger guard placement is included for sake of discussion only, as the front of the trigger guard in the Maxus is a long ways away.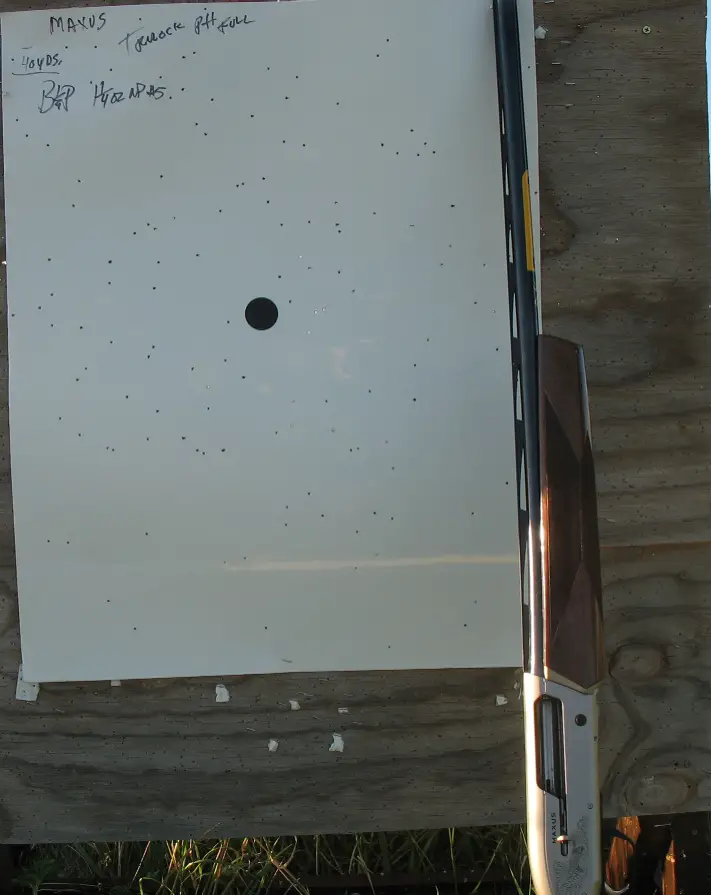 Shooting essentially to point of aim at 40 yards, perhaps an inch or two high, B & P MB Long Range #5 NP 1-1/4 oz. shells delivered far more density than needed for dead in the air pheasants with a Trulock "Full" Extended choke tube. That a representative print on 22 in. x 28 in. posterboard, 22 inches being the approximate maximum effective pattern you are likely to be able to obtain from 1-1/4 oz. of #5 lead. It is a solid 45 yard + pheasant combination.
This Maxus, like the others, shot to point of aim, remarkable as so many recently tested shotguns do not. The 40 yard patterns with B & P MB Long Range 1-1/4 oz. nickel-plated rounds and a Trulock "Full" Extended choke were more than adequately dense and even to be considered good pheasant medicine, an easy 45 yard combination.
It is surprising to be able to characterize a $1399 MSRP gas autoloader as a screaming good deal, or even a good deal at all, but with with competitive models with lesser wood, attention to detail, and overall aesthetics out there for $1725 or even more, it is fair to call the Maxus Hunter a very solid value in today's market. Reliable, soft-shooting, easy to maintain, with tastefully machined game scenes on the receiver and classic gloss-finished, well-checkered walnut, it is both very competitive and worthy of anyone's consideration looking for a versatile new 3 inch autoloader with 3-1/2 in. chambered versions available as well.

Copyright 2010 by Randy Wakeman. All Rights Reserved.

---
Custom Search