---
Review: Browning Citori 725 12 Gauge O/U Shotgun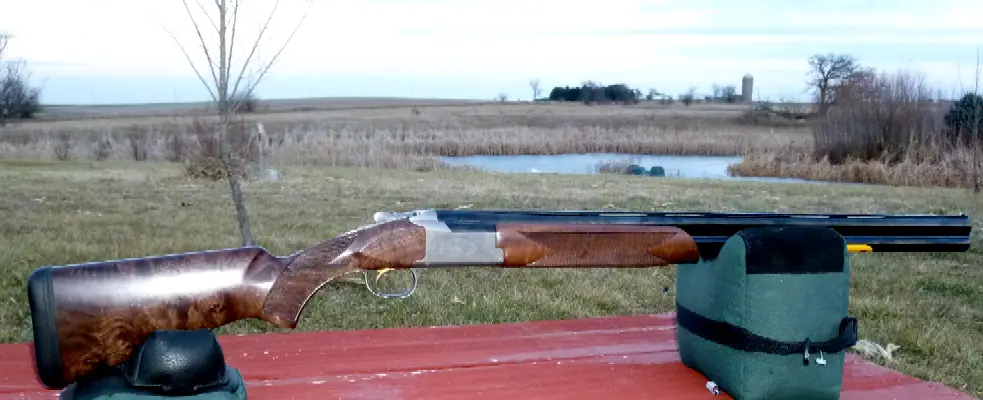 New from Browning Arms comes the redesigned Citori 725 O/U, designated as a 2012 model. Far from just a cosmetic variation, the 725 is a completely redesigned Citori. It is like no other Citori I've ever used. Tested, as shown above, is the 28 inch barrel field model.
The Browning Citori itself is the heir to John M. Browning's Superposed, the first vertical double produced that was successful. It was one of J.M.B.'s final designs, in fact work on the Superposed was finished posthumously, the design brought to to completion by son Val Browning. John Browning saw the vertical double as one of the last firearms that tyrannical governments would seek to steal from their citizens. John Browning, who passed in 1926, never lived to see a production Superposed. Superposed production began in 1931. Comparative newcomers to modern O/U shotguns, like Beretta, didn't have any product until the late 1940s, with the Silver Snipe appearing around 1955.
Eighty years later, the Superposed (B-25) is still available from the Browning Custom Shop. An upscale shotgun, it was released during the Great Depression, just a couple of years after "Black Tuesday." The Superposed, the "Aristocrat of Shotguns," wasn't exactly an overnight sensation. But Browning persevered, and by the late 1950s and early 1960s, the Superposed was a solid success story.
In 1973, the B.C. Miroku manufactured Browning Citori was introduced and has gone on to be the most popular O/U in history. The 1,000,000th Citori was sold on May 20, 2008. Over the last thirty-eight years, the Citori has been offered in countless configurations and trim levels, but the basic action has been unchanged, rooted in the basic Superposed design of 1925, the B-25. That brings us to present day, more or less.
The Browning tang safety has always been a far better field safety than the flatter, less pronounced "Beretta style" safety that can be a real problem with cold or gloved hands. On clays courses, it matters little, but in the field the inability to effortlessly get off the safety has saved the lives of countless Mongolian ring-necked pheasants. The 725 carries on the classic look of the Superposed / Citori, but the action has been redesigned. The 725 retains the basic Citori attributes of hard-chrome plated chambers, the transverse mounted tapered locking lug, coil-spring powered hammers, and full width hinge pin. It also has the, by now, standard Browning overbored barrels along with the latest Vector Pro forcing cones.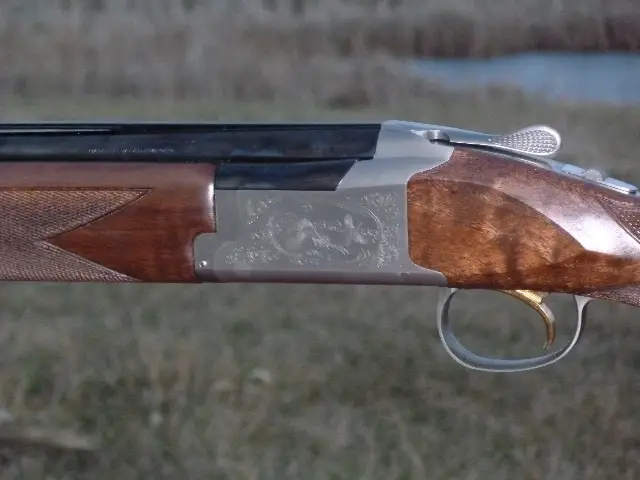 The differences and improvements are considerable. The receiver has a lower profile, certainly lower profile than any previous Citori, suggesting less muzzle jump and an instant second shot. While I've owned and used numerous Citori's over the years, they have been too heavy to be pleasurable twelve gauge carry guns in my view. Browning catalogs the 625 Citori 12 gauge with 28 inch barrels as weighing 7 lbs., 14 oz. Most of my prior Citoris, including a Citori Grade II 12 gauge custom model I hunted with for a few years, were essentially eight pound guns. This new 725 is far lighter, weighing in at just over 7 lbs. via Timney trigger gauge, shaving off an impressive three-quarters of a pound plus off of previous steel-receiver Citori incarnations, and a clean pound off of the standard Citori Lightning.
Browning has introduced a new set of triggers in the 725, the mechanical "Fire Lite" trigger. Both triggers on the tested 725 28 inch barrel field model break right at four pounds and change, easily the best factory Citori triggers I've ever used, terrifically good for a field shotgun. The sporting version of the 725 is rumored to have somewhat lighter triggers yet.
Another innovation present in the Citori 725 is the new "Invector DS" choke system, the DS meaning double seal. The unthreaded end of the choke tubes features a brass alloy band that prevents any choke tube loosening and keeps the outer wall of the choke tubes cleaner from blow-back, or blow-around. You can feel the additional torque needed when you screw in these tubes, so there is no question that they work as described.
The lower barrel measures .738 in. via Skeets bore gauge, the upper barrel at .739. The exit diameters of the Invector DS choke tubes were a bit puzzling. The IC tube measures .739, the Mod .731, and the Full at .702 inch. Yes, you read that correctly: the choke tube etched "Imp. Cylinder – Lead / Mod. Steel" has essentially no constriction at all. At best, in the lower (slightly tighter) barrel, you have .001 in., .007 in., and .036 in. constrictions, the "Full" choke designated as a lead-only choke. Mis-marked factory choke tubes are a common issue and unfortunately this Citori 725 did not come with a useable pair of hunting chokes, a glaring oversight. As to what Invector Plus choke tubes are supposed to be, let's take a look at the lead to steel conversion chart published by Browning. Only the lead-only "Full" choke supplied comes anywhere close to the ballpark, the Modified choke not even hitting Improved Cylinder constriction parameters. Browning Customer Service has been alerted to this issue, so I'll update this review when it becomes clarified.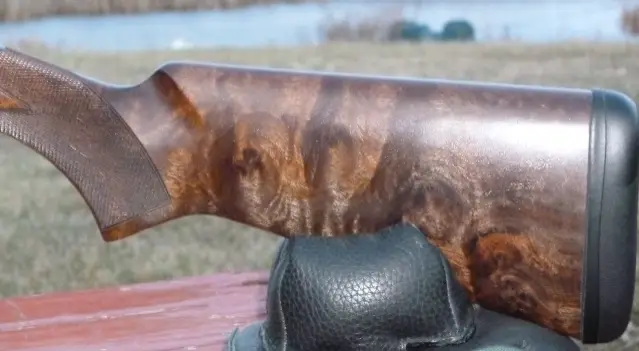 Browning refers to the gloss oil finish walnut on the 725 as "Grade II / Grade III." To my eyes, it is far better than that. The tested gun has gorgeous wood, well-figured, and the forearm and buttstock is evenly matched in color, hue, and tone. The silver-nitrided receiver has tasteful game-scene engraving. The checkering is cleanly and crisply done, with wrap-around checkering behind the tang. To call this a positively stunning field gun is no exaggeration whatsoever. Perhaps the only component that is a bit nontraditional is the latest "Browning In-Flex II" recoil pad. While properly fitted, it isn't ground like most pads, having a proud ridge of elastomer where this black, non-vented pad meets the buttstock. The recoil pad is the only visual area where technology is given a slight nod over tradition.
The features and specifications from Browning are as follows.
Receiver: Steel. Low-profile. Silver nitride finish. Accented, high-relief engraving.
Barrel: Ventilated top rib
Action: Mechanical trigger system. Hammer ejectors. Top-tang barrel selector/safety.
Stock: Gloss Oil finish Grade II/III walnut with close radius pistol grip.
Features: Vector Pro lengthened forcing cones. Three Invector-DS choke tubes, Ivory front and mid-bead sights.

SPECIFICATIONS:
Action: Over/Under
Caliber: 12 Gauge
Barrel Length: 28"
Chokes Included: Full, Modified, Improved Cylinder
Chamber: 3"
Weight: 7 lbs. 6 oz. (as tested, 7 lbs. 1 oz.)
Overall Length: 43 3/4"
Drop at comb: 1 5/8"
Drop at heel: 2 1/2"
Length of pull: 14 1/4"
Rib Width: 1/4"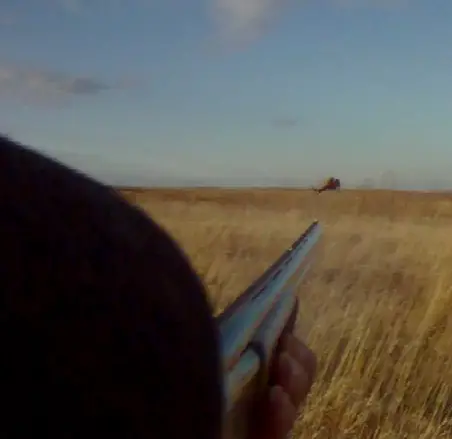 I've never considered a steel receiver Citori 12 gauge an extremely pleasant shotgun to carry for wild pheasants, until now. The Citori 725 is smooth, quick, responsive . . . and faster than a speeding Illinois rooster.
This gun fit me superbly, right out of the box. It cried out to be shot, so naturally I didn't delay. Though no shotgun is going to be what everyone thinks is the perfect "all-around" shotgun, the Citori 725 comes about as close as there is. It was light enough to carry in pursuit of wild pheasants and the recoil was minimal with the 1-1/4 oz. B&P "MB Long Range" 1330 fps shells I was using, certainly nothing that could interfere with an instant second shot. Later, I put a higher volume of B & P F2 Mach 1 oz. 1300 fps loads through it. I found the Citori 725 to be very comfortable to shoot, surprisingly so for such a nimble, responsive, seven pound and change stackbarrel. The new InFlex II pad apparently does its job quite well.
The Citori 725 embodies all the reasons you might want an O/U in the first place: trim forearm, light / crisp triggers, excellent balance and responsiveness. It is a stunningly gorgeous shotgun as well. It is light enough to carry, yet soft enough shooting to have a blast on the dove field, or to have some fun on the skeet field or for sporting clays as well. Retail runs $2469 MSRP on this model, while street price seems to be in the $2000 arena.
I have no trouble saying that the Citori 725 is, by far, the best Citori ever released and as far as I'm concerned, it is the best Browning O/U ever made. On the basis of the lighter barrels, lighter weight, lower profile, vastly improved trigger system, and overall build quality: Browning has hit a home run with the model. It retains the basic attributes that has made the Citori the most popular O/U made, and significantly improves on all the important areas. It is a reinvention of the Citori, a Citori that makes all prior Citori 12 gauges obsolete. Unless something changes, this is my pick for the best new shotgun of 2012, and one of the most thoroughly satisfying O/U shotguns I've ever tested. Congratulations to Browning: this is the Citori twelve gauge we have all been waiting for. It is a breathtakingly superb shotgun.
Copyright 2011 by Randy Wakeman. All Rights Reserved.
Custom Search

---
Custom Search