---
Browning Bird'n Lite Upland Hunting Jacket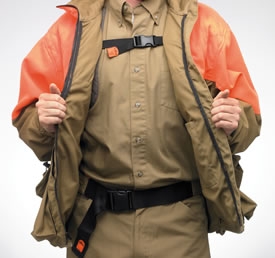 New from Browning's extensive clothing line is their "Bird'n Lite" series of vests and jackets, with the upland jacket reviewed here. Here's what Browning has to say about this hunting jacket.
 
Browning Bird'N Lite Jacket
Item Number 3046885803 
Khaki/Blaze
Size L
Browning Bird'n Lite Technology weight distribution system secures your load • Rugged, lightweight cotton/polyester shell fabric • Blaze shoulder overlays • Front-loading blood proof game bag with zip-top opening and load stabilizing strap • Oversized shell pockets with internal shell loops and snap closures • Built-in rucksack with elastic top and buckle strap closure • Zipper front • Transmitter pocket with antenna loop • REACTAR™ pad pockets behind each quilted shoulder patch (pad sold separately) • Lined handwarmer pockets behind shell pockets • Water bottle pockets • D-rings for accessories • Hook and loop adjustable elastic cuffs • Zip-through collar • License tab

The jacket itself is well-made and similar to several other good quality upland hunting jackets out there. There is one critical difference, though, that being the harness system. Similar to buoyancy compensators for scuba diving or to backpacks, the Bird'n Lite has a built in harness system that secures the jacket. The benefit is more comfort when loaded up with shells, electronic dog collar transmitters, and birds. It also makes this vest more adjustable than others, ideal for everyone but particularly good for female or younger shooters.
The more you carry with you and the more birds you bag, the more you'll appreciate this jacket and how its fit and comfort is unaffected by more weight. Retailing at $170, you can pick this jacket up for about a hundred dollars at major discount retailers. It is well-made, extremely comfortable and does exactly what it promises to do . . . let you carry more weight without any loss of comfort. The added adjust-ability and subsequent better fit might make it your first choice, regardless of what you typically carry.
Copyright 2011 by Randy Wakeman. All Rights Reserved.

---
Copyright 2011 by Randy Wakeman. All Rights Reserved.
Custom Search