---
Preview: The Browning BPS 16 Gauge
One of the shotguns that grabbed my attention at the 2007 SHOT Show was the Browning BPS 16 gauge shotguns, offered as "Shot Show Specials" in both conventional and 'Upland' configuration. Browning did it right, as these pump-actions were indistinguishable in my hands from the BPS 20 and 28 ga. versions: extremely well-balanced, and feeling great between the hands. There are clearly, obviously based on the 20 / 28 gauge platform, not the heavier 12 gauge BPS platform.
It seems that Browning is the company that finally got it right. I was more than a bit disappointed with my new Remington 870 Wingmaster 16 gauge. Remington took the low road of sticking a barrel with a smaller hole into their 12 ga. 870, making the 870 16 gauge actually substantially heavier and ponderous compared to a 12 ga. 870-- to be direct, they completely muffed it.
Not so with Browning: the BPS is the first new steel receivered, quality 16 ga. to appear in recent memory, and Browning is to be congratulated for this. As you would expect on a BPS, it has excellent hot-salt highly polished bluing, and well-finished and attractive walnut. It comes with standard Browning Invector tubes, the same as used on my Miroku-produced Sweet Sixteens, and the limited run Browning 16 gauge Citori's for that matter.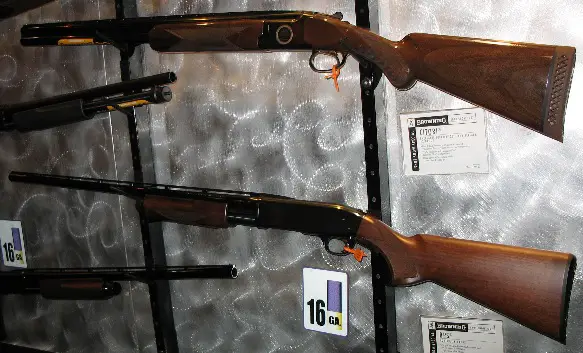 This is just great to see-- a smooth swinging, great handling, modern 16 ga. ready for lead, steel shot, or whatever lies ahead. Substantial enough to be a mild recoiling gun, yet true to the 16 gauge school of being lighter and livelier than its 12 gauge bigger brother. It looks to be the best built 16 ga. pump made, and I certainly hope to get my hands on one. As for joining the standard Browning product line, I certainly hope that becomes a reality-- that's up to my brother 16 ga. aficionados to express their enthusiasm to Browning Arms. I can tell you, I already have!

Copyright 2007 by Randy Wakeman. All Rights Reserved.
---
Custom Search