---
Browning Auto-5 Magnum 20 Semi-Automatic Shotgun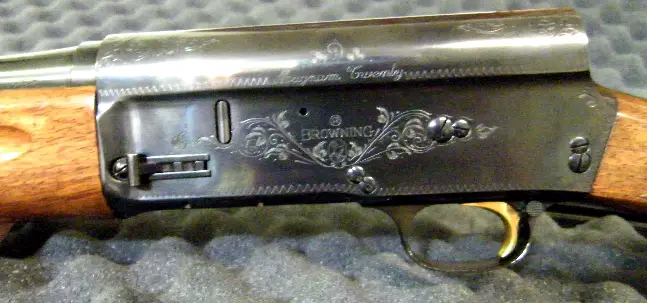 The tested gun is a brand new, unfired since leaving the factory, 1971 A-5 20 Mag shotgun. This example has a conventional flat bottom pistol grip, not the "round knob" or "Prince of Wales" grip often associated with A-5's. The pistol grip style was not an option with the A-5, but just contingent on year of manufacture.
This example has three inch chambers and a "matte rib" barrel which is a funny way of saying plain barrel ,with no raised rib at all. There is chicken-scratching type design stamped on top of the barrel, which is the matte rib generally referred to. A bit of an unusual configuration, this made in Belgium by the F.N. shotgun sports a "26 inch full choke" barrel. The Belgian A-5's are a bit lighter and faster handling than later models: one of the reasons is the actual barrel length which measures right at 25-1/2 inches from muzzle to closed breech.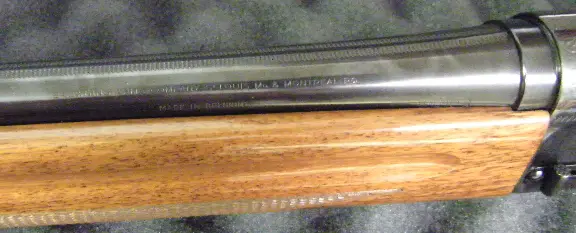 No vent or raised rib on this "new" A-5 20 Mag, as none is needed. The only thing it offers in the field would be unwanted weight, and a bit more hassle wiping it down ofter the hunt. The "chicken-scratching" matted barrel accents on top show a refreshing attention to detail. Speed loading is included, with the handy magazine cut-off in view to the lower right of this image with a full view of it on the lead image at the top of the page. The barrel is perfectly floated away from the forearm.
Checking the actual barrel constriction with a Skeet's bore Gauge from Brownells I measured the constriction on this barrel at .031 inch. This is very close to the Browning 20 gauge fixed choke specification of .032 in., far closer than most factory screw chokes are in reality. Examination of the barrel showed two things: it is extremely light and the forcing cone in the muzzle area is extremely long.
This A-5 20 Mag weighs right at 6.5 pounds, actually lighter than many other 20 gauges out there including the original release of the Browning Gold 20 gauge. Another thing that is readily noticeable and appreciated is the very crisp A-5 trigger, breaking beautifully and consistently at 4-1/4 pounds on the nose. The walnut is chestnut brown in color, with some tiger striping in the buttstock. Both the forearm and the buttstock are gloss finish, well-matched in both color and tone.
The bluing is evenly applied as well. The engraving on the receiver is standard A-5 fare, very tasteful with accents on the upper and lower tang as well as the trigger guard. That's one thing I personally appreciate about solid steel receivers and hardware: engraving can look sharp, well-defined, and crisp where engraving attempts on alloy generally just look cheap.
With a light barrel and a solid steel receiver, this A-5 20 Mag handles as you might expect, that being blazingly fast. With no muzzle heavy feel at all and the most of the mass of the gun between the hands, it jumps to your shoulder. A ventilated rib serves little purpose on an A-5, as you have the hefty block of steel receiver that, combined with bead at the muzzle giving you your sighting plane. Properly mounted, all you see is bead so a vent rib is a meaningless addition to the A-5 as a hunting gun, doing little except adding weight to the barrel.
Those this new gun is thirty-eight years old, it has features that many more recent autoloaders still lack, such as the speed-loading feature and a handy magazine cut-off. As for shell versatility, that's one area where the A-5 20 Mag lacks a bit. With the dual bronze friction array (as opposed to the one piece bevel ring and friction piece in standardweight and "Light" A-5 models), it won't begin to cycle 7/8 oz. Loads with one friction piece installed, nor is it supposed to. It did handle 1 oz. AA's without skipping a beat. This gun is at its best with 1-1/4 oz. and 1-5/16 oz. three inch loads, just great pheasant medicine, with both friction pieces installed.
The first time this A-5 was fired at game was just a couple days ago at a cackling rooster past 45 yards that Buddy the Wonderdog got up. Using a Winchester 1-5/16 oz. #5 shot three inch shell, the rooster was dead in the air, falling with two broken legs and two broken wings. They don't get deader any better.
In revisiting the A-5, I can't help but wonder what it would sound like if an energetic marketing department got a hold of this shotgun today. It could easily be presented as follows.
Introducing the One True Revolution in shotguns, requiring virtually no internal maintenance, cannot possibly stick or rust a choke tube, and can never shoot a ventilated rib loose. Ideal for young, old, or otherwise recoil sensitive shooter, it can easily be set up to be virtually recoil free. It is the one of the fastest cycling autoloaders ever devised, with out-of-the box trigger quality few hunting shotguns can touch. It has been continuously torture-tested for over 105 years: a level of testing and perfection the others can only dream about.
With an action forged of and precisely machined from solid steel, Browning puts in your hands the most practical, performance driven, reliable, devastatingly good field shotgun on the planet: Welcome to Planet A-5, the true work of the old Master for it was designed by the greatest Master of firearms innovations that has ever lived: John Moses Browning. Nothing loads faster, shoulders quicker, or hits harder than the A-5: the One True Revolution, the shotgun with no equal.
Hyperbole like this, ascribed to the Automatic-Five, is far more accurate than most of the ad-brags you'll read today for new models. Yet, while the A-5 was a resounding success, the 20 Mag was not-- particularly in the tested configuration. It is one of the greatest values you can find in the pre-owned gun market today, if you know what you are looking for. To release a shotgun today with this much machining and handwork would mean a several thousand dollar retail price. For any company to stay in business today, if it doesn't makes dollars it doesn't make sense.
Wingshooters can be a fickle lot. We like the idea of versatility, though the notion of versatility often comes with its own set of weaknesses, just like "Jack of All Trades." For 7/8 oz. Loads, the 20 Mag is a single shot. It is supposed to be, of course, but that doesn't not change people's wishes. Used with 1 oz. Loads on the dove field or three inch buffered lead loads for pheasants or decoying ducks with Kent Tungsten Matrix loads, there isn't much that can be considered better than this 20 Mag. For clays work, there are more enticing options.
Though lacking in some of the features we think we need, like a shim-adjustable stock, screw-chokes, and in this tested gun a raised rib, it surpasses many other shotguns as a field gun with its robust construction, easy loading / unloading, superb trigger, and blazing fast handling. It is the type of responsive handling that you don't generally find on semi-autos with heavier, ribbed, screw-choked barrels. Though the term classic is overused today, to the point of "instant classics," the A-5 qualifies. The best news of all is that the 20 Mag with a plain barrel and flat knob pistol grip doesn't command high prices at all on the used market, even on an as new find such as this one. If you want to put some quality back in the field sans plastic, techno-polymers, and gimmicks-- it is hard to do much better than an A-5 20 Mag which can be had in 99%+ condition often for half the price of some of the new but not so improved. It is a tremendously satisfying shotgun.
Copyright 2009 by Randy Wakeman. All Rights Reserved.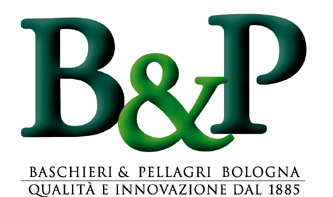 ---
Custom Search