---


Browning 725 Citori Field 20 Gauge Part One

The tested shotgun, a 28 inch barreled 725 Citori Field, weighs 6 lbs. 9.5 ounces out of the box. The triggers are superb, breaking at 3 lbs. 11 ounces repeatably for both barrels. Here's what Browning publishes as the basic specifications.
Ga 20
Item Number 0135306004
UPC 023614400424
Barrel Length 28"  
Nominal Overall Length 45 3/4"  
Nominal Length of Pull 14 1/4"  
Nominal Drop at Comb 1 1/2"  
Nominal Drop at Heel 2 3/8"  
Nominal Weight 6 lbs 6 oz  
Chokes Included Full:Modified:Improved Cylinder
Chamber Size 3
Rib Width 1/4"
Barrel Finish Polished Blue
Stock Finish Gloss Oil
Wood Grade Grade II/III
U.S. Suggested Retail $2,469.99
The 725 Field 20 has the new, lighter, Invector Double Seal choked barrels. Via Skeet's bore gauge, the upper barrel measures .625 inch, while the lower barrel measures .624.
Just three DS chokes are supplied. The IC measures .618, the MOD .610 at , the FULL at .596 inch. Unlike the bizarre, nonsensical constrictions of the Double Seal 12 gauge tubes, these constrictions are far closer to conventional constrictions of 10, 20, 30 thousands for IC, Mod, and Full as published by many, including Trulock. It works out to be 7, 15, and 29 thousandths assuming the upper barrel bore ID. By contrast, the 12 gauge Invector DS chokes had .000 - .001 in. constriction in IC, .007 - .008 inch constriction in Mod. See: http://randywakeman.com/BrileyTakesontheBrowningDSChokeSystem.htm . Here, in 20 gauge, the IC tube has 700% of the 12 gauge constriction, the Mod in 20 gauge having fully double the constriction of the DS 12 gauge. The severe problems with the 12 gauge tubes were reported to Browning by me back in 2011. Though they said they were "looking into it," no explanation has been forthcoming. It looks like Browning has at least partially corrected their stuff-up in the 20 gauge Invector DS tubes.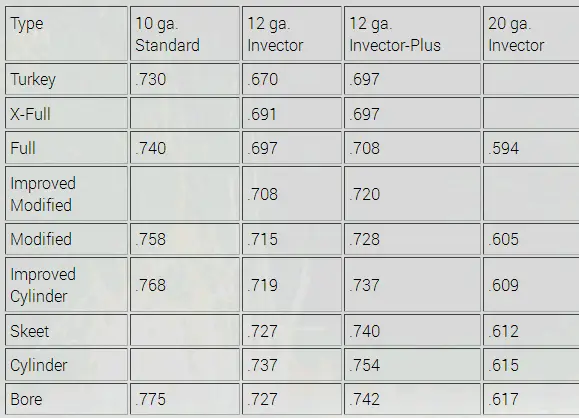 Small wonder there is confusion about Browning choke specifications. Above, you can see that the "old" standard Invector 20 gauge barrels are supposed to about .617 inside diameter, according to Browning. The new Invector DS barrels are just 7-8 thousandths larger. The difference between IC and MOD, according to Browning, is only .004 in. in the old standard Invector barrel. Yet, the new Invector DS tubes need MORE constriction, fully twice additional the constriction at .008 in., to increase pattern efficiency from IC to MOD. Yet, Browning claims the DS tubes need less constriction, not more. It makes no sense at all. The old standard Invector 20 gauge shows 23 thousandths of an inch to throw a "Full" pattern, according to Browning. The current Invector DS needs more, at about 29 thousandths of an inch to throw a "Full" pattern, according to what was supplied with the 725 Citori.
The idea that DS chokes throw tighter patterns with less constriction seems to be a ridiculous assertion, for the 29 thousandths of the DS "Full" is hardly of any practical difference to a 30 thousandths conventional full choke. No "alert the media" material there. All three chokes are flush; only the IC and the Mod are approved for steel or tungsten shot according to Browning. According to Browning, 20 gauge DS tubes only are not expected until May, 2014, or thereabouts.
As always, this gun will be patterned to check point of impact and to see what the supplied chokes actually do. The good thing about the DS choke tubes is that they don't shoot loose and they do shoot cleaner. Although Browning still proclaims "Invector-Plus eliminates gases slipping between the choke tube and barrel that could damage the choke tube and the barrel" even now (2014), it never did "eliminate" it, Browning just wrongfully claimed it did. Anyway, the Invector DS seeks to eliminate what Browning already said was eliminated, and the DS tubes do stay cleaner than the Invector Plus tubes.
The bad thing is that Browning is a bit frugal in the choke tube department, as many folks would want a pair of more open chokes for skeet, something in the "Improved Modified" area for trap, dove, or pheasant, and more than only two chokes you can use with steel. When you buy this gun, you'll likely be in the market for more choke tubes right away. Currently, you have to go with the 725 Sporting to get a Skeet and Improved Modified choke tube, at a MSRP of $3,139.99 for that model. As far as I'm concerned, all O/U shotguns should come with five choke tubes as a matter of course. That's one of the core features of a vertical double: being able to throw two different patterns or two similar patterns as you wish. Five choke tubes should be standard fare included right in the box. Ruger does it, in their $1000 street price Red Label. Why can't Browning? Why can't everyone?
The Citori 725 is essentially as promised, but about 1/4 pound heavier. That will likely be written off to "wood density," but savvy shotgun shoppers know that the "wood density" theory generally makes shotguns heavier, rarely lighter than promised. Coincidence?
By now, the Herstal / Browning group offers five O/U actions to choose from: the special order B-25 Superposed, the Citori, the Cynergy, the Winchester Select / 101, and now the 725 Citori. The 725 Citori looks to be the best that Browning has ever offered, an extremely good-looking gun (unlike the Cynergy), a reasonably lightweight gun (distinctly unlike the classic Citori), and it offers the very good grade of wood, excellent Inflex pad, and lower profile action as introduced in the 725 Citori 12 gauge, along with the best triggers Browning has ever put on a shotgun. Much more to follow on Part Two.
Copyright 2014 by Randy Wakeman. All Rights Reserved.

Custom Search