---
A Book Every American Should Read: "From Luby's to the Legislature"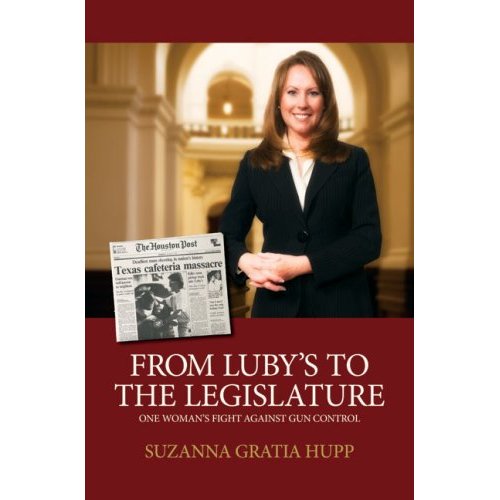 As one person put it, every time there is a tragedy with a gun involved, the Government's "solution" is to try to take guns away from those who didn't do it. Even worse, this is done when it is apparent that gun laws don't work and taking guns away from the typical American increases crime. "Gun-Free Zones" create the ideal Killing Fields where the American citizen has little chance.
Worse yet, gun laws come from those that know nothing about guns. Recently, I was chatting with a friend of mine who is a firearm designer. His son was in the Cub Scouts, as was I at one time. In the Cub Scouts, you have the "Pinewood Derby" which goes back to 1954. The rules of first race : "The Derby is run in heats—two to four cars starting by gravity from a standstill on a track and run down a ramp to a finish line unaided. The track is an inclined ramp with wood strips down the center to guide the cars."
So, a block of wood is carved into the chassis and you use four plastic tires affixed by four nails. Lead, like a fishing weight, is used to get the cars close to the five ounce limit. My Dad helped me build mine; we used lead. My gun designer friend helped his son and they got creative, fashioning racy exhaust pipes from a couple of loose, lead bullets.
The phone rang a few days later; his son was in the principal's office for bringing "ammunition" to school. Apparently, the conversation did not go particularly well, as my gun designer friend could not stop from laughing out loud at the insanity of it all. Nevertheless, he was warned that if his son ever brought that harmless under five ounce block of wood to school again, he would be suspended. How can we expose our children to such sea-slug stupid people that are supposed to be teaching our kids?
The author of "From Luby's to the Legislature" a reluctant one. She is Suzanna Gratia, daughter of Al and Ursula Gratia. She became Dr. Suzanna Gratia, now Dr. Suzanna Gratia Hupp. One of her patients, an assistant district state's attorney, changed her life, explaining why she needed to always carry a loaded pistol within easy reach. Suzanna carried a revolver intermittently throughout her college years, but now she had a new sense of duty, awareness, and responsibility. Note that Suzanna did not come from a hunting shooting family. Her book closes with a letter from her father to an El Paso newspaper. But there is a lot in-between the covers.
Suzanna writes from the soul, with a rare combination of candidness, genuineness, and intelligence. You'll get to know Suzanna through her book and you'll be glad you did. On a beautiful day, October 16, 1991, Suzanna's parents were stolen from her by the senseless actions of a madman. We have a government that aids the senseless and the deranged, and unnecessary (and unconstitutionally) disarms the citizen. Suzanna Gratia Hupp has experienced and lived it.
One of her finest moments was testifying before Congress. Although treated poorly and disrespectfully by several, including Senator Charles Ellis "Chuck" Schumer she controlled her message and articulated it powerfully well. Afterwards, she was childed a bit by a non-committee member for her lack of "decorum." Suzanna does not mention his name, but I will.
The little chiding man was none other than Congressman Mel Reynolds. In August 1994 a Cook County grand jury indicted Reynolds on counts of criminal sexual assault, child pornography, and obstruction of justice. A Chicago jury found Reynolds guilty of multiple criminal counts, including having sex with a minor and obstruction of justice. Reynolds resigned from the House, effective October 1, 1995. Reynolds spent two and a half years in jail for the sexual misconduct conviction. Later indicted and convicted on federal charges of bank and campaign fraud, he remained in prison until President Clinton commuted his sentence shortly before leaving office in 2001.
Every American should read Dr. Suzanna Gratia Hupp's book, From Luby's to the Legislature One Woman's Fight Against Gun Control. I've never met Suzanna, but cannot help but admire and respect her. Her parents would be well pleased and rightfully proud.
Her book can change the way you view things, for the better, much in the way that an assistant district attorney did for Suzanna years ago. Suzanna Gratia Hupp's message is powerful enough to change the way many of us think: consider it absolutely a must read, from a lady who actually knows something backed by experience, honesty, candidness, and logic.

Copyright 2012 by Randy Wakeman. All Rights Reserved.
---
Custom Search