---

The Best Selling Guns of 2012

This may well surprise you. One example is from "Cheaper Than Dirt!" who mentioned, "A relatively obscure shotgun is outselling the rest of the guns we sell by a large margin. The Interstate Arms Hawk Model 982 literally flies off the shelves and we have a hard time keeping them in stock. It is currently our number one selling firearm." It is a Norinco copy of the Remington 870.
Bud's Gun Shop published a list of their best-selling firearms of 2012:
1. Mosin-Nagant M91/30 7.62X54R Very Good Condition
2. New Ruger LCP .380
3. M10-762 Semi-Auto AK Style Rifle 7.62x39
4. SOVIET NAGANT M1895 REVOLVER W/ ACCESSORIES
5. Mossberg 500 Cruiser 12g 20" 8rnd CB PG
6. Ruger LC9 9mm w/ Lasermax Laser
7. TG International FEG AMD-65 7.62x39 AK Variant
8. Ruger LCP .380 2.75" w/Lasermax Laser
9. Ruger LC9 7+1 9mm Bl 3 dot Adj Sts
10. Hi-Point 00916 9MMC/P 3.5 8RD POLY AS
11. Used S&W Police Model 10 38sp Square Butt
12. Hi-Point 34510 45ACP/P 45ACP 9RD POLYMER
13. Bushmaster CAR15 223 16 BSH REDDOT
14. Taurus 1738031FS 738 TCP 380 1MAG NO CASE
15. Ruger SR9c 9mm Compact
16. Ruger P95 9mm Stainless, w Rail 15 round
17. Ruger SR9c 9mm Compact Black
18. Smith & Wesson M&P15-22 A1 Style w/Compensator & Collapsible Stock
19. Used S&W Police Model 10 38sp Round Butt
20. Rock Island Armory GI M1911A1 Mil Spec .45

Four of the top nine are Ruger semi-auto pistols, with two of them the LCP; the other two the LC9. Farther down the list, Ruger adds three more with two out of the three being the SR9c. As for U.S. production, the graph below shows the trend.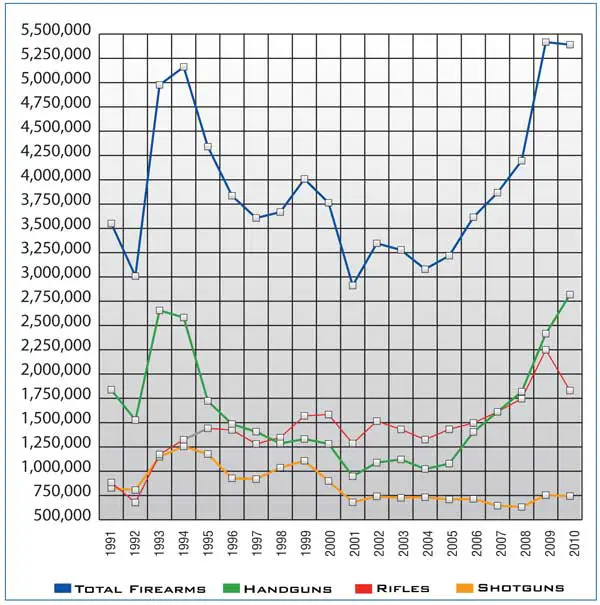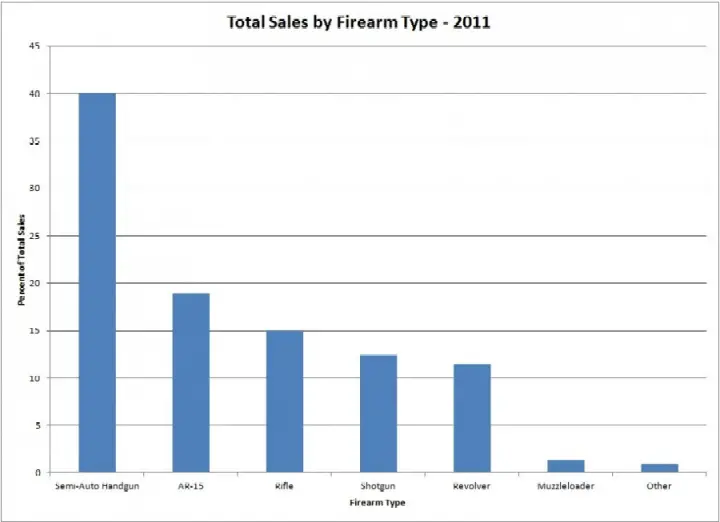 Above is a breakdown of 2011 sales in the U.S. by firearm type. This is neither good or bad, it is just the way it is. It should help explain in part why we see the product mix that we do and why the models we think we want aren't always produced.

Copyright 2012 by Randy Wakeman. All Rights Reserved.
---
Custom Search