---
Benelli's SuperNova ComforTech 3-1/2 inch Slide Action 12 Gauge

The Benelli Nova has been with us for a while by now, since about 2000. It has been mentioned in passing a few times in various articles but has never been fully reviewed until now. I have shot a number of the original style Novas shortly after they arrived on the scene. Although they worked, they were butt ugly and otherwise immensely forgettable pump guns. Perhaps the most remarkable thing about the Nova at that time is that it even existed. After all, no Italian manufacturer has ever fielded a successful slide-action shotgun.
A uniquely American type of shotgun, pump gun lore is rich with Winchester Model 97, Winchester Model 12, Ithaca M37, Browning BPS, Mossberg Model 500 and the most best selling shotgun in history, the Remington Model 870. With competition like that, in a type of action that rightly or wrongly has been relegated to a lower-priced market niche, it seems that most of the notable European manufacturers either haven't tried to compete, or simply could not.
The notion of a 3-1/2 inch 12 gauge has never held much appeal for me. Sure, I've tried several 3-1/2 inchers from the clunky Mossberg 835 pump to the Browning Gold 3-1/2 autoloader. More recently, Benelli SBEII, A400, and a couple of Maxus autoloaders. However, I have never had much use for 3-1/2 inch shells. If there was once a justification for them with steel shot loads, given the latest advances in no-tox shot, they have far less purpose now.
My first impression of the original Nova was indifference more than anything else. The first Nova's were a bit clunky, not nearly as smooth as any number of super-slick shotguns I already had. The hooked pistol grip slows mounting and target acquisition, while the trapezoidal trigger guard is surpassingly ugly and (unless your trigger finger is trapezoidal in cross section) non-functional. They rattled and all of them had heavy triggers. The idea of an overmolded, unitized buttstock struck me as a bit dumb, not to mention ugly. Either it fit you, or not; there was no in-between. Of course, they kicked like the devil. To smooth them out you had to go through the gimmicky purchase of the Benelli recoil reducer array: a mercury-filled buttstock addition that sloshed and gurgled, while not reducing recoil beyond what any similar addition of weight would do. Therefore, the Nova, while basically competent, was forgettable.
The tested model is the current production, a SuperNova 28 inch barreled MAX-4 Camo shotgun, with an MSRP of $639. (The black version is $529). Here are some specifications for the Benelli SuperNova #20115 MAX-4 HD Camo finish:
· Overall Length - 49.50 in.
· Barrel Length / Type - 28.0 in., ventilated rib
· Sights - Plastic Red Tube front, metal center bead
· LOP - 14.375 in.
· Buttstock drop - 1.375 in. at comb, 2.250 in. at heel
· Buttplate - Rubber recoil pad.
· Weight Unloaded - 8 lbs. nominal. 8 lbs., 1 oz. as tested.
· Magazine Type - Tube
· Magazine Capacity - 4
· Chamber Length - 3-1/2 inches
· Choke - IC, MOD, FULL flush-mount included.
· Trigger Pull Weight - 7 lbs. (Benelli spec = 5-8 lbs.)
· Warranty - Five year limited.
· Website - http://www.benelliusa.com
This gun was a surprise, one of the biggest I have had in the last several years, although it is still ugly. So, what has changed? Well, the unitized receiver/buttstock is gone. In its place is the ComforTech stock with a far better feel than the original. Gone is the gimmicky mercury recoil reducer accessory. The gun is neutrally balanced and smooth swinging, right out of the box. Awhile back, I lamented the fact that pump-gun manufacturers had ignored the shim adjustments that have been successful in many semi-autos. Not so with SuperNova: the SuperNova is adjustable for cast and drop with included shims.
Not only that, the rattles seem to have vanished. This action is buttery smooth right out of the box. It is hard for me to believe it is the same gun, or even a related gun to the first Novas that I shot. Yes, it is that much better.
It is a superbly balanced pump, smooth and steady to swing. At the patterning board, I was delighted to discover that the SuperNova shoots right to point of aim. Far too many tested guns of late do not shoot where they are pointed, but this SuperNova does. The SuperNova is also a soft shooter. Much of this is due to its 8 lb. 1 oz. weight, a very appropriate weight for a heavy-duty waterfowl gun. Note that a BPS 10 gauge is nearly an eleven pound gun and even a three inch chambered BPS is a bit heavier than the SuperNova. In fact, I wouldn't want a gun like this to be any lighter. Another reason for its soft shooting is the ComforTech stock. It isn't a world-changer in the SuperNova, but it does help and the Benelli recoil pad is far better than the generic pads or hard rubber buttplates found on many pump guns.
The Benelli SuperNova comes with three screw-in choke tubes, IC, Mod and Full. You might think "so what," but there is a trend today to offer only one choke tube with similar style guns. Also noteworthy is Benelli's 5-year warranty, which is far more generous than the norm. It is very easy to field strip the SuperNova; it almost takes itself apart. Take off the magazine cap, use its built-in punch to knock out the receiver pins and use the inside of the cap to finish pulling them out. There's your trigger group, out in moments. Squeeze the rotary bolt and it instantly lifts out of the receiver. It is effortless, with reassembly just as quick and straightforward.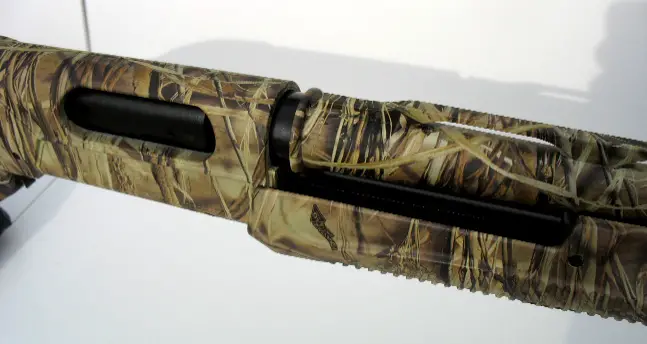 With the SuperNova's barrel pulled out the action slightly, you can get a good sense of the expert machining and overall build quality. It is a 3-1/2 inch slide action that practically takes itself apart with no tools required, making it the premier 3-1/2 inch goose pit slide action made today.
I have seen guns of late where the barrel machining looks as if it might have been done with a file or a hacksaw, or perhaps both. The way the SuperNova barrel slides into the receiver is masterful by comparison. It is a well made gun where it counts. The attention to detail is impressive. I have already mentioned the magazine cap that helps make stripping the receiver so easy. There is another seamless addition to the SuperNova, the integral magazine cut-off, which is actuated by a button nestled in the forearm. Like many good things, when you are not using it you would never know it was there.
Benelli has not always been known for light triggers and the SuperNova is no exception. Its trigger breaks at an unacceptably heavy seven pounds. You might think that with the rest of the gun being so markedly improved, they could take the time to fix the trigger. Well, they did not. Checking with Benelli, their spec is from five to eight lbs. A 5 pound trigger is hardly a target level trigger, but it would be far more appropriate. A trigger that weighs as much as the gun could still be in spec; Benelli spec, that is, but not mine. The trigger was reasonably crisp, but Benelli should do better. They have done better in the Vinci, M2, and other models, as a matter of fact. The SuperNova uses a different trigger than the Benelli inertia line, though, so though it can be lightened up a bit (and Benelli Customer Service did just that for me, to 6 lbs.) a 5-6 pound trigger is essentially all you can ask for in the SuperNova while retaining a stable trigger.
One thing that is particularly satisfying about the SuperNova is that it is complete and ready for action as received. You are not forced to go through the tedium and expense of an aftermarket recoil pad, you are not forced to buy another couple of choke tubes and the gun comes with shims to make it fit without any stock work. If there is any substitute for proper gun fit, I cannot imagine what it might be.
Out of the box it fit me famously, but of course fit is a personal thing. The shims take care of common fitting issues, but that's not the end of it. Benelli offers no-gunsmithing comb inserts and no fitting-required recoil pads if you want to change comb height or length of pull. In the vast majority of cases, those won't be needed. The shim adjustments are already far more than other pumps give you.
A word about 3-1/2 inch chambered guns: I personally have no need for them and they offer no greater utility for most applications. However, with steel shot a 3-1/2 inch load is often a 1-3/8 ounces to 1-1/2 ounces. That is the same shot weight as the old 2-3/4 inch "Baby Magnum" or less. For waterfowling, these are hardly super recoil loads. At the same time, a lead 3-1/2 inch turkey load with 2-1/4 ounces of lead shot is a filling-rattler. The choice is yours.
I never thought I would be saying this about a Benelli, but the SuperNova is one of the best values in a "do-everything" pump gun you can find today. Consider that several comparable pump-guns lack three choke tubes, a chrome-lined barrel, shims for stock adjustment and a five year warranty. Particularly at home in the duck blind, it will fold doves with equal ease and it works fine for casual clays work. The Benelli SuperNova in its current form is the best designed 3-1/2 inch slide-action of its type, by no small margin. If a 3-1/2 inch pump for the goose pit is what you'd like, the SuperNova is by far the best choice on the market today.

Copyright 2010 by Randy Wakeman. All Rights Reserved.

---
Custom Search