---
Alliant Shotshell Powders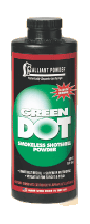 It takes a long time to have absolute confidence in a propellant; at least it did for me. When I first began reloading shotshells, I took the path many have taken: I just bought some of everything, and tried every available powder, wad, primer, and hull combination that was available. That was a long while back, but for my purposes it has boiled down to one powder on the basis of being easy to work with and giving uniform velocities: Alliant Green Dot. The older Green Dot was a bit on the dirty side, meaning nothing for fixed breech and recoil action shotguns, but dirty enough where I went to American Select as my standard 12 gauge gas gun powder. Well, American Select was and is a fine propellant, but when Alliant cleaned up Green Dot with a change in their manufacturing processes-it was good old Green Dot again, and for good.
Remington STS hulls have always been the hull of choice since their introduction, and my standard 1-1/8 oz. load for years has been a Remington 209P primer, WAA12F114 wad, STS hull, and 21 grains of Green Dot. It has proven to be an ideal tap, sporting clays, and dove load. 22 gr. of Green Dot and a WAA12 wad makes a screaming little 1 oz. load.
For 20 gauge, though many seasoned shooters prefer Alliant Unique, it is still Green Dot (14.5 grains), Winchester AA hull, W209 primer, WAA20 wad, and 7/8 oz. of shot. Green Dot makes some beautiful 1 oz. 16 gauge loads as well.
Unique has been cleaned up by Alliant as well, and is so popular there is little need to mention it a great deal here. One Alliant powder that I feel has been sorely overlooked is Herco, and Herco remains my pick of litter for 1-1/4 oz. 12 ga. loads and 1 oz. 20 ga. loads. The data I use is right on Alliant's website, http://www.alliantpowder.com .
Aside from the consistency of powders, I'd be remiss if I didn't mention and thank the good folks at Alliant, particularly Ben Amonette, for the tremendous service they've given me over the years.

Copyright 2006 by Randy Wakeman. All Rights Reserved.
---
Copyright 2011 by Randy Wakeman. All Rights Reserved.
Custom Search