---

Aimpoint Hunter H34S "The Ultimate 1x Hunting Sight"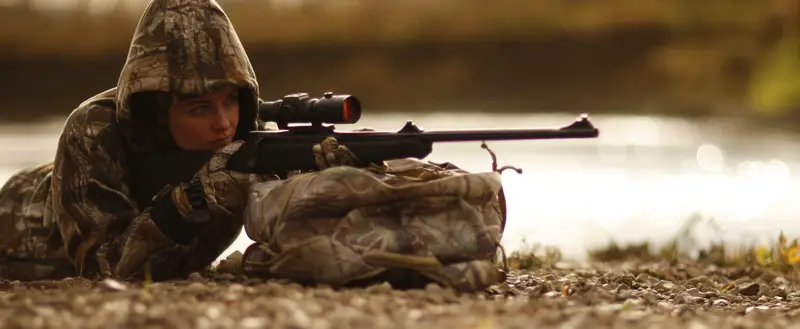 Aimpoint has been the leader in red dot sights for as long as I can remember. For many hunting applications, 1x is all the law allows. In other cases, the need is for instant target acquisition with no parallax issues and unlimited eye relief. The Aimpoint H34S is part of the expanded hunting line of Aimpoint sighting systems and its features read like a "most wanted list."
The H34S weighs just over half a pound at 8.8 ounces. Problems with cheaper red dot sights is the dots are often way too big and often have flare and streaks in them. Great if you like looking at a 4th of July skyrocket effect, but not so good for hunting. The H34S has a crisp, 2 MOA dot that is ideal for big game hunting to 200 yards or the maximum point black range of your rifle. The operating temperature range is from -20 degrees F to + 140 degrees F and the sight is completely waterproof.
The battery life is shockingly good, due to what Aimpoint calls their ACET (Advanced Circuit Efficiency Technology). It uses just one CR2032 button battery that yield a life of 50,000 hours. That isn't a typo: 50,000 hours which equates to over 5.7 years. The warranty is 10 years, two years for duty or daily use. The H34S basic dimensions are as follows.
Length: 197mm (7.75")
Maximum distance between rings: 118mm (4.6")
Minimum distance between rings: 45mm (1.77")
Objective diameter 47mm: (1.85")
Tube diameter 34mm: (1.34")
Weight sight only 250g: (8.8oz)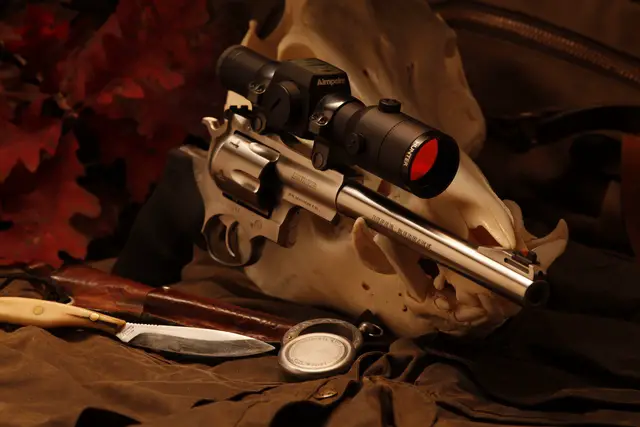 The beauty of the H34S is that you can use it on so many different firearms. Hunt with a muzzleloader in a season that allows no magnification? You're set. Use it on your shotgun for turkey, any rifle in the woods, use it on your home defense arm, or use it on your .44 RemMag revolver. In U.S. Patent #3942901 of March, 1976, by John Arne Ingemund Ekstrand of Sweden, what is now known as "Aimpoint Technology" was documented. Using a double mirror, the red dot of the "Optical sighting instrument with means for producing a sighting mark" is always on your target meaning no centering of the dot in the optic is required for accuracy. This is what has kept Aimpoint tops in the industry, despite the many red dot attempts that followed the original Aimpoint. In the Aimpoint, the dot is your point of impact regardless of its apparent position in the tube.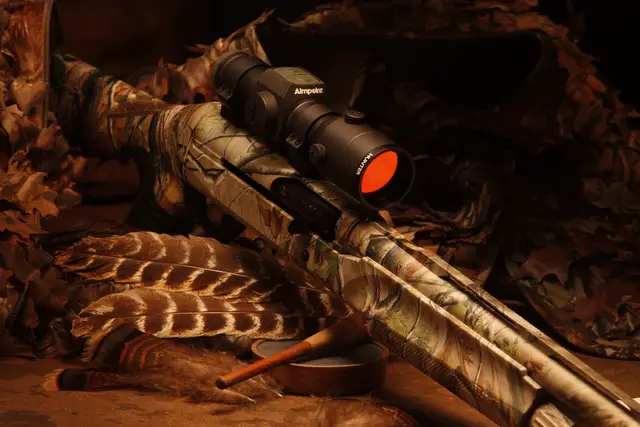 Aimpoint has always been the industry leader with this genre of sight. It is the type of sighting device you can use on your turkey gun in the spring, use on your .44 RemMag for black bear, then pop onto your inline muzzleloader for whitetail or elk. You can easily mount it on a Picatinny rail on a Mini-14 or an AR for feral hogs and so forth as well. The Aimpoint H34S is nothing short of outstandingly good: it deserves the very highest recommendation. For more info, see http://www.aimpoint.com/us/ .
Copyright 2013 by Randy Wakeman. All Rights Reserved.
---
Custom Search