---
Preview:
Beretta's New A400 Xplor Unico 12 Gauge Autoloader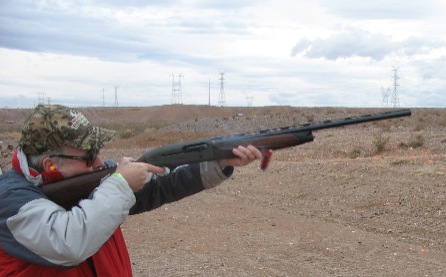 The Beretta A400 Unico was announced in October of 2009 with some half-hearted fanfare augmented by plastic dinosaur feet. It has a green receiver billed as a "cosmetic alternative," the usual bluster about fast-cycling, and was pronounced as "Designed For Shooting." Designed for shooting in a shotgun is a pretty good idea, but not exactly a new one.
It is also presented as "all new" with "Steelium" that is supposed to be better than steel, has "New X-Tra Grain Technology with Oil Finish," that culminates in a shotgun that is a "green technological beast." Apparently Beretta didn't get their last several screw-choke attempts quite right either, so we have a new one: the "Optima Choke High Performance." This is the type of cluttered, clumsy propaganda that struck me as having all the excitement of a Domino's pizza-- the old, cardboard version.
Let's get the Beretta's basic, published specs out of the way:
Action Type: Semi-automatic featuring Beretta's new gas system "Blink"
Gauge: 12
Chamber: 2 ¾", 3" and 3 ½"        
Barrel:   26", 28" and 30" Optima-Bore HP featuring new Steelium technology
Front Sight: Metal bead
Safety:  Reversible safety button designed for better grip
Stock:   New X-Tra Grain pistol-grip stock with oil finishing; new fore-end
features checkering with the Beretta logo; available with Kick-Off Cubed (enhanced recoil-reduction configuration); length: 14½" (14 1/4" with Kick-Off) with new ¾" Micro-Core pad
Weight:   6 lbs., 6 ozs. (28" barrel)

A great deal of this struck me as "ho-hum": yet another rendition of the gas gun with little sizzle or steak. What changed was when I spent some time shooting with a pair of 28 inch Unicos at the 2010 SHOT show in Las Vegas, one with the Kick-off cubed pad and one without.

The Beretta Unico is extremely well-balanced, slim, and responsive. I didn't go through the normal testing protocol with it, as this was just a test drive of two shotguns. But, I did come away with distinct impressions.

The Unico (sans Kick-Off) is supremely well-balanced, easy to shoulder, and easy to hit with. It was so well balanced that I asked the folks at Beretta if they "were sure" it had a 28 inch barrel as it seemed much faster. It did. Recoil was mild with the 1-1/8 oz. Federal loads I was shooting and the gun is light-- very close to the stated 6 lbs. 6 oz., though my guess would have been right at 6-1/2 pounds. I though the trigger on both guns was extremely crisp compared to many semi's, and function was flawless.

Despite the light weight, it was very smooth swinging with no sign of whipiness, having no tendency to stop the swing or "stutter swing." The action iself appears to be a variation of the Franchi-inspired Xtrema 2, and Beretta has done an excellent job making this 3-1/2 in. chambered gun's receiver conform to standard receiver envelope dimensions. The Kick-Off version adds a little weight in the wrong place-- so, I didn't care for it. It does its job, but with 1-1/8 oz. loads it made little difference. With turkey loads or other high-intensity loads it would be of more benefit.
Despite the techno-babble, the Unico has very clean lines and has a subdued look to it. It may well be the best hunting shotgun Beretta has ever released; it certainly has that potential. Those looking for walnut and a bit more eye candy might do well to consider the Urika 2 Gold, but for the field the handling and shouldering of the Unico sets it above most autoloaders-- and most shotguns for that matter.
I guess the folks at Beretta could tell by the smile on my face how much I truly enjoyed shooting the Unico-- I should have a 28 inch barreled non-Kick-off model here soon that I can put through its paces. It is a bit of a sleeper, not what I expected at all, but far, far better. Maybe I should have expected the unexpected after all? Expect a thorough review of the A400 Unico in the very near future.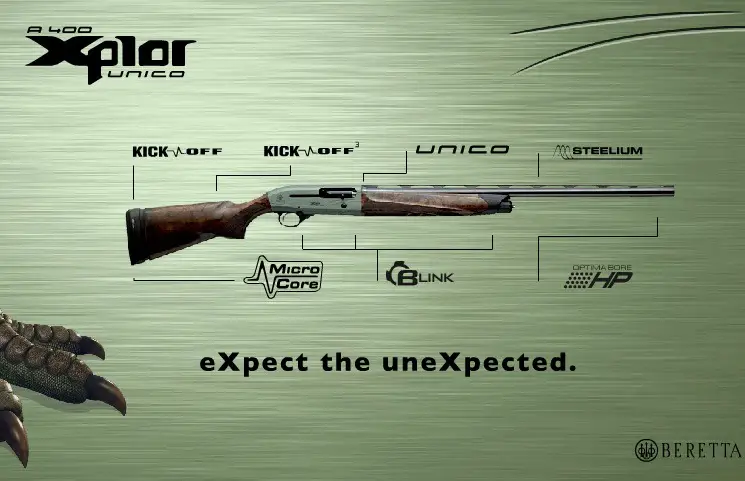 Copyright 2010 by Randy Wakeman. All Rights Reserved.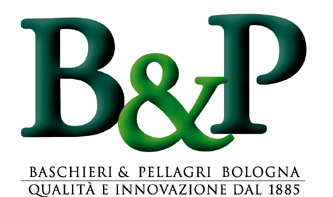 ---
Copyright 2011 by Randy Wakeman. All Rights Reserved.
Custom Search