---
A 2012 Look at Compact Digital Cameras

Much ado is made about image quality, the most important factor in the "IQ" department is your camera's sensor. Sony touts their full-size sensor in the graphic below. Though all digital cameras are far from equal, sensor size is as good of an indicator as potential image quality as anything else. The problem is, there is no such thing as "image quality." A photograph does not have a singular mark that defines quality. It is a group of many, many factors combined that yields the result. A higher resolution image isn't necessarily a better image or a higher quality image, it is just higher resolution. It hardly matters if a camera is capable of capturing images with less noise if that image is washed out, out of focus, or blurry. If a camera doesn't have enough zoom to get you the shot composition you want, it hardly matters that the low magnification image is of pleasing quality. It isn't the image you wanted at all, so it may quickly become a matter of trivia. If your camera is slow to start up, sluggish to focus, slow from shot to shot: it hardly matters that the shot you could might have had might have been somehow better. You already missed the shot, so the debate about what an image that was never captured in the first place would have been is a silly one.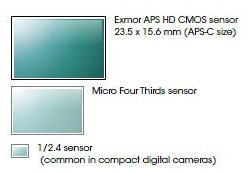 So, who doesn't want good pictures? Naturally, everyone does but there are strings attached that make APS-C sensors undesirable to many. I captured the image of the robin at the top of the page in my back yard with a dinky 1 / 2.3 inch sensor compact camera, a Canon SX230. Not only suitable for web use, it looks spectacularly good as an 8 x 10; no one could possibly guess what type of sensor was used for the image, much less what size sensor, or what type of digital camera. Nor could anyone with a casual glance tell how many pixels the original image contained. Once you get to a certain level, images do not improve much to the human eye a great deal (or at all), particularly when viewed on a wall as opposed to between your hands and without a magnifying glass. That's why some of the image comparisons using "100% crops" make little sense. It isn't how we look at pictures.
There is a peculiar fascination among marketing material and amateur photographers about "low light." These aren't infra-red cameras, after all, and you need light to make them work. MRI machines and other imaging types are not what general photography is about. Professional-grade (or at least professional cost) still cameras have on-board flashes or hot shoes to power them, so even the several thousand dollar rig often needs extra light to improve images. The "why not" of large sensors is bulk, cost, and an array of interchangeable lenses that is anything but handy, convenient, or even tolerable to lug around.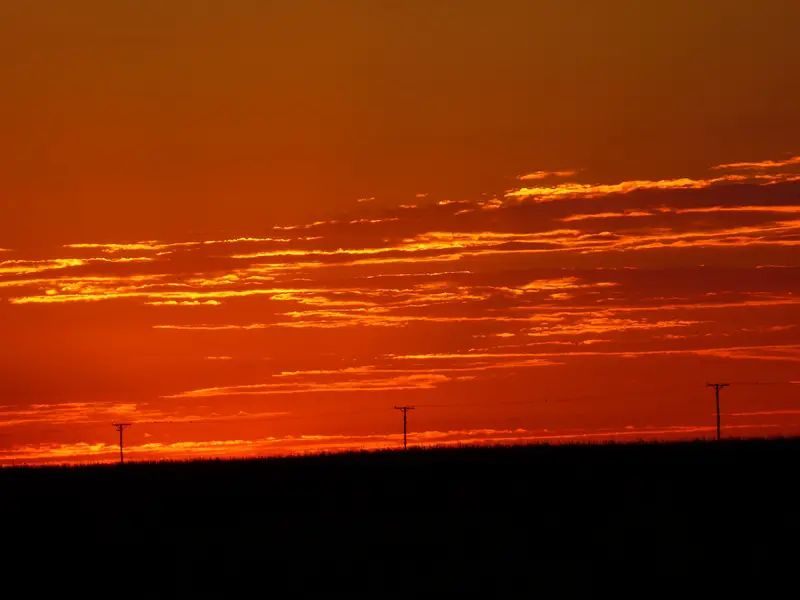 This fiery Illinois sunset is just as it came right of the camera: a Panasonic ZS-15, yet another dinky-sensored long zoom "travel cam." A clear day sunset is commonly rated at 400 lux, with a fully overcast sunrise or sunset at about 40 lux.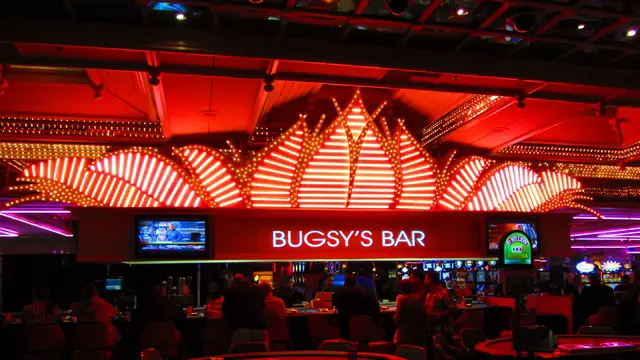 Another low-light picture, this one I took at the Flamingo in Las Vegas. Again, with a 1/2.3 dinky-sensored travel zoom. Sometimes we need reminding that we take the pictures, not the camera. Yet, there are significant differences in camera performance beyond the sensor alone. Beyond lens and sensor, it is the chip-set and processor, the CPU of digital cameras. It is the CPU, or "engine" as marketing likes to call it, that receives data from the sensor, create the Y-color difference signal , performs JPEG compression, and saves the image data. Along the way we have noise reduction, correction for chromatic aberration, face detection, correction for optical stabilization, and so forth.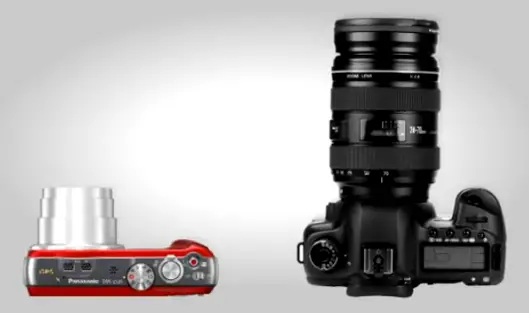 Neither image quality much less "low light" is the primary reason for a long zoom compact. The term is self-explanatory. Sure, you can get (potentially) higher quality images in a large sensor camera, but lugging the thing around is the consideration. The above photo from Panasonic tells the tale, comparing twenty times zoom platforms. That's the notion behind a pocketable camera: it begins and ends with what you find comfortable and convenient to stash in your pocket and have at the ready. If it is bulkier or heavier than you care to live with, it is out of the running regardless of any other advantages.
Way, way back in 2009, a lengthy group test of pocketable long-zoom travel cameras was performed by one of the most popular sources for digital camera reviews. It was only three years ago and the camera specifications were all within a narrow range: The tested cameras all had 10 - 12MP CCD sensors, zoom ability was 10x-12x, none could record video at full 1080 HD, and most screens were of the 230k pixel, 2.7 inch to 3 inch variety. The winners in that match-up happened to be Panasonics, with Panasonic ZS-3 having a street price of $380 or thereabouts, at that "ancient" time.
Onto 2011, where another, larger group test was conducted. The cameras as a class offered BSI (back side illumination) sensors more often, LCD screen resolution was improved to 460k (or better) and the long zoom notion was no longer 10x, but 14x to the (at that time) 18x Nikon S9100 as the class leader in the zoom department. GPS units were added as a "feature" and the winners were the Canon SX230 (a verdict I agree with) and the Nikon S9100 which I personally found to be a spectacular disaster of a camera.
It is just a year later, and BSI sensors have become standard fare, claimed to be twice as sensitive as the CCD variety. The 14x zoom of the 2011 Canon SX230, actually a fine camera, now seems a bit anemic compared to the 16x – 20x base capabilities of the current crop. I don't particularly subscribe to putting a price on a memory, but as a bonus 2012 compact long zooms, despite having more expensive sensors, greater usable magnification ranges, better video capability, and more features the price of entry is no more, often less than three years ago.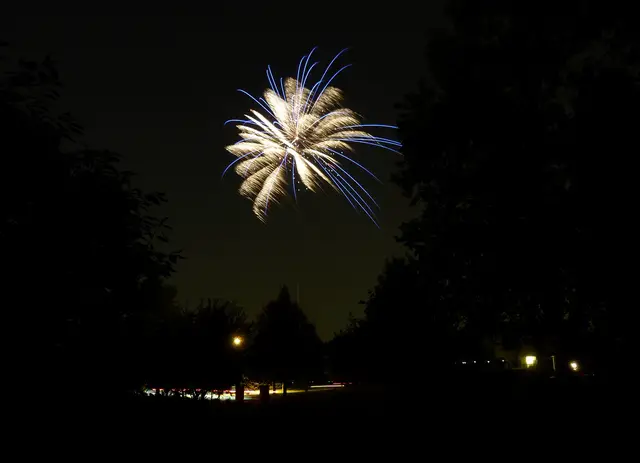 Above, a ZS-15 shot right in front of my house on the 4th of July: an image that looks great as an 8 x 10, right out of the camera.
Some of the common "complaints" about this class of camera are nonsensical. You'll redundantly hear about the lack of an EVF, the electronic viewfinders, RAW capture (meaning s-l-o-w with the intent of post-processing) and some equally nonsensical carping about low-light. The reason to enjoy this class of camera is that it fits in a shirt pocket, weighs one half pound or less, and has long zoom capability. If you don't care about bulk, heft, and zoom range . . . you are looking at the completely wrong platform of camera for your needs. The camera in your pocket captures the event when the others are not with you. A six or seven ounce camera is more pleasant to carry than a two or four pound hunk of equipment; a 16x zoom offers composition possibilities that no 3.8x, 4x, and 5x zoom can possibly match.
Of more importance is shooting performance, handling, overall speed. No one wants a camera they have to wait for-- by then, the shot you wanted may already have ceased to exist. Image stabilization ability is also a very important component of this class of camera. There are only three basic components: lens, sensor, processor. The software / cpu combination is often designated as an "engine," with a newer bit of programing called a better version of the engine. How they work together, under the most diverse circumstances, is what makes for the satisfying travel compact long zoom. The basics, in 2012, for a camera to qualify as a modern compact travel zoom appears to be 15x zoom or better, a BSI sensor, and at least some HD video capability.
Of the last dozen cameras I've spent quality time with over the last year, few actually qualify as those that I can confidently recommend. The 2011 Canon SX230 is one, as is the current enhanced zoom (20x) 2012 Canon SX260. The 2012 Panasonic ZS-15 is another, perhaps the most well-rounded and versatile value out there to this point. The unevenly performing Fuji F660EXR was a failboat with the horrific video performance sending it soundly to the cannot recommend list along with dozens of others.
Now comes a final 2012 model long-zoom compact, the Samsung WB750. It is easy to confuse the WB750 with the Wi-Fi version, the WB750F, but they are different cameras with different sensors: the "F" edition has a 14.2 MB CCD type sensor, not the 12.5 MB BSI CMOS of the WB750. The WB750F also lacks full HD video, stereo audio, the slow-motion video modes, and so forth. It is easy to confuse the two, my feeling is that Samsung could have made the differences far more easy to discern. Yet, the $350 or so W850F model does have a BSI sensor, further adding to the muddle.
Though sensor size is perhaps the best barometer of image potential, the industry seems to go to great lengths to disguise it. More megapixels on a tiny surface means each photosite gets less light, must be smaller, and there is more opportunity for signal cross-talk. Yet, the number of megapixels has long been touted, though more megapixels tends to diminish image quality potential. The reason is "Pixel Pitch." The bigger the size of the photodiodes the less image noise; the size of an individual photodiode is roughly proportional to the sensor dimensions assuming the same megapixels.
The WB750 was actually announced September 1, 2011, to little fanfare. The original press release stated, "Samsung Electronics Co., Ltd, a global leader in digital media and digital convergence technologies, today announced the launch of the WB750 camera – featuring a proprietary BSI (Back Side Illuminated) CMOS sensor that ensures consistent professional images and video. Featuring a newly-redesigned image sensor, lens and image processor, the WB750 brings to bear a range of new technologies to deliver unprecedented levels of performance and ease-of-use. The WB750 also features an 18x optical zoom with 24x Smart Zoom technology, making it the longest ever zoom in Samsung's compact camera portfolio." Rightly or wrongly, mostly wrongly, we tend to pay more attention to brand names than actual product. It tends to mean that Sony, Nikon, Canon, and Panasonic get better coverage whether deserved or not. Such is the blinding power of the mythical world of product branding.
While the specifications of the Samsung WB750 would have been astounding a year prior to its original announcement, most of them in July, 2012, fit the middle of the road. A year ago, the 18x zoom would have been equaled by very few, such as the frustratingly bad Nikon CoolPix S9100 I tried to work with, that sounded like a tractor when I used it, had erratic image stabilization for stills and no effective image stabilization for video. The WB750 has essentially a 24-432mm range, wider than many, has a panoramic feature that Canon still doesn't offer, and offers smaller image size high-speed video that many lack: 440fps @ 224x160 and 250fps @ 368x272 pixels. In night scene mode, the shutter speed goes all the way down to 16 seconds if you prefer.
For purposes of comparison and discussion, I'm pitting the Samsung WB750 primarily against the Panasonic ZS-15, perhaps my favorite travel zoom to date.
Battery life: Panasonic wins, though not by much at 260 shots vs. 225 for the WB750 (CIPA standard). Both have in-camera charging, requiring the purchase of an external charger to avoid taking the camera out of commission by plugging it in.
Lens: f/3.2 – f/5.8, 18x, 24mm-432mm for the Samsung vs. F3.3 – F5.9, 16x, 24mm-384 mm for the ZS-15. Advantage Samsung, for the slightly brighter lens and longer true optical zoom, though neither "advantage" is apparent to me.
Size: At 4.15 in. x 2.34 in x .98 inch thick and a weight of 6.7 oz., the Samsung is notably slimmer than the 6.6 oz. 4.13 x 2.27 x 1.31 inch Panasonic ZS-15. The stated thickness is misleading from both companies, as the cameras are thicker through the lens portion than published. The Samsung is still the thinner camera, if minimally.
LCD: Both have three inch LCD's. They are close, though the Panasonic LCD suffers from viewing angle problems. Though Panasonic does not discuss it, they appear to use the twisted nematic type of LCD, bad for viewing angles, which Panasonic tries to compensate for with their "Power LCD" and high angle modes, only partially successfuly.
Price: The Samsung is currently available at $150 - $170 street, clearly less than the $190 - $230 recent pricing of the Panasonic ZS-15. For the record, I actually paid $150 for my WB750 vs. $230 for my ZS-15. This isn't exactly dinner, dancing, and Chilean Sea Bass money difference but still-- the Samsung is currently a better value by a clean forty dollars, if it does what you want it to do.
Video: The Samsung is more fully featured with stereo sound and high-speed capabilities. Also, the full 18x true optical zoom is available during video as well. The WB750 allows taking a few full resolution stills during video where the Panasonic captures two total in 3.5M (16:9) reduced resolution. The Samsung's fast zoom easily outruns its autofocus ability. However, the Samsung picks up far less camera noise with the "Sound Alive" on and as a result, it has superior audio quality.
Shooting Performance: Start-up times to first shot are both quick, 1.6 seconds for the Panasonic vs. 1.7 seconds for the Samsung. The Panasonic seems to focus faster but both are reasonably quick. Neither camera is going to keep you waiting; both offer 10fps burst modes if only for a limited number of frames at full resolution: 4 frames for the Panasonic, 8 frames for Samsung at 10fps. Shot to shot times are similar, about one second for the ZS-15, about 1-1/4 seconds for the Samsung. The Samsung gives you a brief "processing" screen more often than the ZS-15 does. The Panasonic is far peppier when using the flash at 2 seconds vs. 3 seconds or so for the Samsung. The slow-charging flash of the Samsung is a negative.
Videography: Travel zooms, as a class, are very poor substitutes for camcorders. The audio invariably picks up some motor noise and due to the pathetically small mics, audio quality is limited with no possibility of using an external mic. Still, some are better than others with a recently tested Fuji F660EXR yielding uniformly tragic results. Yet, the Samsung has the cleanest audio of the long-zoom compacts I've tested this year.
Unlike many travel zooms (Canon SX230) both the Panasonic ZS-15 and the Samsung can take a few stills while you are recording video. In the case of the ZS-15, the value is dubious to non-existent. In an indoor, very low-light test I found that the ZS-15 captured very clear, sharp, ISO 1000 stills. You get but two still captures in video mode, they are 3.5M, and used under the same conditions they were not only low-resolution, but captured at a horribly grainy ISO 3200. Most small travel zooms pick up motor noise when zooming: it is to be expected. The best solution is avoid zooming as much as possible, or displace the audio with music, etc. Samsung at least recognizes this with a "Sound Alive On" mode that is designed to reduce zoom noise. It does work, actually far better than I expected. While the Samsung does have stereo mics, this advantage is primarily a "spec-sheet only" benefit in a compact travel zoom with tiny onboard mics that can offer minimal stereo separation. Nevertheless the Samsung shines brightly in audio quality compared to the Panasonic.
Video from compact digital still cameras has never been remotely good, compared to a dedicated camcorder. Above is a brief sample from the Panasonic ZS-15 in 720p 30 fps mode. As you might expect from little pencil eraser sized integral mics, audio is poor, limited and invariably picks up camera noise in small compacts. The best thing that can be said about compact long-zoom video is just that it exists, so at least you get video when you want it without having a camcorder with you. The converse is also often the case, as few camcorders capture stills that are remotely 8 x 10 worthy. It is the "capture the moment" convenience factor; the reason you'll sometimes see tornado footage on the nightly news captured by cell-phone.
The current notion of wanting, much less needing 1080p capture from a non-dedicated still camera is silly, more marketing than beneficial. Too soon we forget the movies we enjoyed, and still enjoy from the "lousy" DVD format: 29.97 fps, 480 interlaced resolution. Yet, DVD is still the dominate medium in market share. Resolution alone is a very poor indicator of video quality. Consider that even the full HD of 1080 rates only as low resolution in still image terms. The native resolution of the Panasonic ZS-15 sensor is 4000x3000, I suppose we'd call it 3000p if it was video, the native resolution of this Samsung is 4096x3072.
Clearly, the notion of sensor native resolution does not translate into any meaningful measure of video prowess, nor does the resolution of the video mode itself. In a compact long zoom, the best that can be hoped for is in-focus moving images with good color fidelity, the notion of excellent audio quality is a myth. This is why, from a video perspective, there isn't too much to get excited about here, nor could there be. The best video is obtained when not zooming at all and with the use of a tripod for full zoom. Even then, audio quality can only be amateurish. The edge in video goes to the Samsung, as full-resolution images can be taken while in video mode, and the Samsung offers more fun novelty-type modes, including high-speed capture.
Conclusions
The Samsung WB750 comes as an unexpectedly pleasant surprise. Prices vary for all kinds of reasons with digital cameras but I can't call the WB750 at $150 - $170 anything less than a spectacularly good bargain. It joins the Panasonic ZS-15 and the Canon SX260 as the only compact long-zooms I can recommend to anyone seeking this platform of camera, but not for image quality: on the basis of value and unique shooting features.
The Panasonic "Intelligent Zoom" does retain image sharpness better than its competitors when exceeding its true optical limitation; Samsung has a "24x Smart Zoom" that is essentially an in-camera crop. There is a curve of diminishing returns when magnifying images: I'm just not clever enough to be able to tell you what it is. The "long zoom" compact used to be 10x, but I certainly have had several instances where that proved insufficient. Even last year's Canon SX230, a very competent unit, seems underpowered compared to all three of these despite its 14x zoom. Twenty-eight percent more zoom ability in the WB750 vs. the SX230 is substantial but the eleven percent additional of the SX260 vs. the WB750 is far less noticeable. Note the Canon lens is F3.5 wide-angle to F6.8, a bit slower than either the Samsung or the Panasonic, but in real-world terms this isn't a noticeable difference. They are all competitive; where the true optical zoom becomes the most noticeable is during video capture, something that none of the three do superbly well. Those that want the 20x of the Canon and think the GPS is of value could be easily swayed. In my terms, for my uses, the Samsung and the Panasonic are better fits.
The Samsung is a slight winner in pocketability, with a thickness of just under an inch, in at least some areas. Both of the others are about 30% thicker in places: the Samsung can be slipped in where the others cannot.
The display is vital for shot composition. All three have generally good LCD displays. The Panasonic TN display is more reflective, yet that is combated by "Power LCD" and "High Angle" modes. The Samsung has an auto mode, but gives you three basic choices: normal, dark, and bright. It doesn't sound as sexy or technological as "Power LCD" but it is the same idea. Canon features the "PureColor II G" LCD, which also imposes a bit of needless technobabble. None are as good as the higher-resolution, 921k screens, as good as the fold out and swivel "articulated" LCDs, or nearly as good as an EVF in bright sunlight. Yet, they are all larger (3 inch) than the standard fare of a couple of years ago and are double the pixels of the screens of a couple of years ago as well. None are anywhere close to perfection in bright, sunny conditions but all are improved and far more helpful when reviewing images prior to transfer to your PC.
If you feel a GPS is invaluable or the 20x optical zoom is vital, then the Canon SX260 will likely be your choice. Neither of these features are particularly important to me, the GPS of precisely zero benefit, so for me . . . the SX260 would be a 2nd place choice, yet it is a very, very good long-zoom compact with no great negatives to stop the purchase excepting price, although by some (Sony) levels, the Canon seems a strong value.
That leaves the ZS-15 and the Samsung and it is a very difficult to find a clear winner at least in the value department. I can't shake the feeling that if this Samsung had "Sony" branded on it, it would have already have been heralded as the marvel of the age and the loudest screaming deal of screaming deals. It is a sleeper in the compact long zoom class, largely ignored compared to competitive models without solid basis that I Have been able to discover. Yet, the all-round shooting performance of the ZS-15 is faster than the Samsung; the ZS-15 processor is clearly quicker. The Samsung creative modes are surprisingly good, the audio is better, and the full-resolution still ability during video is of clear value. The Samsung rendition of the Panorama mode is excellent; up / down / left / right, just move the camera and the WB750 does the rest. And, you have more smart filters to experiment with as well as high-speed video.
For comparison, note the full basic reference image from dpreview.com, as captured by the ZS-15 at ISO 800 below.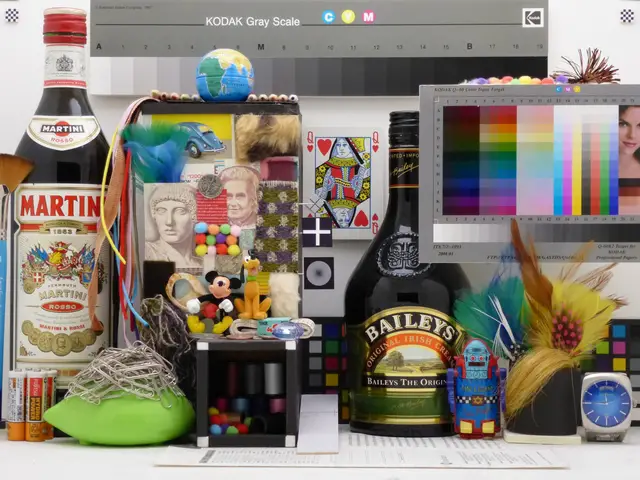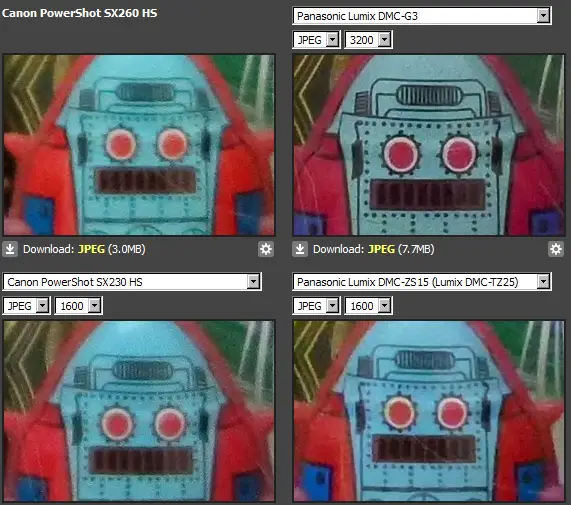 For those that want to look at the minute details of image, dpreview.com (owned by Amazon) has an interactive tool that gives you the idea. ISO numbers are the attempt to apply film standards to electronics. The lower the ISO, the finer the grain. The higher the ISO, the more sensitive the film and in electro-image land, the more sensitive the camera. The output of a digital camera at higher ISO numbers is a rough barometer of how well it can do in low-light indoor conditions without flash and also how well it can freeze extremely fast moving images and retain detail. Older CCD type small sensors have a rough time past ISO 400: the newer BSI CMOS sensors, while still limited by their diminutive size, tend to fare better to ISO 800 or so. The better renditions still capture very usable, enjoyable images to ISO 1600 with two of the best (Canon SX230 / SX260 and the Panasonic ZS-15) shown above. Still, we can't stray all that far from sensor size, as the Micro Four Thirds output of the Panasonic DMC-G3 @ ISO 3200 makes all of the small sensor ISO 1600 output look very weak by comparison.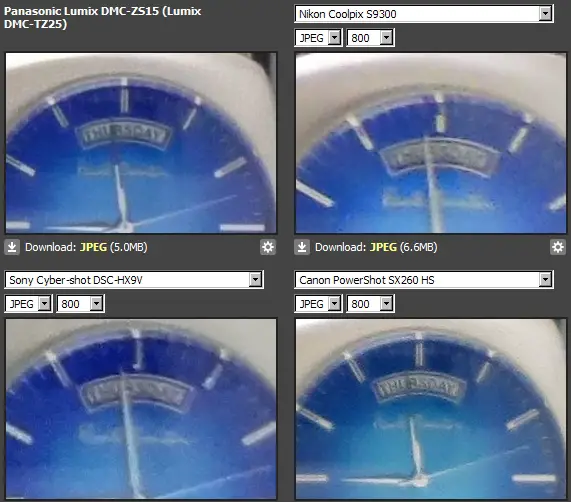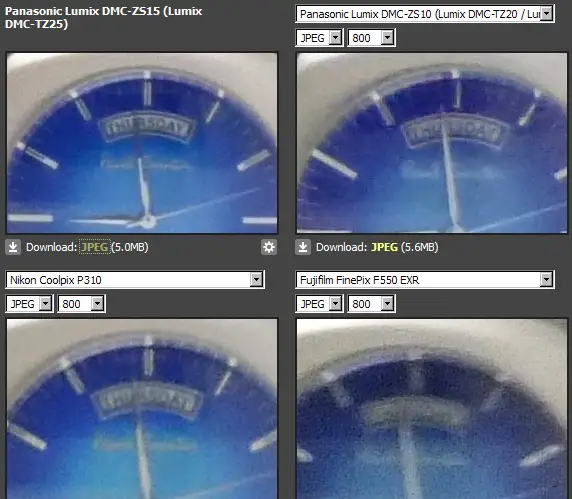 Above: with critical 100% crop inspection at ISO 800 the Panasonic ZS-15 reveals itself as a low-light dream, compared to the already broken-up, mottled image attempts from Nikon and Sony. Only the Canon SX260 can remotely hang with the Lumix ZS-15 at this point. Further, the second comparative image, also at ISO 800 show the vast improvement of the Lumix ZS-15 vs. its predecessor, the ZS-10. It also shows the pathetic performance of the Nikon Coolpix P310 and the tragic Fujifilm FinePix F550 EXR.
The ZS-15 is an astonishingly good concert camera, where still no-flash pictures are allowed. Just hit the "P" (program mode) set the ISO to 800, use "Spot" metering mode along with either "1-Area" or "Spot Focus." Concert lighting varies, but you will often get 1/125 - 1/160 second shutter speed (or higher, I've had 1/500 sec) at ISO 800. ISO 400 is usually perfectly workable, contingent on specific conditions. The Lumix ZS-15 is a superlative compact long zoom unit for concerts.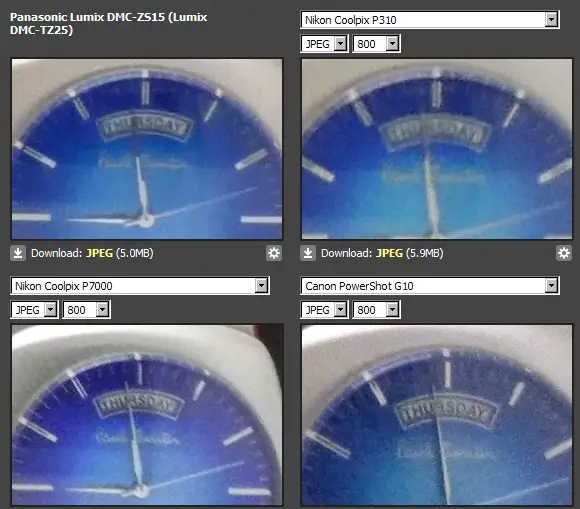 It is hard to believe that the ZS-15 100% crop images destroy the results of the zoom-challenged Nikon P310, Nikon P7000, and Canon G10: but it clearly does, by no small margin.
The all-around winner, for my purposes, is the Panasonic ZS-15, with a higher percentage of "keeper" photos than the rest in a variety of conditions. The Samsung WB750 remains a great value, as it is both feature-laden, economical, and takes very good video if you lay off the zoom and the audio is actually very clean. For indoor use, it falls well behind both Panasonic and Canon for its turtle-slow to charge up flash, and both weak and unpredictable color saturation and cast. You can get decent indoor pictures with the Samsung, but all too often it is a slow and tedious process. A better flash and faster image processing would get the Samsung to the top rung, but that isn't the case.
The Panasonic ZS-15 wins, the Canon SX260 gets the nod if you want a GPS, and the Samsung remains a surprisingly good value best suited for outdoor use and also if the audio quality of your video is important to you. If cost is an important consideration to you and shooting performance speed isn't high on your list, several small cameras with long zooms can take surprisingly good pictures at ISO 400 or lower. The Samsung WB750 for $150 is a good back-up camera for the dollar. The very slow to charge flash is bothersome to me, perhaps less so to others. So, here's how they stack up in brief: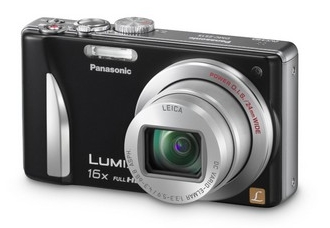 Panasonic ZS-15: the best all-round compact long zoom. It could use a higher resolution LCD, better when viewing from angles, but that won't help shooting performance or image quality. Overall, the ZS-15 is best of breed. That it sells for a hundred to one hundred fifty dollars less than Canon and Sony offerings doesn't hurt, either. Even if the ZS-15 was more money than the Canon (or a Sony DSC-HX10V) it would still be the better digital still camera.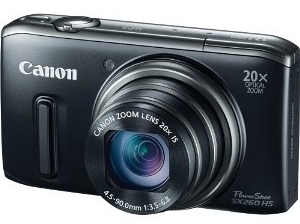 Canon SX260: If the non-GPS SX240 was available in the U.S., it would match up better to the ZS-15. The Canon has a better true optical zoom and a better LCD, yet lags behind the ZS-15 in speed noticeably and the ZS-15 nets better images most of the time more quickly and with less hassle.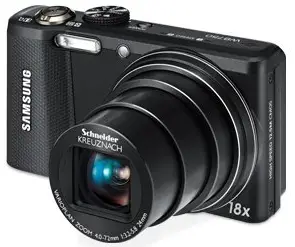 Samsung WB750: It is quite a bargain, there is no quibble about the 18x zoom prowess or some specific areas where it shines, such as taking full-resolution stills during video, and its surprisingly good video audio. The slow-charging, weak flash and generally slow still shooting performance hurts it by comparison both to the ZS-15 and the Canon. While a stunning value assuming excellent lighting, in poor light it does just about everything well except take good pictures. Not only are images beyond ISO 400 mottled and broken up, but the slothful flash is of very little consolation. Stationary night shots are good, but tripod use is mandatory.
Copyright 2012 by Randy Wakeman. All Rights Reserved.
Note: Fair use is claimed under 17 U.S.C. § 107 for "criticism, comment, news reporting, teaching ..." for the images above, commented upon here from dpreview.com, a site owned by Amazon.
17 U.S.C. § 107
Notwithstanding the provisions of sections 17 U.S.C. § 106 and 17 U.S.C. § 106A, the fair use of a copyrighted work, including such use by reproduction in copies or phonorecords or by any other means specified by that section, for purposes such as criticism, comment, news reporting, teaching (including multiple copies for classroom use), scholarship, or research, is not an infringement of copyright.

---
Copyright 2012 by Randy Wakeman. All Rights Reserved.
Custom Search