---
20 Gauge Pheasant Loads Compared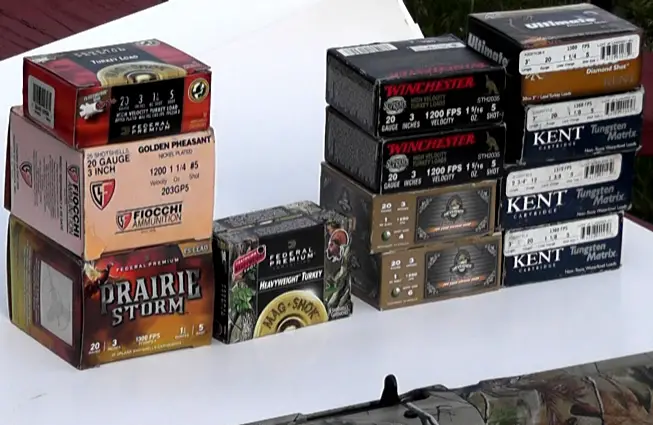 Eight different twenty gauge shotshells were given a rough pattern comparison at a laser-verified forty yards. All shells were fired out of a six pound, 24 inch barrel, Benelli M2 20 Comfortech autoloader. All shells were compared using the same "modified" Trulock Precision Hunter Extended choke tube with an exit diameter of .605 inches. The barrel of this Benelli M2 mics at an inside diameter of .620 inches, so this is a .015 in. constriction choke, in this individual gun.
The goal of an excellent wingshooting pattern is not the tightest possible pattern, it is the largest effective spread at the ranges we want to shoot at. The challenging part is that the "largest effective spread" can only exist at one specific range. If we are looking for the "best" pattern at 20, 40, and 60 yards that means a minimum of three different choke tubes.
So, there is invariably some compromise. Though wild pheasants in Illinois are "variable," most of the pheasants I've taken over the last thirty years have been at between 35 and 45 yards. We've all heard the "late season pheasant" myth, but around here the skittish pheasants that get up wild the first couple weeks of the season apparently have not read that they are not "supposed to be" late season pheasants. Buddy the wonder dog is a hard worker, covering a lot of ground. He ranges out to twenty-five yards or so, making the forty yard shot more the norm than the exception. Part of this comes with being wild pheasants, birds that need to be smarter than a coyote every day of their lives.
Of the eight loads we looked at, there was a very pleasant surprise, a load we hadn't patterned before: the Kent #K203TK36-5 "Ultimate Diamond Shot" lead turkey load. It is a 1-1/4 oz. 1300 fps #5 lead shotshell that patterned better at 40 yards with the Trulock Precision Hunter choke tube than many, many generic 1-1/4 oz. 12 gauge combinations we've evaluated in the past. Best of all, this Kent shotshell is a bargain: it goes for about $4.99 per box of ten, about fifty cents a shell for a high performance 20 gauge rooster stomper.
Of the other shells, our long-time favorite Federal 1-5/16 oz. #5 shell and the Federal 1-1/8 oz. #7 Heavyweight 2-3/4 inch shells were the tightest patterning. Actually, too tight at 40 yards, so going with an even lighter constriction of .010 inch or so would be in order for 35 – 40 yard work. For longer ranges, 50 – 55 yards, these would be two of the best shells to work with. Both of these loads have Federal's Flite Control wad which seems to slow the opening of the pattern, even with light constriction chokes.
If you use lead, the Kent 1-1/4 oz. 1300 fps load and the Federal 1-5/16 oz. 1185 fps loads are both very strong loads. If "no tox" is needed or desired, the Kent Tungsten Matrix 1360 fps 1-1/8 oz. load or the Federal Heavyweight #7 1-1/8 oz. 1100 fps shells are top selections. Kent Tungsten-Matrix loads are safe for "lead only" barrels and choke tubes. The Federal Heavyweight #7 1-1/8 oz. shell is extremely soft-shooting as well, as you might surmise from its lighter payload and 1100 fps muzzle velocity.

To do a reasonable representative sampling, it takes a minimum of five patterns per shell although ten is better. From many prior patterning sessions, we've had already redundantly confirmed how good the Federal 1-5/16 oz., Federal Heavyweight #7 1-1/8 oz., and Kent Tungsten-Matrix 1-1/8 oz. shotshells really are, in a wide variety of 20 gauge shotguns. The big winner here is the Kent #K203TK36-5 "Ultimate Diamond Shot" lead turkey load. It is an an outstandingly good 20 gauge pheasant load at a bargain price.
Results not only may vary in your shotgun, they will vary. Based on the patterns produced here and on other tests in a wide variety of 20 gauge shotguns, a reasonable rating of the best-performing shells is as follows.
LEAD:
1) Kent Ultimate Diamond Shot 1-1/4 oz. #5, 1300 fps.
2) Federal Premium 1-5/16 oz. #5, 1185 fps.
NO-TOX:
1) Kent Tungsten-Matrix 1-1/8 oz. #5, 1360 fps.
2) Federal Heavyweight 1-1/8 oz. #7, 2-3/4 in. unfolded length shell, 1100 fps.
MISC. NOTES:
The lowest recoil shell, by far, is the 1100 fps Federal Heavyweight, suitable naturally for 2-3/4 in. chambered 20 gauges as well as 3 in., and are good enough to be an effective turkey load when properly choked.
Easily the best bargain of the tested shells is the Kent Ultimate Diamond Turkey Loads at about fifty cents a shell, five bucks per box of ten cartridges.
The Kent Tungsten-Matrix shell is safe for lead-only barrels and chokes, and easier on forcing cones, barrels, and chokes than steel loads as well.
POSTSCRIPT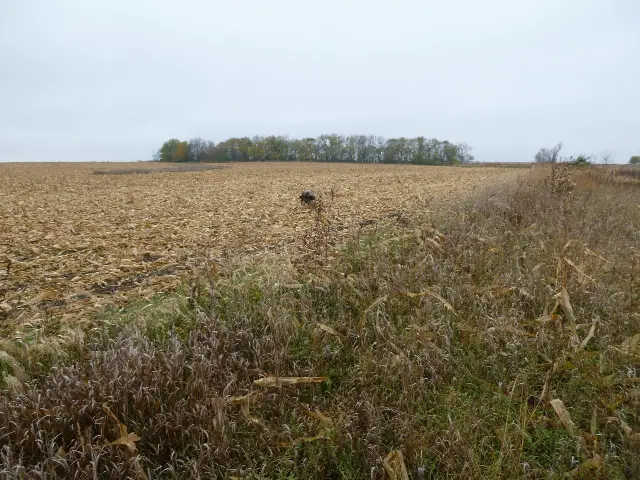 As you might imagine, the patterning wasn't just for show. Above, Buddy retrieves his second rooster of the day, dropped just inside 50 yards with a Kent Ultimate Diamond Shot 1-1/4 oz. of #5 lead shotshell, a Trulock Precision Hunter Modified Extended choke, fired out of a Benelli M2 twenty gauge.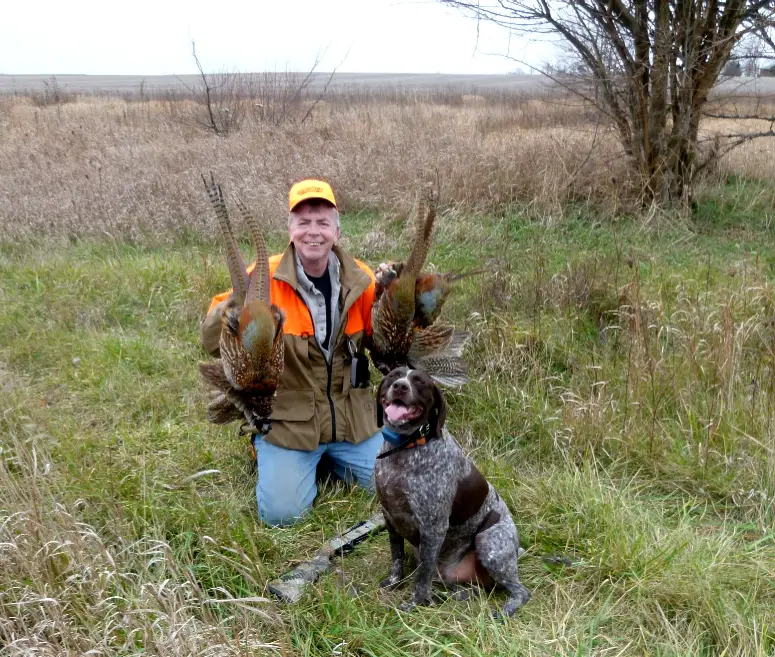 Copyright 2011 by Randy Wakeman. All Rights Reserved.
Custom Search

---
Custom Search