---


2014 Browning Maxus 3-1/2 Inch Review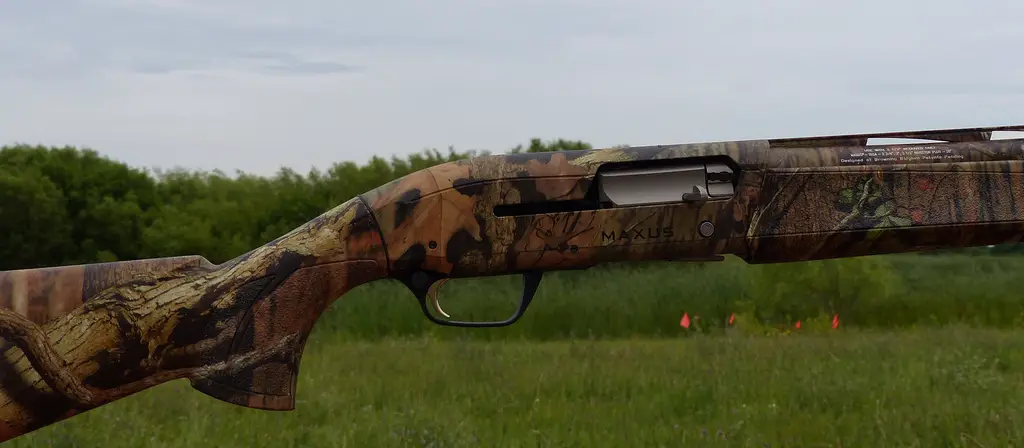 By now, this is the fifth Browning Maxus I've reviewed, the second 3-1/2 inch model. The Browning stated specifications are as follows.
Item Number 011619205
UPC 023614071396
Gauge 12 Ga
Chamber Length 3 1/2"
Barrel Length 26"
Overall Length 47 1/4"
Length of Pull 14 1/4"
Drop at Comb 1 3/4"
Drop at Heel 2"
Weight 7 lbs 1 oz
Magazine Capacity 4
Rib Width 1/4
Barrel Finish Mossy Oak Break-Up Infinity
Stock Finish Mossy Oak Break-Up Infinity
Chokes Included Extra Full, Full, Modified, Improved Cylinder
Receiver Finish Mossy Oak Break-Up Infinity
Dura Touch Finish Yes
Chamber Finish Chrome Plated Chamber
Front Sight HiViz Magnetic Combo
Choke System Invector-Plus Flush
Barrel Material Steel
Stock Material Composite
Recoil Pad Inflex 1, Small with Hard Heel Insert
Checkering Textured Grip Panels
Sling Swivel Studs Integral
Receiver Material Aluminum Alloy
Trigger Finish Gold Plated
Trigger Guard Finish Matte Black
Bolt Slide Finish Brushed Nickel
Magazine Type Tubular
Trigger Material Alloy
Trigger Guard Material Composite
Trigger Guard Engraving Buck Mark in Gold
Choke Wrench Included Flat Wrench
MSRP $1,679.99
The tested article weighs in at 7-1/4 lbs., with an excessively heavy 6 lb. 10 ounce trigger. Although the 725 Citori models show that the Browning brand can offer excellent triggers when they want to, in the case of the Maxus and most all Browning autoloaders, they just don't want to. If a reasonable trigger is important to you, an aftermarket trigger job is going to be high on your priority list.
For a 3-1/2 inch 12 gauge autoloader, it is a light and lively gun, to the point where pheasant hunting isn't out of the question, even though a 6 – 6-1/4 pound twenty gauge is a lot more fun. The Maxus is generally a well-finished gun, a very soft shooter for its weight class due to its gas action and very good Inflex recoil pad.
Some of the earlier Maxus models had somewhat loose forearms, not of functional concern, but many people don't like it regardless. That's one area that has been noticeably improved, for the forearm on this Maxus does not rattle whatsoever and is in no way loose.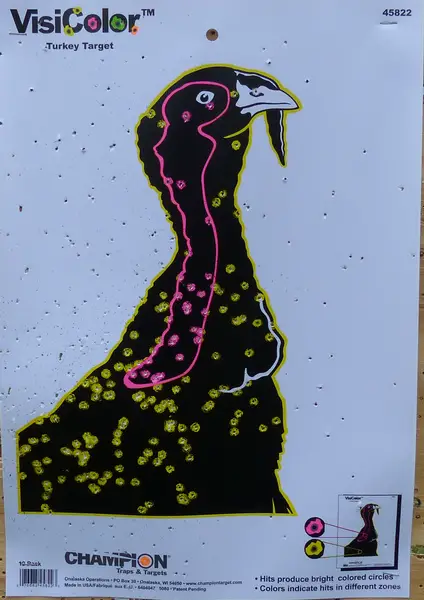 Another very good thing about the tested Maxus is that it shoots very close to point of aim at 40 yards, notable because so many shotguns sold today don't shoot anywhere near point of aim.
The felt recoil is soft and pleasant, up to a point. When patterning with 2 oz. 3-1/2 inch lead turkey loads off the bench, well . . . that wasn't pleasant at all, although in a hunting situation most wouldn't notice or care, for just one shot off-hand.
The Browning "Speed-Loading" feature works just fine, as long as you practice a bit and acquire the knack. If you don't, you might just get a nasty surprise when the thin, sharp shell elevator stabs its way into your thumb. The shell elevator needs a rework for there is no reason for the end of it to be so sharp. Nevertheless, once you are familiar with its blood-letting proclivities, it won't be a major problem.
Right out of the box, with no cleaning or lubrication, the Maxus was a jam-o-matic with cheap 1 oz. loads, but was perfectly reliable with 1-1/8 oz loads all the way up to 2 oz. loads. The 3 inch chambered Maxus models I've tested had no problems with 1 oz. loads right out of the box, but this 3-1/2 gun did.
In general, the Maxus is a very competent autoloader. You can save yourself a few dollars and likely get better light load capability by going with a 3 inch chambered model, but that's your choice. It is very, very quick and easy to take down and clean, and with a trigger job and some after-market chokes, it becomes a fine general-purpose autoloader, despite the few niggles already noted.
Copyright 2014 by Randy Wakeman. All Rights Reserved.

Custom Search