---
New 2011 Bushnell Elite 3-10 x 40mm Riflescope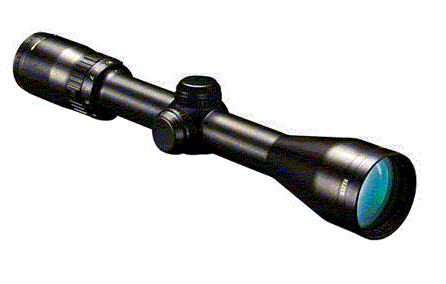 For this year, Bushnell has shaken up their popular Elite 3200 and Elite 4200 riflescope line. Those designations are now gone, with the basic hunting scope line falling under the umbrella of just "Elite." The test scope, the Elite 3-10 x 40mm is now #E3104 replacing the prior Elite 3200 part #323104M.
Power / Obj Lens
3-10x40mm
Finish:
Matte
Length (in / mm)
11.7 / 297
Reticle
Multi-X®
Field of View (ft@100 ft. / m@100 m)
35.5/11.8@3x 10.9/3.6@10x
Adj Range in@100yds/ m@100m
85 / 2.4
Weight (oz. / g)
14.5 / 411
Exit Pupil (mm)
13.1-4
Eye Relief (in / mm)
3.7 / 94
Mounting Length (in / mm)
5.4 / 137
Model
323104M
Click Value in@100 yds / mm@100m
.25 /7

The envelope dimensions and basic specifications are essentially unchanged, inclusive of weight, mounting distance required, adjustment range, and so forth. According to Bushnell, this is still assembled by Light Optical Works of Japan, just as always. There are new features, though, all of which are upgrades or at least updates.
This scope has the latest incarnation of Bushnell RainGuard, the "RainGuard HD." Rather than the "multi-coated" lenses on the 3200 line, now this is a fully multi-coated version (as was the 4200 series). This scope has the latest Bushnell "Ultra Wide Band"coatings. To complete the picture, the Elites are now purged with the larger molecule size Argon gas as opposed to the prior dry nitrogen.
Originally, the "4200" line meant a four power zoom range and fully multi-coated glass. That definition became blurred a bit, as the 4200 3-9 x 40 was only a 3 power zoom range and the previous version of this scope is a 3.33 power zoom range. So, perhaps the idea of trying to clarify the line wasn't a bad one after all. Bushnell has a clever animation to show you how pathetic other scopes are to "Rainguard HD" at http://www.bushnell.com/rainguard .
Optically, yes, no doubt about it. This model is an upgrade to the Elite 3200 3-10 scope I've always rated as in the best in class group. With this upgrade comes upgraded cost. The Elite 3200 has been available for some time in the $225 area. This scope, as best as I can discern, runs close to $400. While yes, it is brighter and clearer to my eyes the differences may not be noticed by many hunters. It makes this scope that was a leader in price performance ratio now priced at the Sightron Big Sky and Burris Signature Select price points. It is no longer an easy optic for the dollar choice.
So, personally, I'm sorry to see the Elite 3200 series go by the wayside. In the couple hundred dollar scope bracket, you'll now likely pay closer attention to the new Burris Fullfield E1 series or the Sightron SII, both leaders in optics for the dollar.
Nevertheless, there is no complaint about this scope as an individual model. The adjustments are crisp and positive and the zoom ring is smooth without binding. The quality of assembly is apparent, the satin matte finish is attractive and evenly applied, the eye relief is sufficient for all but the most uncontrollable hunting rifles, and the Rainguard HD works as promised. There is not a thing lacking in this scope, so it is a very easy one to recommend.
Copyright 2011 by Randy Wakeman. All Rights Reserved.
---
Copyright 2011 by Randy Wakeman. All Rights Reserved.
Custom Search