---
Savage Milano 20 ga. O/U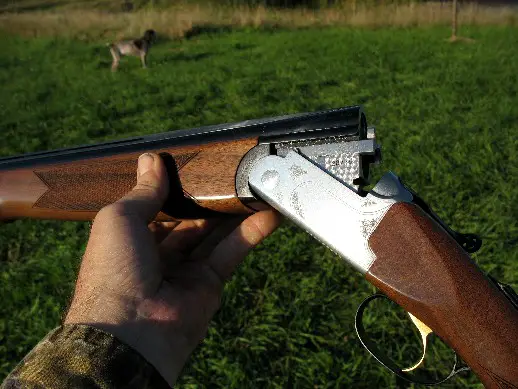 Of the several hundred shotguns I've hunted and competed with over the last four decades, over and unders have had their fair share of my gun rack. Ithaca SKB's (now Weatherby SKB's), Winchester 101's, Charles Daly Miroku's (similar to Browning Citori Miroku's), Browning Superposed, the long-gone Remington 3200 (finally made properly by Kreighoff), Ruger Red Labels, Franchi's, Beretta's, and a variety of less-known models have come and gone. When all the hulls have finally hit the field, we are left with two basic models that have captured the majority of the American skeet / trap / sporting clays and upland shotgunning market: the Browning Citori and its many variants, and the Beretta 686 / 687 and its equally broad spectrum of configurations.
Apparently, "Rizzini" is a name fairly common in Italia-perhaps like "Jones" or "Smith" in the states. You might want a scorecard to keep them all straight: B. Rizzini, Isadoro Rizzini, Fratelli Rizzini, Cesar Guerini, and so forth. My apologies if I've missed a few. In recent history, SigArms made an attempt to market Italian shotguns. Their SA-3 was of Zoli manufacture-- my examples were cobby; crude in the sense of some of my old Franchi's with poor triggers and over build quality to match. At the same time, SigArms introduced the SA-5-made by Battista Rizzini; and my SA-5's were superbly crafted guns. For various and sundry reasons the SigArms marketing attempt failed. Licking their wounds from this little adventure, renowned pistol maker Sig tried again with the "Aurora" line-now, strictly of quality B. Rizzini manufacture. The guns were superb, the sales and marketing less so-- and now, SigArms has abandoned their O/U shotgun attempts. Currently, Kimber has gone to the gunmaking guild of Italy, and markets their Rizzini-made "Augusta" shotguns that approach the $4500 street price point.
Savage Arms surprised everyone at the 2006 SHOT show with their new Milano line. Rather than taking the low road of slapping their name on low-end former eastern communist-bloc product, or Russian product, they co-developed their new Milano line with "FAIR": Fabbrica Armi Isadoro Rizzini. Since 1971, FAIR has produced extremely fine shotguns. Speaking with my friend, Carlo Fiocchi of Fiocchi USA, who has a great deal of experience with Luca Rizzini, CEO of FAIR, Carlo mentioned that he considers the FAIR facility "an Italian jewel"-- producing awesome product. Tight tolerances, the finest steels, excellent quality control, married to very good wood, bluing, and finish-FAIR product has proved to be indestructible for Carlo, when used as range rental guns over the years. It is this thirty-five year track record of both quality and value that Savage Arms has established their relationship with, offering Italian sports car handling and looking product at a price point very competitive with the very bottom-end crate-wood Beretta 686 and cheapest Citori models.
The test gun was the Milano 20 gauge. Out of the box, the first thing I noticed was the excellent walnut with distinct mineral streaks, and extremely well-done metal to wood fitting, with no proud wood. I've always appreciated the style of a Schnabel fore end; the Milano has it. The highly polished blue is deep, dark, and rich. The back of the barrel assembly has a jeweled mono-block-reminiscent of my old engine-turned 101's. It is attractive and good for holding lube as well.
One of the potential advantages of a double gun is the ability to fire past a dead round. Most O/U models today use inertia triggers, meaning that the recoil of the first shot sets the trigger to fire the second barrel. In the case of a bad round or blooper, you have no second shot. As the recoil of a .410 bore may be insufficient to set inertia triggers, mechanical triggers are standard fare regardless of brand. My Winchester 101's had mechanical triggers, and mechanical triggers are featured throughout the Milano line. You positively have that second shot available to you, regardless, and I think it was a wise choice. Certainly there is nothing intrinsically bad about inertia triggers, but mechanical triggers are an advantage in my view if needed only once in a blue moon-there is no negative to them that I know of.
The Milano is supplied with three choke tubes, the common array of chokes (stamped "Techni-Chokes") of Improved Cylinder, Modified, and Full. It would make a lot more sense if at least five choke tubes were included from the start for a shotgun of this type. No one I know would intentionally run around the skeet field with IC and MOD tubes installed; that just makes no sense to me. One of the primary advantages of two barrels is the ability to exploit two different patterns as your needs dictate. Three choke tubes won't cut it for sporting clays, skeet, or even trap doubles. For quail, you'll likely want a pair of more open chokes, for doves something that equates to improved modified performance, and perhaps a pair of modifieds or slightly tighter for pheasant. A standard five choke array is standard with many O/U's from the start (and most all shotguns that may be used for sporting clays work), and it really should be with the Milano.
Note that the Milano uses a proprietary choke system, not available as stock aftermarket product anywhere at present. However, George Trulock is working on them-- and plans to have them available in the near future: http://www.trulockchokes.com/ .
The Savage Milano's 28 inch barrel set is topped with a silver center bead, and a hi-viz style red front tube style bead. Sights remain a matter of personal preference. Personally, I strongly prefer just a nice single silver bead at the muzzle. Plastic tube front tube-beads are prone to cracking, and the sight picture of silver post on red makes little sense to me. However, the "fiber optic-ish" front beads are trendy, and popular. I like the silver on white even less as used by other manufacturers; if two beads are the approach I'll always opt for a pair of silver beads-- often presented as German nickel silver. However, my friends that shouldered the Milano universally commented "nice sights!" so my feeling is hardly one that is universally held. Front bead options should be made available.
The safety on the Savage Milano, out of the box, is quite stiff and too noisy-a thumb buster. It takes about half the force to put it on than to get it off-- if only it was the other way around. For clays work, the safety is of no importance as you take your shots and break the gun open. Stepping on pheasants with cold, gloved hands with this safety is a problem. It is the lone flaw I could find on this gun-- the folks at FAIR really need to rethink their slide / detent configuration on this model. The safety itself is what I call the "Beretta style," with a center slide portion to select the barrel that fires first as indicated by one visible dot or two on top of the safety. One means the lower barrel will fire first; two dots the upper. It is an easy system that cannot be inadvertently switched in the field as the barrel selector button on trigger approach can, and has been.

The Milano trigger is quite good, if slightly heavier that I'd like breaking in the 5-1/4 to 5-1/2 pound area. The weight of this twenty-eight inch barreled model is six pounds, ten ounces hanging off of my Lyman trigger gauge, and handles like lightning. If anything, it feels like a bit lighter gun yet than it already is.
The Milano 20 gauge gave me no malfunctions, and tossed the empty hulls ten feet or so up in the air, behind me when the action was opened swiftly. Ejection of spent hulls is positive and strong. While the Milano has three inch chambers, a steady diet of 1-1/4 oz. loads would be punishing used in most any fixed breech gun this light. Standard 7/8 oz. 1200 fps 20 ga. loads are far more pleasant and controllable.
As I was finishing up this review, I noticed that 28 ga. version of the Milano (in the September issue of Gun Tests) bested the Browning 525 and the Ruger Red Label in head-to-head comparison. It isn't that hard to understand why, as virtually identical Rizzini family built models have had MSRP levels fully double that of the Milano. There is something that I'd personally like to see; that being a 12 ga. / 20 ga. Milano offering. The 12 gauge version is light and lively as is, supplying a 20 gauge barrel set along with it would really let Savage clean house in the value department-- if they are not doing so already.

Copyright 2006 by Randy Wakeman. All Rights Reserved.
---
Custom Search