---

The Ultimate Pheasant Load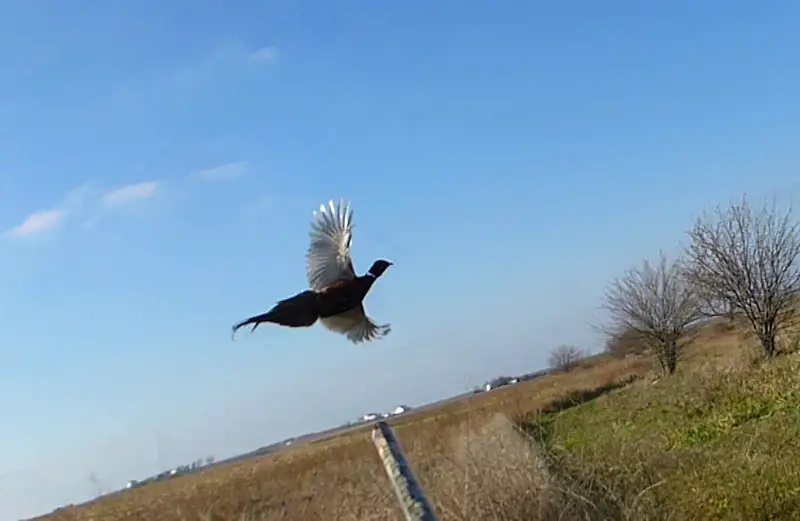 The title is admittedly misleading, for any combination of shell, choke, shotgun is unique and is invariably a compromise. This load breaks most of the rules you may have heard about, for although the choke has what many would call an Improved Cylinder constriction, it throws a pattern at 40 yards that some would call a "Full" or even an "Extra-Full" lead shell pattern percentage of 70 - 73%. The choke is marked "Modified," but choke markings never mean much until it is applied to a specific barrel and a specific shell is shot through it.
The shotgun used is a Benelli M2 20 gauge with a bore diameter of .620 inches. The choke tube used is a Trulock Precision Hunter "Modified" extended tube with an exit diameter of .605 inches for a .015 in. constriction. The shell is the Winchester #STH2035. Around for some time, it has been called the "Supreme High Velocity Turkey Load" even though 1200 fps isn't high velocity and is now called the Winchester "Double X." The shell has been the same for years, it has a 1-5/16 oz. payload of #5 shot, the box, graphics, and name changes periodically just for fun.
You might wonder how or why the 70% plus (full choke or extra full choke) 40 yard pattern percentages print from an actual constriction that has been called IC or Skeet II? There are several factors and the mystery of cryogenics and wondrous changes to metal at the molecular level really would not be my first choice on the reason. You have several areas that combine.
Extended choke tubes often do better with heavy payloads, this "high velocity load" really isn't, and moderate velocities throw tighter patterns. The Double X shell is Grex-buffered, buffering being one of the few things that really does help out lead loads in a meaningful way, along with harder shot and sphericity.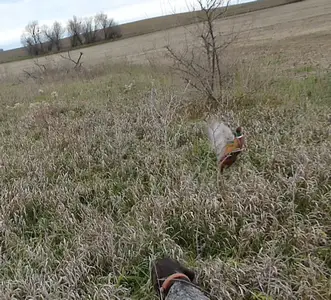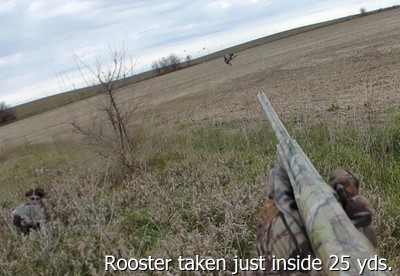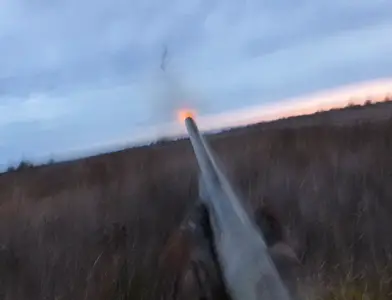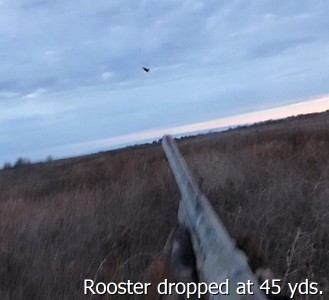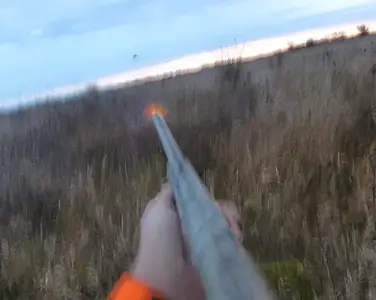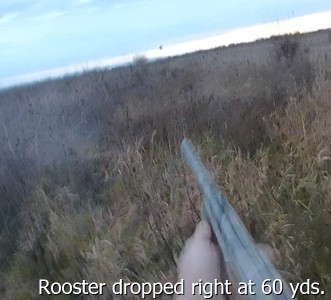 The rooster taken at about 60 yards dropped dead into a clean beanfield at a laser-verified 67 yards. If that was a common hunting range, it would call for a more aggressive constriction choke, but it isn't. Nor is the 25 yard shot the most common in this area for nervous wild pheasants. If it were, I'd want a bit larger pattern diameter, though the close range shots are not particularly challenging. The majority of wild pheasant, in this area, are taken from about 37 to 47 yards. Choking for fifty yards or so makes the most sense, though it remains a compromise. There is no "best" choke, of course, but there is the most appealing compromise.
I've long thought one of the impossible questions was about the "best" choke to use for doves. The best choke for pheasants is runner-up. Until the exact shell is discussed, the exact type of choke, the ranges involved, and the specific gun, choke, and shell combination is proved at the patterning board, most answers are equally unhelpful and equally incorrect.
However well-meaning, they are void of great substance. Just because some type of barrel or choke tube has "Modified" on it does say anything with exactitude, nor does a shell with pictures of pheasants, turkeys, or ducks on the box mean that the shell is excellent for the purposes illustrated: it may not even be suitable, much less good. The answer isn't exactly "blowing in the wind," but it is blowing onto a patterning board near you.
Copyright 2012, 2016 by Randy Wakeman. All Rights Reserved.

---
Custom Search