---
Review: CZ-USA 912 Twelve Gauge Autoloader


The CZ-USA 912 is the newer version of the Huglo-manufactured gas-operated 12 gauge autoloader distributed by CZ-USA. Right now, it is offered in one barrel length, 28 inch, and 12 gauge only.
SKU: #06045
Price: $509.00 MSRP
Magazine Capacity: 4+1
Chambered for shells up to 3 in.
Weight: 7.3 lbs. (7-1/4 lbs. as tested)
Overall Length: 49 in
Barrel Length: 28 in
Length of Pull: 14.3 in
Rib: 8mm Vent
Comb: 1.3 in
Heel: 2.3 in
Chokes Supplied: F.IM,M,IC,C
Frame: Aluminum
Barrel: Chrome Lined
Barrel Finish: Black Chrome
Receiver Finish: Polished Anodized
Stock: Turkish Walnut

The great appeal of the CZ 912 is the cost of entry. With a MSRP of $509 and a street price of around $465, it is a lot easier to swallow than many autoloaders on the market that have soared to $1200 - $1400 price points and even more. The gas action is what I'd refer to as a fairly conventional design, with dual gas ports inside the barrel ring blowing back a single gas piston that has metal gas sealing rings, not O rings. The action bar has dual rails, and the 912 has a three inch chamber with a four shot tubular magazine limited to two with the installed plug that you can remove in seconds. It comes with five screw chokes, more generous than many autoloaders out there.
The first thing we noticed out of the box was the walnut. Attractive walnut is getting harder and harder to find these days on basic shotguns, some models are offered with blow-molded plastic stocks only, so good-looking Turkish walnut was a refreshing change. Hanging off of our Lyman electronic trigger gauge, the gun came in right at 7-1/4 lbs., a bit lighter than the published weight. The 912 has a horribly heavy trigger, breaking at 8-3/4 pounds or so that we felt was unacceptable for any shotgun. So, we called the folks at CZ to get their stance on the trigger weight. The answer was that their spec is 7 lbs., give or take a quarter pound either way. In this case, yes, they would be happy to touch up the trigger but only to their 7 lb. specification. Still, way too heavy as far as we are concerned so if you want a decent 4-1/2 lb. trigger, it is gunsmith time. As the trigger is a primary control in a shotgun, this is a lamentable trend, but the CZ 912 has a lot of company. The recently tested Stoeger M3500 also came with a heavy trigger, 7-3/4 lbs., and a recent sampling of Remington Versa-Max models (all roughly 8 lb. guns) all had trigger breaks exceeding the gun weight. While I've lamented ridiculous trigger pulls for years from many manufacturers, including Browning, now it seems that Browning is far better than typical.
The ventilated rib of the CZ 912 is 8mm in width, a bit wider than the 6mm field ribs that are becoming common. The single bead is a green fiber-optic that we generally liked. The recoil pad is reminiscent of the Franchi I-12 / Browning Cynergy style of pad. While not easily replaceable due to its odd geometry, we liked it and appreciated the hard plastic snag-free heel insert. There are no adjustment shims included with the 912; fine by us as none were needed.
I'll call the barrel a "semi-matte" finish. Not hot-salt bluing, it is black chrome that looks better than many matte finishes that are more "unfinished" metal than anything else. The receiver is shiny black anodized alloy, reminding us of several vintage 300 series Berettas.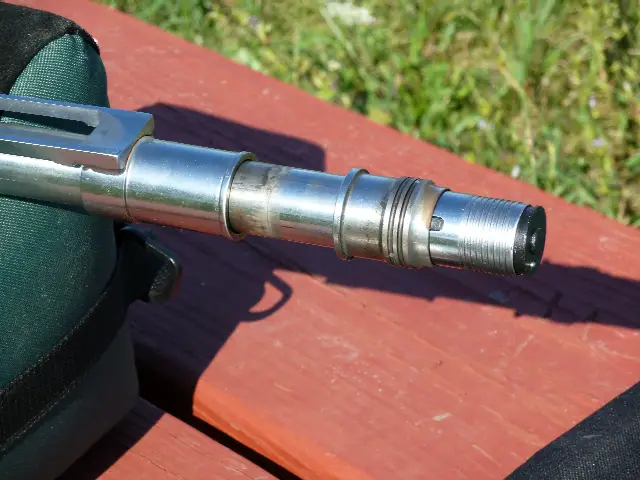 The gas action of the CZ 912 is straightforward. As you can see, residue builds up primarily on the magazine tube and gas piston. It is easy to clean away between shooting sessions. The little button at the end of the magazine tube is the 3 shot plug and is effortless to remove and replace.
At the range, the CZ 912 functioned flawlessly with no failures to feed or eject a wide variety of target loads. Like most gas actions, you need to clean them after use. Though so many gas actions are touted as self-cleaning, none of them are. I've spent years cleaning a variety of self cleaning actions. Anyway, basic cleaning is easy: a little attention to the magazine tube and gas piston between range sessions is all you need. The bolt stayed essentially residue free, so while you might consider a more thorough cleaning after repeated use, regular cleaning takes just a minute or two.
In the "gun for the money" department, there isn't much to carp about, based on this example. The CZ912 is a competent gas gun, far better looking than many with attractive walnut and functional checkering. The trigger is the sole area in need of immediate attention. At seven and a quarter pounds, it falls right into the middle of a good general weight, fine for the dove field, skeet field, and not so overweight that you'd mind carrying it on the occasional pheasant hunt, either. It swings well and is easy to hit with. There is a one year warranty on wood and finishes, a five year warranty on everything else from CZ-USA. We have found CZ-USA to be more responsive in the customer service department than several companies, so that's a plus as well.
In the "gun for the money" department, we can't fault the CZ912, so we won't. If it fits you it is largely a matter of a trigger job and go have some fun. At $460 - $465, the thousand dollars you didn't spend on something else will fund a lot of fun for you.
Copyright 2011 by Randy Wakeman. All Rights Reserved.
Custom Search

---
Custom Search