---


Review: Browning A5 Hunter, Round Two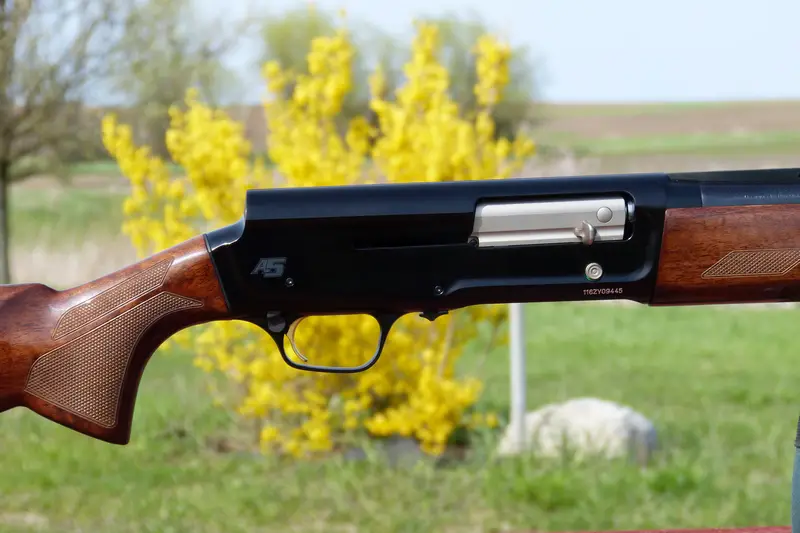 Tested is the 26 inch barrel Browning A5 Hunter. The previously reviewed 28 inch A5 Hunter was early production, inexplicably having a worthless single sling swivel screwed into the walnut buttstock. You might wish to refer to http://randywakeman.com/Review_2012_Browning_A5_Hunter_Autoloading%20Shotgun.htm as most of the basics are unchanged.
Item Number 0118003005
UPC 023614072089
Magazine Capacity 2 3/4" 4 + 1; 3" 3 +1
Barrel Length 26"  
Nominal Overall Length 47 5/8"  
Nominal Length of Pull 14 1/4"  
Nominal Drop at Comb 1 3/4"  
Nominal Drop at Heel 2"  
Nominal Weight 6 lbs. 11 oz.  (6 lb. 8 oz. as tested)
Chokes Included: Full,  Improved Cylinder,  Modified,  
Chamber Size 3"
Rib Width 1/4"
Metal Finish Black anodized bi-tone
Wood Finish Gloss finish walnut stock and forearm
U.S. Suggested Retail $1,559.99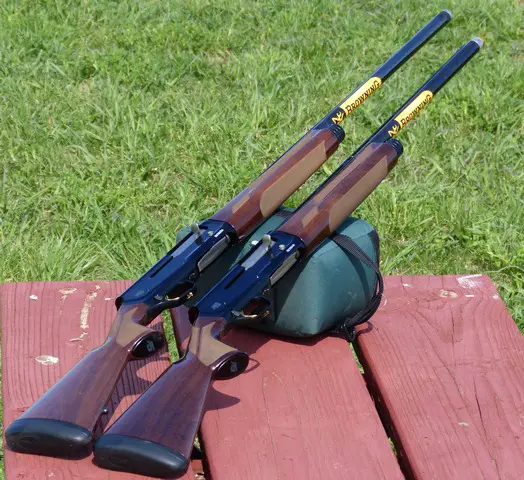 The initial test gun was plagued by an excessively heavy, 5-3/4 pound trigger. Unfortunately, this slightly lighter (6-1/2 lb.) 26 inch barreled A5 had an even heavier trigger. The trigger break weight is heavier than the entire gun. Empty gun, empty chamber, safety off, balancing the gun on the trigger-- it would not break. It actually measures 6 lbs., 9 oz. to 6 lbs, 10 oz. via Lyman electronic trigger gauge. Thoroughly disgusted with the original trigger, off it went to Bob at Precision Sports in Oshkosh, Wisconsin: http://www.ps-o.us/ . Based on the generally sad state of affairs with autoloader triggers, particularly Browning, Bob is going to be a very busy man indeed. Bob will do most anything within reason. I'm not one to strive for a hair trigger on a field shotgun: anyway, with a touch of Bob's magic it now breaks at a far more usable 4 lbs., 1 oz.

Although I did bag a few wild Illinois pheasants with the 28 inch A5, I can't say I truly enjoyed using it. The long (8.7 inch as measured across the top) A5 receiver mated with a 28 inch barrel makes the gun too sluggish for my tastes. The "30% longer sight plane" Browning talks about is pure hogwash, for an A390 Beretta semi-hump receiver 12 gauge is 7.2 inches across the top, a difference between the two of only about an inch and a half. Nor is sighting plane relevant, as you can quickly tell by the wide variety of step or elevated rib shotguns out there. You might wonder how you could hit anything at all with the new 30 in. or 32 inch 725 Citori Trap, with its "sighting plane disadvantage"? Sometimes, marketing folks just run out of things to talk about, or so it seems.

The A5, with a 26 inch barrel, is a far more responsive, better feeling, better balanced, more intuitive gun to use. I carped a bit about the invisible front red tubular bead on the 28 inch model which is completely obscured by the overly large white (worthless) center bead. When the gun is mounted properly, like the overly plump fellow getting his shoes shined, he "has to take the guy's word for it." With the tested 28 inch A5, if there is a front bead installed or not it makes no difference as it cannot be seen or used. For a $1559 MSRP autoloader, things like lousy triggers and wacky center beads are richly deserving of complaint. The Browning website still claims it comes with a "Brass front bead sight" which has yet to happen.

It isn't all doom and gloom, however, far from it. The new A5 that needs very little in the way of regular maintenance practically takes itself apart, you actually can see a little bit of red poking over the center bead on the 26 inch model so it likely isn't worth fussing with, and it is the lightest Browning 12 gauge autoloader since the Double Auto (my Double Auto Twentyweight is 6 lbs., 3 oz.).
The new A5 has the best shell-handling of any autoloader on the market, the "Speed Load Plus" a bit better applied here than on the Maxus. Some will rejoice that the safety is at the back of the trigger guard as opposed to the front of the trigger guard in the Benelli Vinci. The sticker shock can take a bit to get used to, but when you consider the plasticy and fake wood finished Beretta A400 Xplor Unico at $1865 MSRP, the A5 starts looking reasonable, as it does compared to the even pricier Benelli Super Sport and Cordoba offerings.
The A5 comes with a decent plastic hard case, stock spacers, and stock shims. It fit me out of the box, so no shim or spacer experimenting was indicated. Invariably, the subject of recoil comes up, meaning "felt recoil" as actual recoil is easily calculated. If you are extremely recoil sensitive, then of course you are better off with a heavy gas-operated autoloader, not anyone's inertia action. Any 6-1/2 pound 12 gauge is going to get your attention with 2 oz. lead turkey loads. But, although there is nothing about the gun itself that affects recoil, it does come with the latest "Inflex" recoil pad, one of the best OEM supplied pads on the market. I found it pleasant enough to shoot with peppy 1-1/8 oz. loads wearing only a thin shirt: recoil wasn't noticeable last year chasing pheasants with the usual 1-1/4 oz. 1330 fps loads. Nevertheless, the half-pound heavier Benelli Vinci is softer shooting, as is the quarter pound heavier gas-operated Winchester SX3, as is the gas-operated Browning Maxus.
The A5 Hunter has its considerations, primarily the ridiculous trigger break weight and the desperate need of aftermarket choke tubes, but it is easy to shoulder, rock-solidly reliable, and extremely lightweight. Compared to most autoloaders that are apparently made from melted milk jugs and recycled garbage can lids, it has dashing good looks without the creepy, pogo-stick feel of the springy stock things. I can recommend it, I'll hunt with it, but it would be easier to suggest it if Browning paid more attention to their triggers and choke tubes.
NOTE: The obnoxious center bead is pressed in. To remove it, Browning suggests the use of a #46 drill bit and a hand drill.
Copyright 2013 by Randy Wakeman. All Rights Reserved.
Custom Search

---
Custom Search