---
Review: 2013 Ruger Mini-14 Ranch Rifle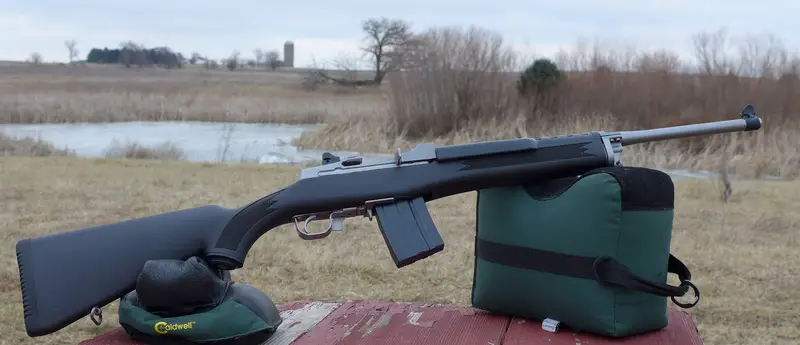 The Ruger Mini-14 has been with us since about 1974, designed by Jim Sullivan and William Ruger over a six year period from 1967-1973. The name comes from the last American battle rifle issued in large quantity, the M14: the 9.2 lb. .308 Winchester U.S. service rifle produced from 1959 – 1964 in quantities exceeding 1.5 million units. It remained standard issue until about 1970.
The Mini-14 itself has seen several design changes, a rework in 2003 and then a gas system weak in 2005. Sometime between 2007 and 2008, the Mini-14 was revisited again, allegedly with new tooling, better tolerances, and the current somewhat heavier profile, stiffer barrel. The published specs for the tested model are as follows:
Catalog Number: KMINI-14/20P | Model Number: 5817 | Caliber: 223 Rem / 5.56 NATO
Stock: Black Synthetic
Finish: Matte Stainless
Rear Sight: Adjustable (peep)
Front Sight: Blade
Barrel Length: 18.50"
Overall Length: 37.50"
Material: Stainless Steel
Length of Pull: 13.00"
Weight: 6.75 lbs. (as tested, with 20 rd. detachable box mag. installed, 7 pounds)
Capacity: 20 (As supplied. 5, 10, 20, 30 round magazines available.)
Grooves: 6
Twist: 1:9" RH
Suggested Retail: $1039.00 (Estimated street price as of February, 2013, in the $700 range)

For a rifle of this type, I find it attractive. The lines are classic, at least according to my Garand sensibilities, the synthetic stock is well done, without the all too common excessive mold lines, and the soft matte stainless finish is pleasant to the eye. With an unloaded twenty round factory magazine installed, this Mini-14 comes in right at 7 pounds. The trigger is greatly improved from the prior incarnations I've used, breaking at a reasonable 5 lbs. after a short amount of take up. It is actually a bit lighter and crisper than the previously reviewed Benelli MR1, and hugely better than the 9.25 pound trigger that was included with my Ruger SR-556. The Mini-14 itself is lighter and better handling than either the SR-556 or the eight pound Benelli MR1. The model is aesthetically indistinguishable from the Mini-14 "All-Weather" and "Patrol Rifle" stainless models.
The Ruger has an 18.5 inch barrel. The velocity loss from shorter barrels can be substantial. Back in 2001, the folks at Accurate Reloading started with a Sako S491 with a 22-inch barrel and chopped it down in one inch increments all the way to 10 inches. Velocities were recorded using a variety of handloads, but all with 52 grain bullets. An example using Alliant H322 produced 3318 fps with the factory 22 inch barrel. Shortened to 19 inches, the velocity dropped to 3213 fps. At 16 inches, the velocity was 3085 fps. Factory test barrels are 24 inches for the most part; with any of the carbines you won't get near factory published velocities.
A 3318 fps "factory load" could well be 3085 fps in a 16 inch barrel. In a previous test using the Magnetospeed barrel mounted chronograph, the 3240 fps 55 grain Barnes VOR-TX .223 factory rounds produced an average actual muzzle velocity of 2879 fps for me, out of a 16 inch barrel. While not a game-changer to most, losing 100 fps or so by dropping from an 18.5 inch barrel length to a 16 inch barrel length isn't atypical contingent on the loading. With an overall length of just 37.5 inches, the "Miniature Model M14" remains a very fast-handling, diminutive rifle despite its longer than minimum barrel length.
There have been improvements on the Mini-14, often indicated by three digit prefix numbers. This example has a prefix of 582: what precisely that indicates in terms of production changes I have no idea. What I can say is that this is easily the smoothest shooting, lightest recoiling, most accurate Ranch Rifle I've ever used. Ruger has really upped their game, for this is a significant lump forward from prior Ranch Rifles I've used. The factory front blade is fairly coarse: it completely obliterates a one inch bull at 50 yards. So, there is some guessing going on, yet the first five shots out of the box with factory sights produced about a two inch group. It was not difficult at all to hold shots inside two inches @ 50 yards with the factory iron sight array. Here are the first five shots out of the box at a laser-verified fifty yards with factory sights.
Two inches at 50 yards with a coarse front blade on a cold and windy day is about all I'm personally going to be able to do. I'll update this review as time permits with 100 and 200 yard groups with the benefit of optics. Ejection was smart and positive, it is a terrifically fun gun to shoot. We all have our favorites when it comes to this type of rifle; so I'll not attempt to compare the Mini-14 across the spectrum.
I will say, that as it stands, this Mini-14 is easily my personal favorite .223 autoloader. With classic lines for these breed of rifle, easy disassembly that takes exactly one tool (a drift punch), a greatly improved trigger, noticeably improved accuracy, and generally just a smooth, sweet-shooting little rifle at an attractive price, the current rendition is hard to beat. On top of all this, at an estimated $700 or so street price the Mini-14 costs less than some AR uppers alone. There isn't a thing lacking in this rifle, so it is time to say congratulations to Sturm, Ruger, & Company. They have done a fine job retooling the Mini-14 into a handy, superb little autoloader. For all of these reasons, it is very easy to recommend: all I can say is, "Just buy one."

Copyright 2013 by Randy Wakeman. All Rights Reserved.
---
Custom Search