---
LaCrosse Footwear 2012: Alpha Mudlite, Alpha Mudlite Mocs, and More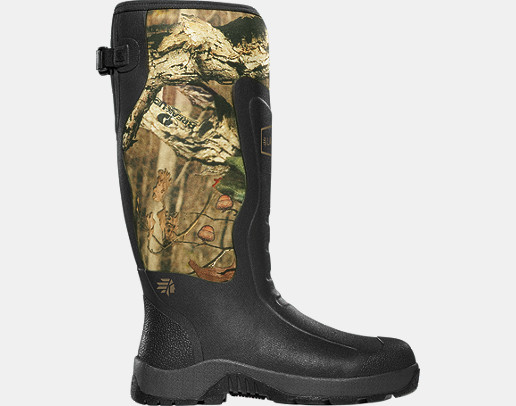 LaCrosse neoprene boots have been uniformly good. In fact, my boot of choice on most hunts last year was the LaCrosse 18 inch Alpha Lites. That includes one hunt in particular where the daily high was about ten below zero.
Those were 3.5 mm boots, as are the new Alpha Mudlites Style 150067. The specifications are as follows.

Features:
LaCrosse® innovated Alpha technology by combining high quality rubber with naturally insulating neoprene resulting in a 100% waterproof, extremely durable, lightweight, comfortable and scent free boot
Bi-directional brush tuff puncture resistant upper material for long term durability against scuffs, puncture, and tears
3.5 mm neoprene for warm to cooler climates
Increased breathability and air circulation help keep your feet comfortable all day from our interior mesh anti-microbial lining and material perforation
Rubber cup outsole with built-in floatable non-exposed rubber midsole add comfort and durable performance
Removable EVA footbed adds cushioning for all day comfort
Cam-loc buckle supplies a customized fit and is easily adjustable to accommodate clothing
Mossy Oak® Infinity™ features unprecedented depth and detail with leaves, limbs, acorns, and branches to layered over actual images of the woods to break up a hunter's silhouette
Mud Lite outsole provides superior traction with a low profile 90º heel, unique multi-directional lug pattern for excellent multi-surface grip and quick shedding of debris
Nylon shank
18" height
5.2 lbs per pair
Rated for temperatures between -20° to 80° F.
There are two primary differences found in the new Mudlites: the outsole described above and the "new innovative AirCirc system which circulates airflow inside the boot with each step." This is a woven, antimicrobial lining that makes these boots far easier to take off, that's the first thing easily noticed. LaCrosse offers thicker boots, but the 3.5mm is plenty as far as I'm concerned. More thickness does add more insulation, but the invariable trade-off is more weight and less flexibility. LaCrosse does a better job in the heel area than most makers, at least according to my feet.
I've also been wearing a set of Style 150070, 7 inch Alpha Mudlite Mocs. These are camp boots, every day type walking boots, or light duty hunting boots when you might slosh around in a small amount of water, and don't like the idea of falling on your rear. They wouldn't be the choice when the snow is waist high, of course. The reason to wear the Mocs is comfort. They are effortless to put on and take off and feel like you aren't wearing boots at all. They are nearly half the weight of the 18 inch boots.
I've gone through a wide gamut of lace-up, more conventional hunting boots and for me, anyway, the days of fighting laces that invariable collect stickers and rubbish are over. I've also had my fill of so-called waterproof boots that leak like a sieve, which has made for some painfully long days afield. With cam-loc buckles, the outerwear used on a particular day is no factor and snow, sleet, and other things are unlikely to find their way into these boots. While I can't say that these boots are completely rip-proof, I don't know if there is such a thing, I can say that with the generous abrasion-resistant panels on the front and back of the boots, it isn't likely. My older Alpha Lites show no wear.
One area that is sorely lacking in hunting boots and hunting apparel in general has been women's sizes and styles. Too often, a men's small is shoved into a box that says "women" on it with no consideration given to women's dimensions and proper fit. So, what you sometimes get is a pair of boots that, with a little experientation with eighty-seven different combinations of socks, a roll of duct tape, and moleskin might be tolerable. Sore feet are no fun and sloppy-fitting boots suck. LaCrosse has given renewed attention to this overlooked area, so for the special woman in your life you want to check out the Women's Alphaburly line of hunting boots. I have it on good authority that they really, really work.
Another thing I can attest to is LaCrosse Customer Service. They are outstandingly good, to say the least, and if there is a fit problem they will work with you quickly and efficiently to get things sorted. Try on a pair for yourself and you'll be a believer as well. Check them out at http://www.lacrossefootwear.com .
Copyright 2011 by Randy Wakeman. All Rights Reserved.

---
Copyright 2011 by Randy Wakeman. All Rights Reserved.
Custom Search