---
Browning A5 Preview (2012 Shotshow)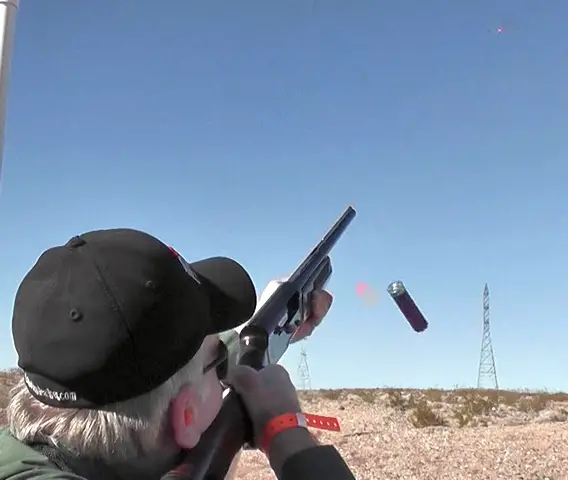 At the 2012 SHOT Show in Las Vegas, Browning had several examples of the "new A5" on hand, production models of which are scheduled to be released this summer. The new A5 has little in common with the John Browning Automatic-Five, far more related to the 1960s Bruno Civolani action purchased by the an off-shoot of the Benelli motorcycle company in 1967 or so, given the "inertia action" moniker. While it has already been dubbed the Brownelli, Browning calls it the Kinematic Drive, tuned to perfection. The A5 walnut version is surprisingly light, noticeably lighter than the synthetic stocked A5s. I'll guess it is at 6-3/4 lbs., or even a tad lighter. This is what Browning has to say about it.
Barrel - Lightweight profile • Flat, ventilated rib
Action - 3" chamber • Recoil operated Kinematic Drive is ultra-reliable and cycles a wide range of loads
Stock - Gloss finish walnut with close radius pistol grip • Sharp 22 lines-per-inch checkering • Shim adjustable for length of pull, cast and drop
Features - Vector Pro™ lengthened forcing cone • Three Invector-DS™ choke tubes • Inflex II Technology recoil pad • Brass front bead sight • Ivory mid-bead sight • One 1/4" stock spacer and one 1/2" stock spacer, plus lengthened screws for total adjustment of 3/4" • Included ABS case
The barrel is noticeably light and responsive, featuring the "Invector Double Seal" choke design introduced on the Citori 725. It has speed loading, introduced on the original A-5 and carried on with several previous Browning models in one way or another, including the Double Auto, B2000, Browning Gold, and the Maxus. It is a feature I personally am enamored with. It has a magazine cut-off as well, located on the bottom of the receiver. It also has a "feature" I find worthless, a center bead. It is especially worthless with a square or "humpback" style receiver. Hopefully, it is easily removed or broken off, joining the countless other center beads that have hit the garbage can around here.
The new A5 is light, responsive, comes up well, has an excellent trigger, and I found it to be very comfortable to shoot, albeit with 1145 fps 1-1/8 oz. Federal Gold Medal target loads, the only available ammo at the Boulder City range. It seems to have no problem cycling lighter loads, a good thing. The new A5 is available in a 3 inch chamber only, at least for now. Based on the name of model, comparisons will try to be made to the original A-5, but efforts like that are fruitless. A 3 inch A-5, the A-5 Mag, is a heavyweight pig compared to the new A5, requires adjusting friction pieces based on specific shell and still does not have near the load range capability of the new A5.
Along with the Invector DS choked Vector Pro barrel, the Browning Kinematic Drive seeks to improve on the genre of Benelli inertia guns, with a four lug bolt head that unlocks withinin 40% less travel. Browning says the result is 10% faster cycling compared to Benelli shotguns. Also, according to Browning, the new A5 cycles with 7/8 oz. target loads on the low end.
A full review of the new A5 will follow as soon as they become available. It looks to be an enjoyable, low-maintenance hunting gun. It is far easier on the eyes than the latest breed of plastomatics, and the shell-handling and trigger are both superb based on the A5s I fired in Las Vegas.
Copyright 2012 by Randy Wakeman. All Rights Reserved.
Custom Search

---
Custom Search